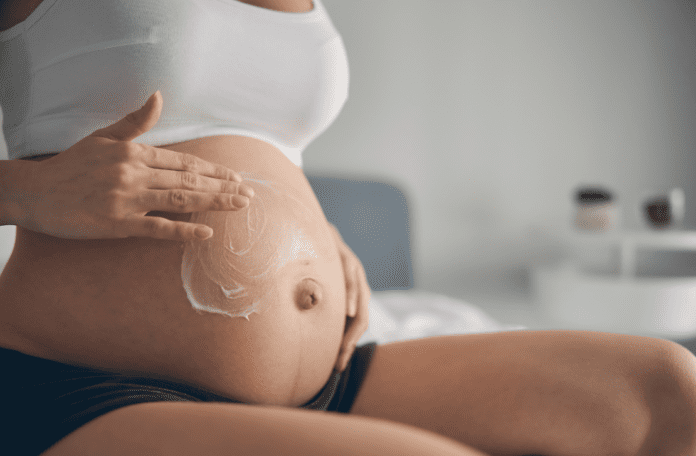 The best pregnancy stretch mark creams should be able to keep your skin hydrated, moisturized, and smooth. Being pregnant means witnessing all kinds of changes in your body and skin. Stretch marks are common as your skin adjusts to a growing baby bump. It's wise to use skin-loving pregnancy skincare products early on to minimize the appearance of stretch marks and the discomfort that comes with stretchy skin.
Help your skin cope during this time by checking out our list of the best pregnancy stretch mark creams.
Pregnancy Stretch Mark Creams Worth Buying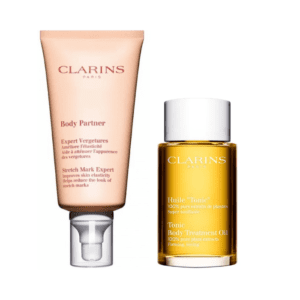 Overall Rating: 4.6/5
"Great Products!
I like the scent of the body treatment oil and it is a very relaxing moment to apply it every day. I apply the stretch mark expert cream at night before I sleep and it leaves a layer on the skin, and can still be felt after I wake up… it keeps the skin moisturized."
– @Nie.Yile
Read more reviews here.
Clarins Body Partner lotion contains skin-friendly ingredients for expecting mums. The cream works deep within the skin to target stretch marks and changes caused by weight fluctuations. The lotion comes in a convenient airless tube that makes application a breeze. The skin readily absorbs the product, which deeply nourishes it from the first application.
PhytoStretchComplex is Clarins' newly discovered blend of Centella Asiatica and organic green banana extracts. These tried-and-tested plant-based ingredients help improve skin elasticity and firmness. The lotion also contains licorice-derived glycyrrhetinic acid and hazelnut oil, ingredients that deeply moisturize tight skin.
Clarins' Tonic Treatment Oil is touted as one of the best pregnancy stretch mark solutions since its inception in 1965. It contains a holistic blend of plant extracts and essential oils such as rosemary, geranium, and mint.
The star ingredient, hazelnut oil, is a rich source of omega-9 fatty acids and vitamin E that work hard to hydrate, smoothen, and soothe the skin. Expect visibly tighter, firmer, and toned skin with regular use.
Have you tried it before? Leave a review if you have!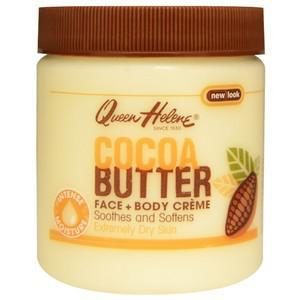 Overall Rating: 5/5
"Cocoa Butter Face + Body Creme
Happen to have a tub from my GF and love the richest of the crème, leaving the body fully moisturized and leaving the nice cocoa butter scent. Loving it."
– @Celestine
Queen Helene body creme is one of the best pregnancy stretch mark creams on the market for its pregnancy-safe formula. The body cream contains two powerful ingredients: cocoa butter and lanolin. These intensely moisturizing ingredients help quench dry skin and lighten the appearance of stretch marks. The formula is known for its softening and protecting qualities that support changing skin during pregnancy.
Have you tried it before? Leave a review if you have!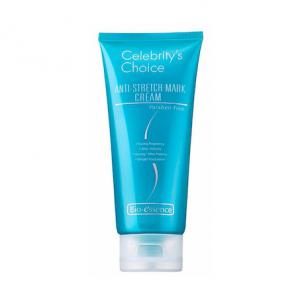 Bio-Essence's Anti-Stretch Mark Cream targets skin elasticity and scarring by providing a boost of moisture. The lotion does a great job promoting collagen production to increase the skin's firmness. Nutrients in the formula target stretch marks and loose skin, providing relief, visible results, and a comfortable experience for expecting moms.
Use this lotion from the 3rd month of your pregnancy twice a day. Moms-to-be can continue using the product after they deliver. Avoid applying the cream on your breasts during the breastfeeding stage.
Have you tried it before? Leave a review if you have!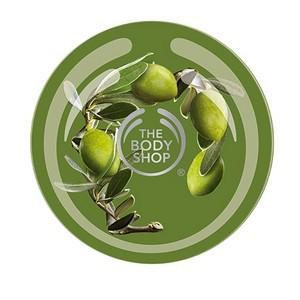 Overall Rating: 4.2/5
"Lovely Body Butter
Love the fragrance and the texture of the body butter! The smell is not overbearing. Not too oily, Absorbs easily."
– @Karenang12
Read more reviews here.
The Body Shop line of pregnancy-safe skincare products is worth looking into like this olive body butter. The luxuriously buttery formula contains Community Fair Trade ingredients such as olive oil, babassu oil, and shea butter. The three ingredients are known for their intensely moisturizing effect on the skin.
The formula provides 96 hours of moisture for smooth, soft, and plump skin. For expecting moms who want a body cream with a pleasant but not overpowering scent, this one's for you. The calming scent of olives and shea butter supports an invigorating self-care routine.
Have you tried it before? Leave a review if you have!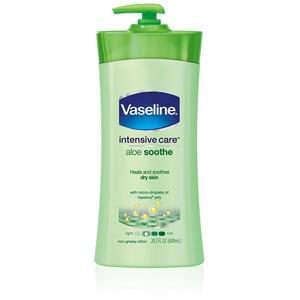 Overall Rating: 4.4/5
"Great For Hot Days!
This is a body lotion that is suitable for those hot and humid days and when any form of heavy skincare would be too much to bear. Its light, easily absorbed texture feels extremely refreshing."
– @Sickromantic
Read more reviews here.
The Vaseline Aloe Soothe body lotion is a great pick for pregnant women with dry, flaky skin around the abdomen. Hormonal changes can cause the skin to lose its firmness and moisture. The changes can leave the belly dry, itchy, and scaly as it grows to accommodate your growing baby. While it's perfectly normal to experience this, it's good practice to use an intensely moisturizing lotion like this one by Vaseline.
The non-greasy lotion carries a light, pleasant scent and sinks beautifully into the skin. Vaseline's well-known jelly ingredient is added to the formula to lock moisture and restore the skin's vitality. Your skin will feel deeply nourished and soft from the first application. Regularly using this body lotion will keep dry skin at bay.
Have you tried it before? Leave a review if you have!
Caring For Stretch Marks At Home
Stretch marks appear when collagen and elastin break down in the skin, causing it to bruise and turn red, pink, purple, dark brown, or reddish brown. Stretch marks can cause itchiness and look like raised bumps across the skin.
While topical treatments can lighten the appearance of stretch marks and soothe the discomfort of stretchy skin, getting rid of them can be a challenge. The best way to tackle stretch marks is to start early. It's best to start in the third month of pregnancy when the stomach skin begins to stretch.
These tips will come in handy:
Use pregnancy stretch mark cream or oil early on before the

scarring

turns mature, which can be harder to tackle.

Apply the cream regularly in a circular motion until fully absorbed. Do this twice a day—once in the morning, and again at night.

Take time to massage the area with the stretch marks cream. Massaging these scars can promote blood flow and help the cream absorb better for skin rejuvenation.
Look for creams with ingredients like cocoa butter, vitamin E, almond oil, and olive oil that help moisturize, soothe, and smoothen stretch marks.
Retinoids such as tretinoin and retinol can help reduce the appearance of stretch marks in 24 weeks when used regularly. These aren't advisable to use when you're pregnant, so speak to your doctor about how to incorporate retinoids as a skincare product after you've delivered.
Hyaluronic acid also has desirable results when used on stretch marks, so keep an eye out for this star ingredient in a pregnancy-safe body cream.
Our list of the best pregnancy stretch mark creams contains the right blend of ingredients to help you sail through your term with well-cared-for skin.
Check out our other articles that are worth perusing:
Refillable Skincare: Our Top Picks That Are Both Good For You And The Planet
Why You Should Include These 5 Skincare Trends Into Your Self-Care Routine in 2022
Hyaluronic Acid: Why You Should Incorporate This Serum Into Your Skincare Routine