We are so excited to announce the grand winners of the Bath and Body, Skin Care and Hair Care categories of the Try and Review 2020 awards! Of the thousands of cosmetic products reviewed, you guys chose these top 4 cosmetic products as your absolute favorites! From makeup to body wash and everything in between, the following 4 products were your top picks.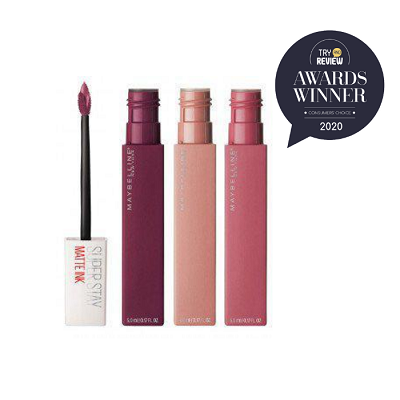 Maybelline Philippines Superstay Matte Ink PH
Maybelline's Superstay Matte Ink lipstick was rated the number one product in the Beauty category of our 2020 awards.This beloved lipstick comes in a wide variety of shades, from nudes to bold, and lasts up to 16 hours! User @jadeannejsmarquez says that this lipstick lives up to its claims! "I ate my lunch without erasing it, brushed my teeth, and even had my coffee break without even having a single smudge! This product never fails to impress me." It also contains a unique arrow shaped applicator to both line and fill in lips with precision. Testers love that this lipstick is long-lasting, non-drying, and contains so many shades that it was rated a 4.9 out of 5.
Unlike other long-lasting lipsticks, Maybelline's Superstay formula doesn't make the lips feel dry. User @twishamay says she loves everything about this lipstick. "It was so easy to apply and non-drying. I didn't even feel the heaviness that other lipsticks give you when you apply them. This is a must-have for all ladies!"