Relaxing shower rituals are a great way to wind down after a long day. From the time you leave your home till you get back, you probably commuted to and from work, had meetings, ran errands, and did everything you had to do to get yourself and your family in order. What could be better than a warm, relaxing shower to remove all that grime, sweat, impurities and pollutants you collected on your skin throughout the day?
Many rush through bath time in order to get other things done, especially when you're a working mom juggling a full time job, housework and kids. However, you owe it to yourself to take time for self care – even if it is just to truly enjoy a relaxing shower in preparation for bed.
If you do not have a bathtub or the luxury of time to take an hour-long bath, there are things you can do to help create the right atmosphere for a relaxing shower:
Relaxing Shower Ritual #1 – Use the right bath products for your skin type and lifestyle
Nothing beats that freshly-clean and moisturized feeling once you step out of the shower. But it can be tricky finding the right bath products for you. Some can actually be too drying for the skin (know that squeaky clean feeling? That's actually not great for your skin). Some may cause skin redness and irritation as they contain harsh chemicals to help generate that luxurious foamy lather.
Dove Beauty Bar and Body Wash range has gotten consistent glowing reviews by our testers. 99% who tried them said that their skin was smoother and more moisturized after use. Furthermore, 98% said they would continue to use it for their daily shower. Don't believe it? See the following amazing reviews for yourself!
For Sensitive Skin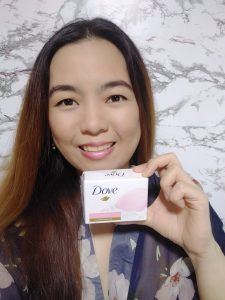 Member @Cristy1029 "Since I have a sensitive skin I am a bit choosy when it comes to what I use on my skin. Any harsh ingredient would mean breakouts, itchiness and redness. Good thing with Dove Pink I haven't experienced any uncomfortable feeling while using it. Dove Pink has a mild fragrance which I like and after using it for a few days I noticed it made my skin felt cleaner, softer and smoother. I highly recommend this!"
Try: Dove Pink Beauty Bar
This product is available on Lazada and Shopee
For Dry Skin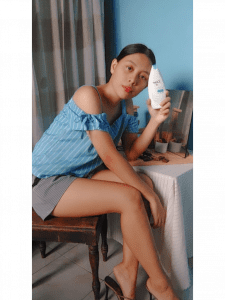 Member @jadeljose – "I'm born with very dry and sensitive skin…. I'm just so amazed with how Dove Sensitive Skin Nourishing Body Wash really cleans my skin in a gentle way. I didn't actually see any changes in my skin condition in the first 3 days, but after 7 days of use my skin felt plump and smooth. Overall I will give this product 4/5 and I highly recommend this product for others. I am so happy because Dove Sensitive Skin Nourishing Body Wash turned my dry skin soft, smooth and moisturized. Make sure to add this to your daily self-care routine to see how Dove makes wonders and see the difference!"
Try: Dove Sensitive Skin Body Wash
This product is available on Lazada and Shopee
For Dry and Flaky Skin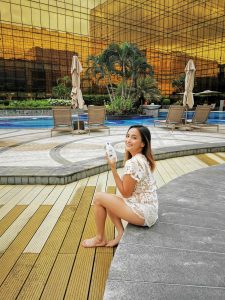 Member @KilayMercado20 – "Dove Deeply Nourishing Body Wash is my go-to damaged skin rescue product. During the pandemic, I've been experimenting with several skin products to lighten my skin. Have tried one product that is heavy in chemicals which irritated my skin and burned parts of it. Thank God, Dove saved me. With just one wash, my skin is back to its normal healthy, moisturised condition. No more burns and itching ????"
Try: Dove Deeply Nourishing Body Wash
This product is available on Lazada and Shopee
For the Hectic Mom-Life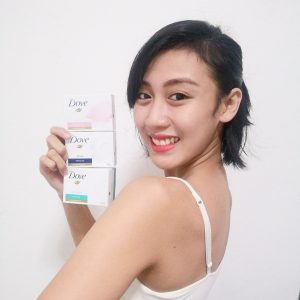 Member @heymommyshai – "I've been suffering from loss of radiance and skin dryness after giving birth and due to breastfeeding. Also, drinking more water isn't enough as well since our Aria is a milk monster baby and applying lotion every day isn't part of my daily routine. Glad that I use Dove Beauty Bars, it really helps leaving my face and body feeling soft and smooth even after the first wash."
Try: Dove White Beauty Bar
This product is available on Lazada and Shopee
Try: Dove Pink Beauty Bar
This product is available on Lazada and Shopee
Try: Dove Sensitive Beauty Bar
This product is available on Lazada and Shopee
Relaxing Shower Ritual #2 – Transform your bathroom into a relaxing sanctuary
It really makes a difference when you pay attention to the details. To take your relaxing shower experience to the next level, everything from the right water temperature, to the dimness of the lights, and the plushness of your towel matters. Additionally, light some scented candles to boost the calming atmosphere. Play some music or make your own (here's looking at you, bathroom singers!), and surround yourself with bath products and items that make you feel happy and relaxed.
For a quick fix, you can also use a body wash with delightful fragrances to ease you into that blissful state of mind. Popular scents include lavender, sandalwood, ylang ylang, geranium, bergamot and chamomile.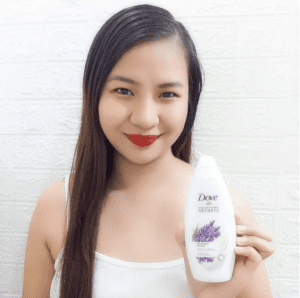 Member @jasminricarto – "After a long day, you deserve to have a long and very relaxing shower. We just need something that helps you transform your daily routine. Dove Relaxing Ritual Body Wash is inspired by the natural ingredients used by the woman in France. This body wash contains a delicate blend of lavender and rosemary extracts and Nutrium moisture technology that nourishes skin better than milk. Week by week, my skin feels so soft, bouncy and smooth and you also get the aromatherapy benefits of lavender which promotes calmness, soothes irritated skin and helps me get a good night's sleep!"
Try: Dove Relaxing Ritual Body Wash
This product is available on Lazada and Shopee
Relaxing Shower Ritual #3 – Amp up the pampering before, during and after shower
While you're at it, why not put on a facial mask to address your skin concerns at the same time? You can leave it on to work its magic together with the steam from your hot shower.
You should also use a body scrub to get rid of dead skin cells and help you achieve glowing, smoother and softer skin. If you're in a pinch and want to skip a step, use a body wash with exfoliating properties to help you save time!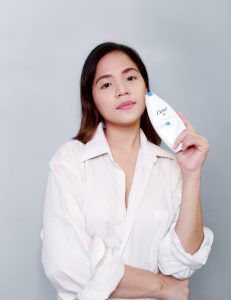 @momshiesdiary "As a busy mom it is difficult for me to put a lot of creams, moisturizers and other beauty products as it will also eat up my time. Then I discovered Gentle Exfoliating Body Wash which helped me achieve my goal. It has a blend of moisturizers that provides gentle care to our skin. It also has a good fragrance that makes me huggable! Day by day I can see the changes and positive effects of this body wash to my skin. I can proudly say that my skin is now soft and smooth!"
Try: Dove Gentle Exfoliating Body Wash
This product is available on Lazada and Shopee
Once you're done and rinsed off, slather on your facial moisturizer and a rich body lotion or oil. Then, you'll step out of the bathroom feeling like a million bucks with extra supple and moisturized skin!
So there you have it – just 3 easy steps to build your own relaxing shower ritual. For those constantly on the go and juggling multiple roles in life, it can be difficult to find pockets of time for self care and relaxation. Therefore, try to make full use of every minute that you can find and live a fuller, healthier and happier life!
Read our latest and most recent articles here:
Skincare Trends To Look Out For In 2021
Lightroom Editing Tips for Beginners: Revamp Your Instagram Feed
Gua Sha: Take Your Skincare and Self-Care Routine To The Next Level