Baby bath products – where do we start? Your baby's skin needs extra care and protection to keep it clean, moisturized and nourished at all times. Hence, using the right products can help form a protective barrier on your baby's skin to nourish and protect against dryness.
There are so many brands and dizzying variants on the market that it can be overwhelming for parents. But fret not, the Try and Review community is here to support you with their experiences and reviews. Therefore, here are three things to consider when selecting the right baby bath products for your baby.
1. Baby bath products must be gentle and mild
It can be challenging to find baby products that do their job of cleansing properly, but do not cause irritation to our babies' delicate skin. Mummies @Aname28, @imgelabella and @libbyadriano are always concerned when picking out baby bath products due to sensitive skin and eczema concerns.
No nasty effects, only nice ones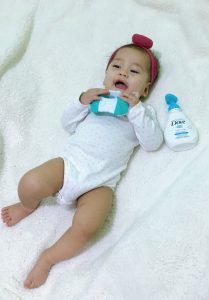 User @Aname28 tried Baby Dove Rich Moisture Hair To Toe for a whole week and found that it is "mild enough that it didn't have any adverse effects on my baby's skin. Also, she liked that it is "moisturizing but at the same time easy to rinse off." An extra tip from her: "I use a washcloth and it takes me 3 pumps to make it bubbly".
Wallet-friendly option without compromise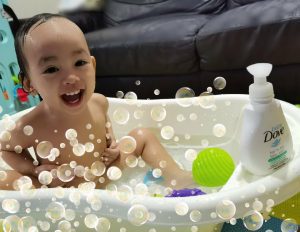 For @imgelabella, she spotted premie ward nurses using a popular drugstore gentle skin cleanser for premie babies. As she found the cost of purchasing the same cleanser too high, she was "so happy to be able to try this product from Dove". She said that Baby Dove Sensitive Moisture Hair To Toe "doesn't have that strong smell but it's much more affordable. Therefore, this one is definitely a keeper."
Confidence and comfort are key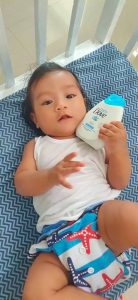 Knowing that her baby has sensitive skin, @libbyadriano requires her bath products to be gentle and safe. "Good thing we have Baby Dove. I myself am a Dove user, so I'm confident to let my baby use the same brand." Consequently, she uses the Baby Dove Rich Moisture Lotion which "gently moisturizes" her baby's skin, and loves that "the smell is so subtle" and that "it is not sticky at all".
2. Baby bath products must be safe and free from harmful chemicals
We recommend to always check product labels in case there are unnecessary chemicals, heavy fragrances, or additives. These can be harmful for your baby, especially if they have dry or sensitive skin.
Only the best for baby
@Jawji only wants what's best for her baby Jayden, and recommends Baby Dove Rich Moisture Lotion. This is mostly because it "has no parabens and phthalates making it safe for baby Jayden even if he touches his own skin and randomly puts his hands in his mouth."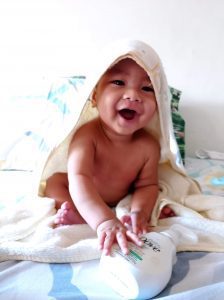 @mcsanlorenzo likes that Baby Dove Sensitive Moisture Hair To Toe is hypoallergenic and "fragrance free and safe for sensitive skin". Furthermore, it is "mild without irritating his nose and even his eyes", making bathtime a more comfortable experience.
3. Your baby (and you) must love them too!
A pleasurable bath can be a nice, relaxing and bonding experience between parent and child. Therefore, choose bath products that are not only formulated well but make baby bath time a real sensory treat!
Convenience matters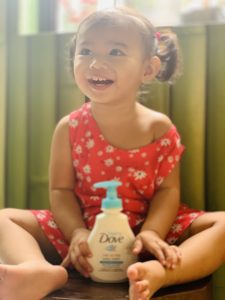 "Satisfied and happy" @Saj21 says that the Baby Dove Rich Moisture Hair To Toe is a "must try" for little ones and her baby "enjoys every bath". In addition, she also appreciates the ease of "using it all over her body, from top to toe".
Smiling from ear to ear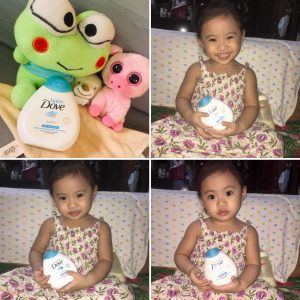 @Abi.bautista-alon has been using Baby Dove Rich Moisture Lotion for a while now and it works well to keep her daughter's skin moisturized. "I use it right after a bath and it helps keep her skin hydrated. It has a gentle fragrance and she literally smiles the whole time I am applying it on her!"
Dove Baby products have received many positive reviews – 99% of users say that their baby's skin is softer and smoother after use and because of that, 98% say they will continue using them.
The complete range are available for purchase on Lazada and Shopee here:
Shopee
Baby Dove Rich Moisture Hair To Toe
Baby Dove Rich Moisture Lotion
Baby Dove Sensitive Moisture Hair To Toe
Lazada
Baby Dove Rich Moisture Hair To Toe
Baby Dove Rich Moisture Lotion
Baby Dove Sensitive Moisture Hair To Toe
Read our latest and most recent articles here:
Skincare Trends To Look Out For In 2021
Lightroom Editing Tips for Beginners: Revamp Your Instagram Feed
Gua Sha: Take Your Skincare and Self-Care Routine To The Next Level
This article is written in partnership with Dove. All opinions shared are based on authentic and honest reviews from real users.