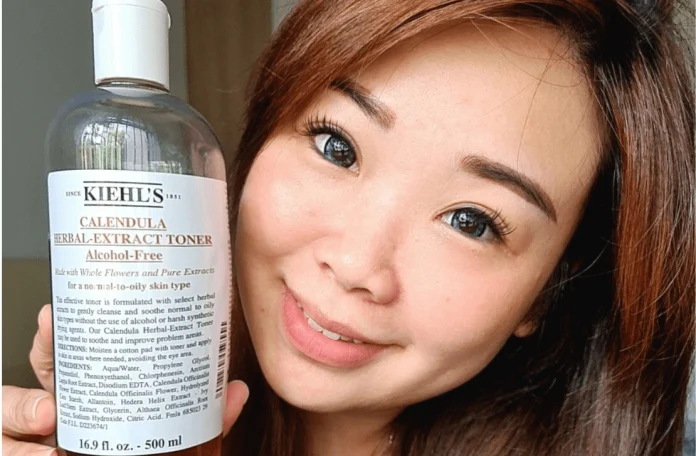 Do you want to achieve a smooth and radiant complexion that you know is beneath your skin? Finding a natural toner that suits your skin is the secret to unlocking that beauty. Toners with harmful chemicals remove your natural beauty, while natural ingredients offer the most effective way to reveal your healthiest and most radiant skin ever.
Our community loves these five natural products for their incredible effects on the skin. Each toner has its unique way of nourishing the skin, catering to different needs such as dryness, oiliness, sensitivity, or breakouts. You will find the perfect match for your skin among these botanical-infused formulas that work magic, transforming dull skin into a brighter, more even-toned vision of beauty.
Discover what our community of skincare enthusiasts already knows – the best natural facial toner optimizes your daily routine and brings that buried glow to the surface. Find the one formulated just for you, and your skin will thank you. Ready to meet your complexion's new secret weapon? Read on to find your match!
Community- recommended natural Facial Toners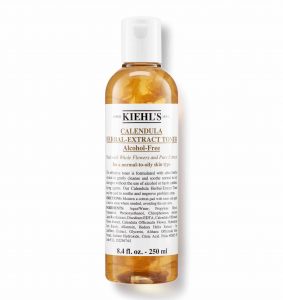 Kiehl's, with a skincare legacy dating back to 1851, is synonymous with trust and quality. Their Calendula Herbal Extract Alcohol-Free Toner is considered as one of the best organic toners in the skincare world, particularly for those with sensitive skin.
Accordingly, the member @Qqueex shared, "This alcohol-free toner really does wonders to my skin. I can say this is life-changing after I switch to this toner. It's very light and refreshing yet very hydrating. Made of calendula and herbal extracts, I know my skin is in for a treat. My skin is brighter, and skin tone is more even too."
Besides, @Shoppingcharlyn emphasized, "I love the natural flower scent from Kiehl's Calendula Herbal Extract Alcohol-Free Toner. I have tried a few methods using this: Use a cotton pad and pad it directly on my face; Pad it directly on my face using my palm; Use as a cooling mask (keep inside the fridge and use with cotton pads as a mask). All methods worked very well for me. No bad reactions to my sensitive skin. I could feel my 'after toner' skincare routine was good and able to be well-absorbed. I also noticed my pimple scars were lightened over the last 2 weeks. Not saying that this could lighten scare, but it enabled my vitamin C serum to work better for me."
Treat your sensitive skin to this Calendula Herbal-Extract Toner. Infused with calendula flower extract, this soothing toner calms easily irritated skin while sweeping away impurities. It leaves skin feeling refreshed and comforted, not tight or stripped. The light texture also makes it a perfect first step to prep skin for better absorption of serums and moisturizers.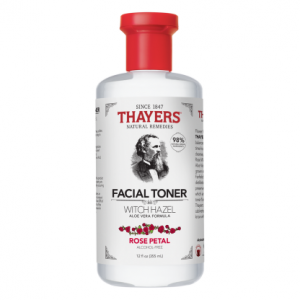 Give your skin a dose of botanical hydration with Thayers iconic Rose Petal Toner. These soothing ingredients harness the power of antioxidant-rich witch hazel and rose petals to cleanse pores while locking in moisture. Fragrance-free and alcohol-free, it balances pH so skin looks vital and lively, not dry or dull.
For those who revel in the pleasure of delightful scents, this toner is a treat for the senses with its subtle rose fragrance. "This little bottle of magic is more than just a toner; it's a game-changer that has left my skin looking and feeling healthier, hydrated, and oh-so-glowy! …My pores appear smaller, and my skin tone is more even and radiant. It's like having a mini spa treatment in a bottle. One of the standout features of this toner is its alcohol-free and gentle formula. In a world where harsh toners can leave our skin feeling dry and stripped, this toner acts as a remedy. It hydrates my skin throughout the day, leaving it feeling refreshed and balanced…" said @Dinki.Belen.
Furthermore, @Jamilahky confirmed, "Thayers Rose Petal Toner is a skincare gem that brings a touch of nature to your routine. With its delicate rose scent and soothing formula, it's like a refreshing breeze for your skin. It effortlessly cleanses and tones, leaving your face feeling revitalized and ready to take on the day. What sets it apart is the way it strikes a balance between being gentle yet effective, making it suitable for a range of skin types. Incorporating Thayers Rose Petal Toner into your skincare regimen is like giving your skin a bouquet of self-care and nourishment – a definite must-have for anyone seeking a natural glow."
@Aericanesss also agreed, "This product is exceptional because of its all-natural, mild recipe that works well on even sensitive skin. …It also helps to minimize pores, creating a smoother and more even complexion over time. It is a wonderful addition to any skincare routine thanks to its organic ingredients and calming benefits. This toner is a dependable and mild choice to obtain a healthy and beautiful complexion, regardless of whether you have dry, oily, or sensitive skin."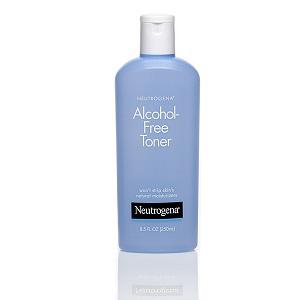 Neutrogena, a trusted name in skincare products, presents the Alcohol-Free Toner, a game-changer for those battling oily or acne-prone skin. Enriched with hyaluronic acid and glycerin, this dermatologist-approved toner quenches thirsty skin for long-lasting softness and radiance.
The oil-free, residue-free formula wipes away pore-clogging gunk without stripping your skin's natural moisture. As @Paulineluna_ reviewed, "This is the most gentle toner I have ever tried. It does not sting at all. But it does wonders on your skin. It leaves your skin feeling fresh and smooth. It is gentle but does what it is supposed to do. This is best for those who have sensitive skin. Plus it's not that pricey."
With @Callme_jola, "back in my early 20's, this was what my mother recommended me to use and I was using it for around 5 years (21-26). It is very mild as if you just wash your face with water; it has a baby-like scent. Although it doesn't give you that squeaky clean finish (it leaves your skin a bit of sticky feeling), it surely does remove unwanted dirt without leaving harmful ingredients on your face, and now my eldest daughter is using it (15 years old) without any worries."
Bid farewell to the days of harsh, drying toners that exacerbate acne concerns. Neutrogena's Alcohol-Free Toner is your ticket to shine-free, clear, and radiant skin.
4. Dear Klairs Supple Preparation Facial Toner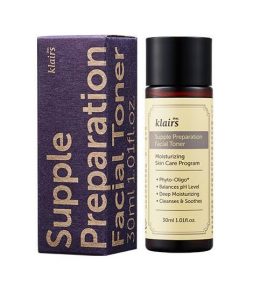 Klairs Supple Preparation Facial Toner is a soothing symphony for individuals with dry skin. Packed with nourishing ingredients, including skin-loving hyaluronic acid and an array of botanical extracts, this toner is a hydration powerhouse – sinking in quickly, leaving zero stickiness or greasy residue
Not only does it deliver an intense surge of moisture, but it also preps your skin for the subsequent steps in your skincare routine. @ItsCamilleB affirmed, "The smell is like aroma oils used in spa and just feels so relaxing when I smell it during application. The supple feeling is real after the toner is applied and absorbed to your skin. I usually use this with a cotton pad and this is better to apply on your damp skin as well. This toner is recommended especially that is is alcohol-free!"
Another member @ThatGirlCoffee shared, "I've used this product when my skin needed something gentle, but it effectively removes remaining makeup and dirt residue on my skin as I was breaking out so bad and it worked wonderfully. It cleansed my skin from daily dirt residue, it did not strip my skin off, it did not break me out, and it added moisture as well. The consistency is a little viscous but not sticky. I used this as a mask on certain dry areas on my face, especially on my cheeks. Definitely recommended."
@Stephysyy added "I think this toner is perfect for all skin types even for people with sensitive skin. I have a combination skin type, but I am sensitive to fragrances. Love this toner because it hydrates my dry patches on the cheek but is not too oily for my t-zone, and it really helped with my textured skin and reduced the bumps! I love how it makes my skin feel plump too. Already on my 2nd bottle and would still probably repurchase!"
For those seeking a daily dose of hydration and a barrier against dryness, Klairs' Supple Preparation Facial Toner is the answer. It's your path to achieving supple, resilient, and beautifully hydrated skin.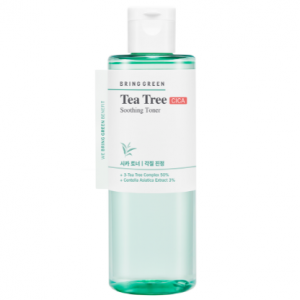 Soothe and balance acne-prone skin with Bring Green Tea Tree Cica Toner. Harnessing centella asiatica extract and tea tree, this toner heals blemishes and inflammation while controlling excess oil and sebum. Acne fighters love its antibacterial and cooling properties that keep breakouts at bay. The calming formula reduces redness and sensitivity, resulting in a more even, clearer complexion over time.
According to user @Sammxxx, "I didn't know there would be such a lightweight toner until I tried the Bring Green Tea Tree Cica Soothing Toner! I can spray it onto my skin multiple times without the fear of it being too much for my skin. I pour what I need in a spraying bottle for convenience sake and to bring it on-the-go with me. It's something I look forward to after cleansing my face as it leaves such an ultra-cool, moist, and soothing feeling! This gentle toner is formulated with Jeju tea tree extract that calms and controls oily, acne-prone skin and cica extract, which helps to relieve and repair irritated skin. The best part? It also removes dirt and unclogs pores. Seriously – what more can you ask for in a toner?"
Moreover, @Bittervestige certified "been using for ~2 weeks and I really like this toner! Its tea tree and cica ingredients are able to help soothe irritated skin, and I found it to be helpful to calm my pimple outbreaks. Gentle on skin too with no dry-out effect after application, highly recommend!"
It's a top choice for those seeking a comprehensive solution to address the unique needs of combination skin while catering to sensitivity. Experience the soothing power of tea tree and centella asiatica in a toner that truly understands your skin's nuances.
The Power of Nature: Why Natural Toners Are Skincare Game-Changers
A natural face toner isn't just a fad – it has earned its place as a skincare essential. Here's why you need one in your skin care routine:
Gentle Yet Potent: Natural toners pamper sensitive skin with plant-based ingredients that soothe, not irritate. Free of harsh chemicals, they cleanse deeply without stripping your skin. Their mild formulas reveal a healthy, radiant complexion.
pH Balancing Wonders: Botanical ingredients are masters at restoring your skin's pH balance. This helps your skin better defend against environmental aggressors that can damage and age your complexion.
Antioxidant Elixirs: A natural facial toner made with essential oils and botanical extracts delivers a mega-dose of vitamins, minerals, and antioxidants to nourish your skin. Nature distilled into each formula provides intense hydration and protection.
Moisture Magnet: Hydrating natural toners infuse your skin cells with vital moisture to plump fine lines and give you that coveted dewy glow. They are a great addition to bring the best results with your serums and creams.
Eco-Conscious Care: Natural toners are gentler on the planet, using recyclable packaging and biodegradable formulas. It is an eco-friendly step that's good for your skin and the environment.
Conclusion
Discover your glow with the right beauty products for your unique skin concerns. Don't just cleanse – treat your skin by removing impurities and restoring balance with these best toners.
Give your complexion the first step it deserves – start and end each day with a spritz of these skin care products loved by our community. Choose the perfect toner that targets your specific skin type and get ready to reveal your healthiest, most vibrant glow yet this year.
Read more beauty-related articles:
Community-Approved: Best Eyebrow Pencils For A Perfectly Natural Finish
Lip Bloss: We share all about this TikTok trend and product recommendations
Glitter Halloween Makeup Ideas: 5 Creative Looks to Try with Community-Recommended Products