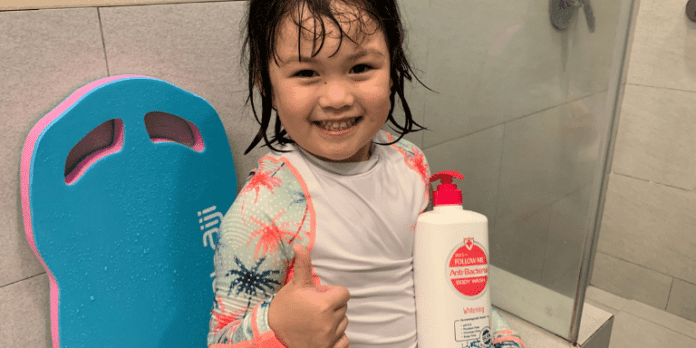 Antibacterial body wash has now become a common household item because of the ongoing pandemic, which has made everyone a little more cautious and fearful. Therefore, many households have now switched to using antibacterial body wash to keep themselves and their family clean and safe. Try and Review has engaged the help of 625 real users to share their experiences using the Follow Me Antibacterial Body Wash. With an overwhelming response, it has garnered an overall rating of 4.5/5 across all five variants. Read on to find out more!
5 Reasons why mums love this highly-rated antibacterial body wash for their family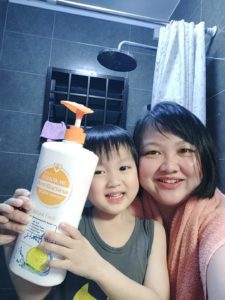 Mum @sherlynyinggz says "my little boy always has had issues with his skin ever since he was a baby. I have tried using many different brands of shower foam throughout the years but still can't manage to find a really suitable one. I was quite skeptical but after using it for the past 1 week I am so pleased with the result. Not only his body did not flare up with eczema & rashes, the body wash also left a pleasant scent on him." Those with sensitive skin can be assured of using the Natural Fresh Body Wash as it is enriched with lemon extract to help rejuvenate the skin. It is also dermatologically tested, allowing mums to feel safe for their whole family's usage.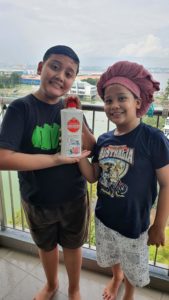 Mum @bidara says, "After playing, never forget to clean up with Follow Me antibacterial body wash, especially during this pandemic time. I feel more confident bringing kids out to play because the body wash protects my family and me." Family Protection Body Wash is formulated with Peony extract and is able to kill 99.9% of harmful bacteria. It helps to protect users from germs and diseases, which is especially vital during Covid times. Of course, it does not only apply only during a pandemic. Try and Review member @HALEENAADEBAYO also mentioned, "I'm working in childcare and it really helps protect me for a day period where viruses like HFMD, flu bug, etc. (are around)".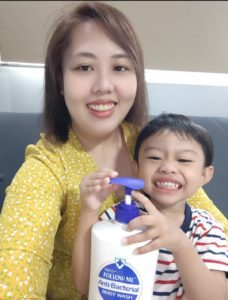 The Extra Cool Body Wash is great if you wish to have a refreshing shower experience. It contains menthol extract which helps your skin to cool down and re-energise. Perfect after a sweaty day out or after a workout! Member @Minniemean_ says, "I love the long-lasting fragrance of the soap and the fresh and cooling feeling on my skin that remains even way after my bath. It feels really nice since Singapore has such humid weather and can usually make us feel sticky and sweaty even right after bathing."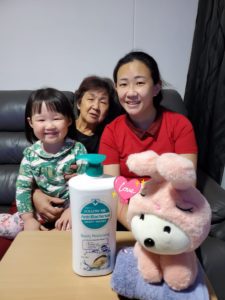 Member @Jenifer Tan says, "Before I try this, the Follow Me body wash that kills 99.9% of harmful bacteria sounds drying to me. After using it, gosh, I love it. This leaves my skin moisturised, PH balance of 5.5, clean and refreshed. My 9 yrs old girl tried and said is nice. My girl and I have dry, sensitive skin, our skin is often dry and itchy. So far using it for a few days with the body wash is ok. Legit for saying is PH balance of 5.5 and moisturizing with rice milk." Unlike other antibacterial body washes, this one also has a moisturising variant that is great for people with dry or sensitive skin! So, even when it has the ability to remove 99.9% of bacteria, it also moisturises and does not make your skin itch with dryness.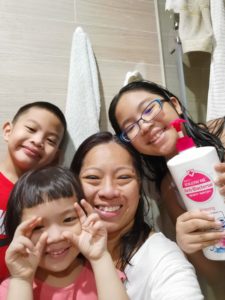 Member @Rebecca92 mentioned, "I really love the scent of Sakura and usually I have to splurge on expensive body wash in order to enjoy my favourite scent but now that I have discovered Follow Me Antibacterial Body Wash with my favourite scent, I will definitely switch to this as I feel that my skin is soft from the Pearl extract after using it!" The Whitening Body Wash variant is enriched with pearl extract to keep skin hydrated, brightened and moisturised. The scent of Sakura is the icing on the cake as it also helps heighten and make your shower experience much more enjoyable with its sweet aroma.

These 5 reasons are some of the most essential benefits you should look for when purchasing an antibacterial body wash. Hopefully, our members' reviews have helped you decide which body wash will work the best for you and your family. So, if you wish to purchase the Follow Me Antibacterial Body Wash, you can find it at your nearest Fair Price, Giant Supermarket or on RedMart. Try it now and let us know what you think of these body washes!
This article is written in partnership with FOLLOW ME. All opinions shared are based on authentic and honest reviews from real users.
Read recent articles:
Eczema Skin: Tips and tricks from our colleague who suffer from eczema
Zara Review: Testing out their most popular beauty products!
Dyson Hair Care: Is their hair care technology really worth the money?