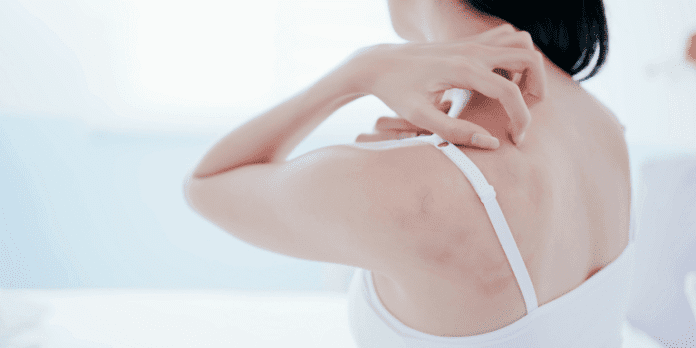 Eczema skin is some of the most common skin conditions. It can appear on any part of your body and will make your skin look red and cause an intense itch. We sat down and chatted with Jing Hui, from Try and Review's marketing team, as she shares some of her tips and favourite products for treating her eczema skin.
Interview with Jing Hui on her tips and tricks to treat her eczema skin
1. How long have you been experiencing eczema?
I have had eczema ever since I was young and mine is Atopic Dermatitis. Now, it does flare up here and there but I learned to manage it. I take lots of care and effort for my skin! Maybe that's why I'm always on the lookout for the latest skincare products and justify my splurge hahaha!
2. Could you tell us all about your experience with eczema??
For me, it is just super itchy on my elbow and shoulder area, like an annoying mosquito bite. Hot weather and stress usually cause my flare-ups. Sometimes, when I scratch too much, my skin bleeds (although not often). Showering or applying harsh moisturisers sting my wound too. But with time, and our awesome body healing properties, the wounds heal!
3. What are some products that you swear by that you would like to share with the community?
Body wash: A good body wash is quite important for eczema skin, especially open wounds. If I use a relatively acidic body wash, it will usually sting and irritate my skin. The body wash should also be moisturising and not cause any dryness because it will cause the wounds to worsen. For my recommendation, it is quite a niche Korean product. I like it because it cleanses my body quite well. At the same time, I don't feel my eczema skin feeling itchy and dry as it gives a moisturising effect.
Moisturiser:  I use Etude House's Cica Balm which helps calm and soothes my skin. It doesn't moisturise but I like how it acts as a layer of lubricant to prevent moisture from escaping.
4. Any advice for people who also have eczema?
#Tip 1: Apply a layer of eczema-friendly cream to your wounds so that even if you scratch or brush against the wounds, it wouldn't aggravate as much as there is a layer of lubricant.
#Tip 2: Pay extra attention to the products you use and try to find products that are suited for your skin as everyone may have different reactions to different products.
#Tips 3: Apply moisturiser as you would with sunscreen daily. Make an effort to apply lotion several times throughout the day.
#Tip 4: Wear clothes that cover the affected area because the cloth can act as a protective layer to prevent scratches directly onto wounds unknowingly.
#Tip 5: If it is very serious, definitely go see a doctor so they can professionally assess your situation.
Hopefully, these 5 tips could help keep your eczema under control and help prevent an eczema flare-up!
Read more recent articles:
5 Eczema Creams That Your Skin Will Thank You For
Probiotics Skincare: What's the Hype? And 5 Must-Try Products
Why Choosing The Correct Product For My Baby With Eczema Is So Important by User Nerahs