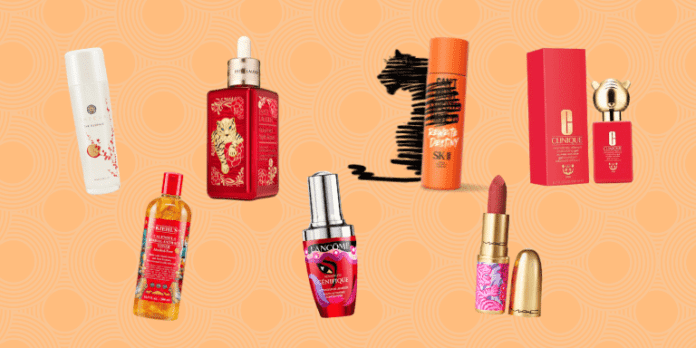 With Chinese New Year just around the corner, many brands have been coming out with their 2022 limited edition products. It is best to say that now is the perfect time to shop as shopping malls and online stores are also pushing out discounts and gift sets. You can save money while getting a special edition product, the best of both worlds! Not only can you look festive with your lunar new year clothings, your beauty products can also dress up with their 2022 new year "clothes"! With that, we have curated 9 beauty products (from skincare to makeup) that are famous cult favourites that will only be available this season—intrigued yet? Now get ready and start shopping!
Chinese New Year – New Me, New Edition!
This cult favourite product has been around since 1982 (shocking, I know), and it has always remained Estée Lauder's best-seller as people still love and repurchase it time and time again. As by the name of the product, the Advanced Night Repair makes use of the night's regenerative power to produce a noticeable restoration of skin and reduce signs of ageing. If you are already using this product, why not take this chance to stock up on their tiger edition? Their 2022 Chinese New Year edition is a captivating red bottle and a detailed golden tiger with blue eyes. Surely you feel the urge to cart out now, don't you? If you are still undecided, here are some reviews from our members to help you out!
Member's rating: 4.3/5
"LEAVES SKIN SOFT AND RADIANT"
"After using this product nightly for a week, I see improvements to my complexion. A little drop goes a long way – absorption is fast and leaves no oily film at all. I have a bit of uneven skin tone with redness and it is now so much clearer and smoother after nourishing my skin with this serum. Fine lines around my eye and forehead area are also less prominent" –@MICHYMICH123
Another cult favourite is the Clinique Dramatically Different Moisturising Gel. It is a specially dermatologist-formulated facial moisturiser that is catered for very dry skin (choose type 1) to combination skin (choose type 2). Many love to use this product as it is paraben-free, sulfate-free, fragrance-free, oil-free and more. In this 2022 Chinese New Year edition, Clinique changed its usual cap into a cute little tiger head. The bottle also has a tiger print at the front, making it extra special for the year of the tiger. Here is a review from one of our members!
Member's rating: 5/5
"GOOD"
"At first I was a bit sceptical to buy because of its price and when I finally convinced myself and got one, then after a couple of applications I loved it. It is what it claims to be in the packaging. I like the packaging, super easy pump!" –@ADHIKARIPRAJIN
SK-II is a highly well-known brand that many love and highly raved about. This award-winning product is said to have 2 bottles sold every minute (impressive)! It contains over 90% Pitera, the company's star ingredient, keeping the skin's natural renewal cycle in peak condition for skin nourishment. In this Chinese new year edition, they have gone for a full orange packaging with black strokes outlining the silhouette of a tiger and the word "rewrite destiny" on it. Very far off from their usual sleek and translucent packaging. If you have always been eyeing this product but are afraid to splurge on it, read our members' reviews and see if it changes your mind!
Member's rating: 4.5/5

"SK-II PITERA TREATMENT ESSENCE"
"LOVE IT & CAN NEVER LEAVE IT FROM MY SKINCARE ROUTINE! It is easily absorbed into the skin and it helps to balance the redness and dullness on my face. My complexion has greatly improved since the start of my usage, and it gives a 'glow from within' effect. I have tried replacing it with other more affordable options, however, none could provide/maintain the same effect." –@WENJUNT
This customer favourite has been the toner many people with combination and oily skin go to. Calendula benefits include soothing and refreshing troubled skin and reducing redness, oil, and blemishes. What's even better is the toner is alcohol-free. Therefore, those with sensitive skin can also use this! In this limited edition packaging, the bottle cap and sticker wrap has been changed to an auspicious red. The sticker itself has cute drawings of a tiger, fish, flowers, and fireworks showing the festiveness. Go to your nearest Kiehl's store to see the adorable packaging for yourself! Meanwhile, have a read on our members' reviews if you are still deciding whether to buy this!
Member's rating: 5/5
TOTALLY LOVE THIS! SO GENTLE & SOOTHING ON MY SKIN
"I would definitely recommend this toner. It smells really nice and clean and leaves my skin looking dewy and moisturised. I found that toner is key to my skincare routine and really helps prime my face prior to using my serums and moisturiser. Since using I've noticed my skin looking healthy. Also doesn't dry me out which is important as I have very dry and sensitive skin!" –@KINSWIM
Best known for its 7-days promise to deliver a more youthful and radiant look after usage, many love this serum because of its fast results. Lancôme Advanced Génifique Serum contains a blend of seven prebiotic and probiotic extracts, selected as the essential ingredients to strengthen the skin. In this limited edition, they have decided to ditch the black bottle in exchange for a red and auspicious one this Chinese New Year. The official website says that this year's theme was "a tribute to the Beijing Opera, an ode to the powerful Dan character and an inspiration for women to create their own stories". Perfect for a meaningful gift to your girlfriends! Are you still thinking? You can read more reviews and decide for yourself!
Member's rating:5/5
"SAW RESULTS IN JUST 3 DAYS"
"Face became brighter, lines became finer. This product worked a miracle. I saw results within 3 days of using and my skin got progressively better! Genuinely impressed :)"-@LANGUAGEOFLUV
The famous Tatcha is a Japanese brand that celebrates skin of every age and shade. Therefore, it is not a surprise that their best-selling essence is suitable for all skin types. The Essence works as a skincare boosting treatment to allow skincare rituals to be more effective by enhancing their effects. It contains 100% Hadasei-3, a trio of fermented Japanese superfoods to resurface, hydrate, plump, and soften the skin of any age. Taken from the Tatcha website, "this limited-edition bottle is decorated with the buds of ume, or Japanese plum, which bloom in the winter frost, acting as a first sign of the warmth ahead. These delicate flowers are associated with noble and faithful beauty, endurance, health, renewal, hope, prosperity, and inner strength in Japan". So if you are planning to buy this and love the blossom-adorned bottle, check it out at your nearest Sephora! Also, leave a review to share with others if you have used it and tried it before!
Leave a review if you've tried it
The ever-loved Powder Kiss range has a new limited edition for this Chinese New Year! Mac Cosmetics has specially came out with 4 different festive shades – Pure Luck, Enveloped in Luck, If Wishes Were Roses, Push Your Luck. The Powder Kiss lipsticks are known for their unique texture as it gives off a soft-focus blurred colour, that is still hydrating and feels weightless on the lips. Other than the 4 new colours, the limited edition packaging is also different from their usual black and silver one. The new lipstick bullets are golden while the bottom of the lipstick print is that of a pink tiger with peony-printed packaging. If you are looking for a new lipstick for this Chinese New Year, why not try out these lipsticks specially designed for the occasion? Let us know in the review, what you think of the lipstick if you have tried it!
Leave a review if you've tried it
When it comes to Givenchy lipsticks, the 37 Rouge Grainé is best known as their signature shade. The iconic lipstick is a deep garnet red shade that screams elegant and chic and has a powdery matte finish for a long-wearing time. It has a soft and lightweight texture that allows the lipstick to glide effortlessly across the lip without tugging at it. The special edition introduces a new dark red leather lipstick cap that is festively adorned with silver heart ornaments vertically down the lipstick. This cute yet chic packaging will definitely be drawing attention whenever the lipstick is taken out from your purse. If you are looking for a matte red lipstick this might be the one you are searching for. Both the colour plus the packaging are too pretty to be passed up upon! Do leave a review if you have used the lipstick so you can help others in their purchases!
Leave a review if you've tried it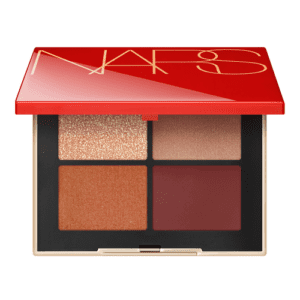 While Nars' blushers are more well-known as the crowd favourite, this eyeshadow quad is inspired by the award-winning Blush in cult-classic shade Taj Mahal. The eyeshadow shades of the Taj Mahal consist of a yellow gold shimmer, a shimmering light peach, a burnished orange with golden shimmer and a matte purple-red. An elevated eyeshadow pallet with neutrals and warm browns, suitable for both a dramatic and an everyday eye makeup look. For this year, Nars has decided to transform their matte black casing to gold and red to fit the occasion. Although the limited-edition packaging is simple and sleek, it may be ideal for those who prefer minimalist designs. Buy and try it out yourself if you love these shades! Also, you can help others by leaving a product review if you have tried this before!
Leave a review if you have tried it
We sure are spoilt for choice with so many beauty and skincare options for this Chinese New Year. From the golden tigers to the red adorned packaging, it is definitely worth stocking up all your favourite skincare and makeup products now! Shop at your nearest counters or head to Sephora to find all these limited editions packagings! Which ones are your favourite special edition designs this year? Let us know in the comments below and also do leave a review if you have tried them before! Lastly, stay safe and Happy Chinese New Year in advance to everyone!
Read more recent articles:
Why You Should Include These 5 Skincare Trends Into Your Self-Care Routine in 2022
HydroCollagen+ Facial Treatment Review: Does this award-winning facial really live up to its name?
Looking to create the perfect winged eyeliner look? We've got our 5 best eyeliner picks for you!