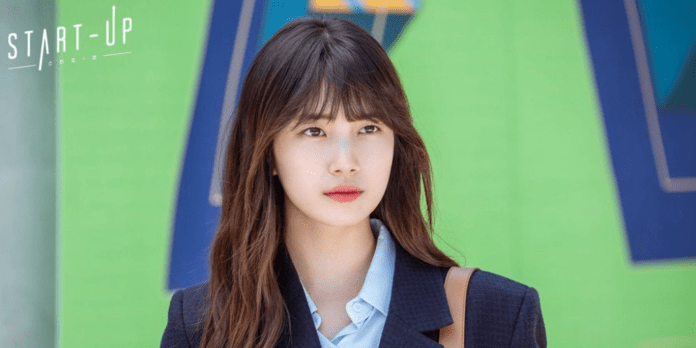 Have you ever wondered what beauty products were used on the female leads while watching Korean dramas? You are not the only one! In 2013, the Korean drama "My Love From Another Star" became a trending world phenomenon. It was the topic of conversation on the internet for a while. But what was discussed online wasn't the show itself but the lipstick shade the actress Jun Ji Hyun wore. Because of this, it caused a worldwide shortage of her lipstick in the particular shade she used. So, if you are also one of the people who are curious or wish to buy the same product your favourite actresses wore, keep reading because we've compiled a list of lipsticks that actresses wore in 2019-2021!
Korean Drama: Encounter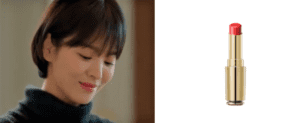 The ever young-looking actress Song Hye Kyo (Cha Soo Hyun) wore the Sulwhasoo Essential Lip Serum Satin in the shade 4 Rose Red. Her product was a moisturising lip serum that "breathes life into dull lips". It is suitable for most people as it is a moisturising lipstick and for people who wish to have a healthy yet subtle colour on their lips. The Essential Lip Serum is moisturising, promotes vitality, and provides resilience care for the lips. Find out more about this lipstick at your nearest Sulwhasoo counter or purchase it online. Check out what our member said about this lipstick!
Leave a review if you've tried it before >
Korean Drama: Nevertheless

Being the new ambassador of Charlotte Tilbury, it is only natural that Han So Hee (Yu Na Bi) wore their iconic MLBB shade. The lipstick shown in the drama is the Charlotte Tilbury Matte Revolution in the shade Pillow Talk Medium. We love this shade as it is an everyday matte nude pink when applied lightly, and when layered on, it will look close to a warm berry-pink shade. Pillow Talk Medium is especially perfect for people who have the option to quickly transform their day and night look with a few more swipes of their lipstick. Apply it thinly for natural makeup for the office in the morning and apply more layers after work to be set for the night-out look to meet your friends or your significant others!
Leave a review if you've tried this before >
Korean Drama: Start-up

Suzy Bae's (Seo Dal Mi) has been a long time ambassador for Lancôme. This time, she wore the Lancôme L'Absolu Rouge Ruby Cream Lipstick 03 Kiss Me Ruby in her Netflix drama, Start-up. The colour is a beautiful toned down warm coral shade that most Asians can easily pull off (look at how beautiful the shade looks on Suzy)! Slightly different from their normal Lancôme L'Absolu Rouge range, this formula is said to have a creamy texture and incredible pigmentation with just one swipe. And not only does it do well in the texture and pigmentation, it also has an impressive moisturising effect for that plump and kissable look! It is enriched with hydrating ingredients like hyaluronic acid, therefore, allowing your lips to feel comfortable while wearing it. What's not to like?
Leave a review if you've tried it before
Korean Drama: Hometown Cha Cha Cha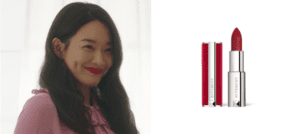 Hometown Cha Cha Cha was a top trending rom-com Netflix show in 2021. The Korean drama was on the list in most Asian countries throughout its broadcast. It wouldn't come as a surprise to find people searching up the lipstick worn by Shin Min Ah (Hye Jin) in the show. If you are searching for it, here it is – Givenchy Beauty Le Rouge Deep Velvet Matte Lipstick in Rouge Graine. This lipstick shade is the best-selling matte lipstick and the most iconic red lipstick from Givenchy Beauty. No wonder Shin Min Ah looked so good in the episode! The shade Rogue Graine is the perfect red lipstick for people with neutral to cool-tone skin! Due to the powdery texture, the formula is a highly pigmented lipstick that glides smoothly on the lips and is comforting, soft, and breathable. If you have been looking for an iconic red shade, this might be perfect for you!
Leave a review if you've tried it before
Korean Drama: It's Okay to Not Be Okay

In It's Okay Not To Be Okay, Seo Yea Ji (Ko Moon Young) was wearing the Rouge Hermes Matte Lipstick in 64 Rouge Casaque. For those that didn't know, Hermes launched their lipstick range named Rouge Hermes in 2020. The official website describes the Rouge Casaque shade as "a characterful, dense and radiant red, evoking the garment worn by jockeys". This shade will be perfect for exuding the chic vibes (just like the character) with its slightly warm orange tint. Hermes said their lipstick has "a velvety, powdery finish with a second-skin effect". Although it is a highly pigmented matte lipstick, it is both comfortable and hydrating at the same time. If you like wearing matte lipstick, this is up to your alley! Each lipstick is also refillable, so you can save a few bucks when you decide to repurchase. Have you tried this lipstick? Leave a review to let other members know if you love this product!
Leave a review if you've tried it before
Spot something that caught your eyes? Comment down below and let us know which lipstick is your favourite!
Read recent articles:
Chinese New Year Exclusives: These Cult Favourites Will Surely Make You Stock Up
Why You Should Include These 5 Skincare Trends Into Your Self-Care Routine in 2022 Looking to create the perfect winged eyeliner look? We've got our 5 best eyeliner picks for you!