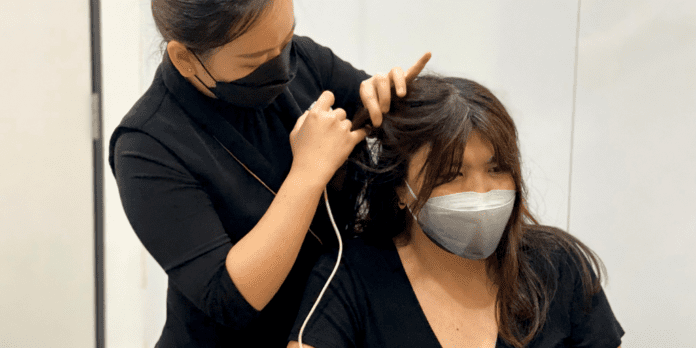 A scalp treatment is often the last thing on our minds whenever we think about hair care. However, it is one of the most effective ways to achieve the healthy, thick and luscious hair that we desire. Try and Review invited Jessie, one of our members who has been suffering from dandruff and hair loss to experience a hair growth treatment at Jonsson Protein. Here is her honest review on her first visit to Jonsson Protein as she shares her overall experience there.

Jessie's Scalp Treatment Review: Trying out Jonsson Protein's Signature Protein Hair Growth Treatment
Common scalp problems can cause a lot of irritation and hair loss. I was in complete shock at the state of my infected scalp when I realised that I was experiencing some hair loss months ago. Another issue I was facing was dandruff. Knowing that one must make a huge effort to take good care of your scalp for healthier-looking hair, I decided to give Jonsson Protein a try and went for their signature Protein Hair Growth Treatment.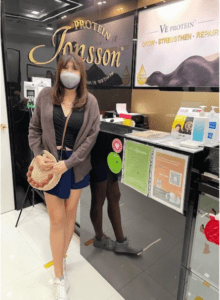 I visited their SingPost outlet for the first time and was greeted by their friendly staff the moment I entered. I did the usual check-in via TraceTogether and completed some registration forms for them. The process was relatively fast and pretty seamless. 
Protein Hair Growth & Scalp Treatment: Consultation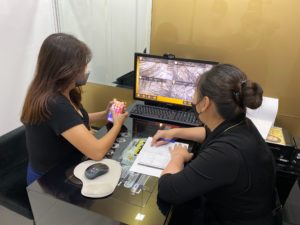 The consultant and therapist at Jonsson Protein who attended to me helped to scan my hair and scalp to identify what hair problems I am currently experiencing. She then explained that my scalp was pretty oily. Another hair issue identified was that there was a lot of dandruff covering my scalp, which could be causing my hair loss as it blocks new hair from growing healthily. Of course, my consultant recommended that I undergo their signature Protein Hair Growth Treatment. She informed me that there were a total of 6 steps in this hair scalp treatment.
VE Protein Hair & Scalp Treatment: The treatment process
Step 1: Deep Cleanse & Massage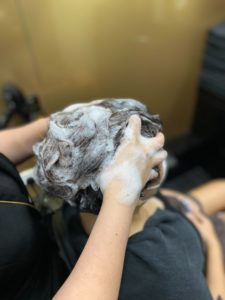 My therapist started to massage and deep cleanse my hair with their special shampoo She said that it can help with eliminating any stubborn impurities that may be blocking my hair follicles. Also, the head massage was very 'shiok' and relaxing.
Step 2: Protein Mask Treatment
After the 'shiok' hair wash, my therapist applied a Hair Mask to nourish and replenish the protein lacking in my hair. Then, she wrapped my hair with a towel to let my scalp and hair soak in all the goodness.
Step 3: Thermal Revitalisation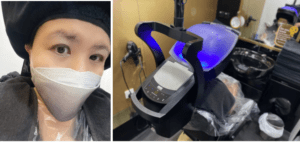 Then, she put me under a hair steamer to undergo the 30-minute Thermal Revitalisation. I love that it helps with improving blood circulation and disinfecting my scalp. The hair steaming will help to relieve my sensitive scalp and restore my hair to its optimal condition.
After the mask and scalp treatment, the therapist treated me to a bonus service by rubbing my scalp to remove stubborn dandruff. I was really surprised by this step, as I had never experienced this before from other salon treatments. I was worried that it would hurt since I knew my scalp was already suffering from a bit of infection. But thankfully, she was gentle so I felt almost nothing at all.
Step 4: Rejuvenating Ampoule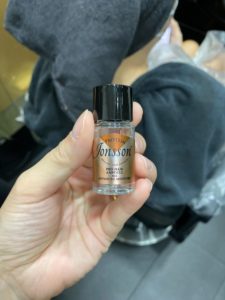 The therapist applied Rejuvenating Ampoule to my scalp areas while explaining to me that it will help to replenish the nutrients and hydrate my scalp.
Step 5: Nutrifying Essence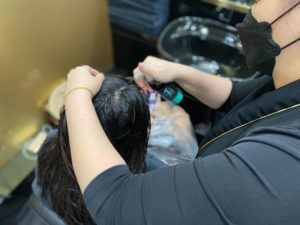 She added the Nutrifying Essence to my scalp and followed this up with a relieving scalp massage again. This was really the best part because it definitely helped me relax a lot.
Step 6: Professional Styling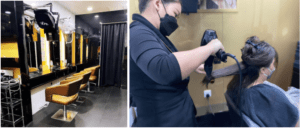 The treatment ended with a professional blow-dry and styling as the final step to the Jonsson Protein Signature Protein Hair Growth Treatment! This was the perfect ending to the hair and scalp treatment.
VE Protein Hair & Scalp Treatment: Results (Before & After)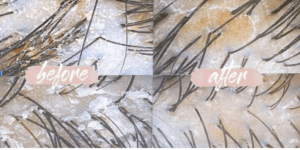 After the entire treatment, we did another scan to compare the before and after results. 
My scalp condition definitely improved a lot as you can see and compare in the BEFORE/AFTER photos above!
The BEFORE photo – My scalp was covered by a layer of hard/oily dandruff. 
In the AFTER photo – my scalp is so much more well-cleansed and dandruff has significantly improved after this treatment!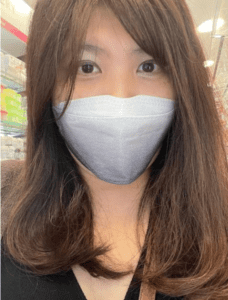 The best part? I love how clean my scalp feels after the treatment! Also, I really love the top-notch service rendered to me throughout my time there. I really enjoyed my first experience with Jonsson Protein and I would strongly recommend you to give it a try too! Check them out at their 3 outlets – Plaza Singapura, SingPost and Westgate!
Protein Hair Growth & Scalp Treatment: Final thoughts on my experience
What I have learnt from this experience is that although there are many hair products to cleanse my scalp with, it is always good to head to a professional like Jonsson Protein. Although scalp treatments in a salon would cost you more than the products you buy off the shelves, it really is worth the investment! Always remember that having a healthy scalp is the most crucial in ensuring that your hair is in a healthy and top-notch condition!
The benefit of scalp treatment is not only the shiny and luscious locks. It also helps to regulate sebum production, remove my dandruff, eliminate impurities and dead skin cells. These benefits will also directly help me with my hair loss problems. I'm so glad that Jonsson Protein has done that for me. I will now try to maintain the new state of my hair and scalp.
Read more recent articles:
5 Lipsticks You Swore To Have While Binge-Watching Korean Dramas
Chinese New Year Exclusives: These Cult Favourites Will Surely Make You Stock Up
Why You Should Include These 5 Skincare Trends Into Your Self-Care Routine in 2022
This article is written in partnership with Jonsson Protein. All opinions shared are based on authentic and honest reviews from real users.