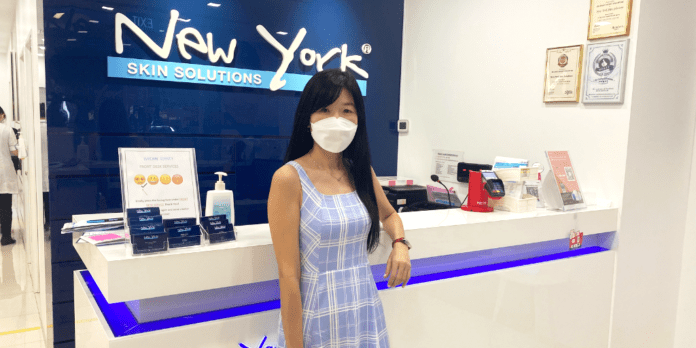 A facial treatment in general, helps you achieve a better-looking complexion. It not only cleanses, but also regenerates your skin, making it healthier. Of course, better facials can also eliminate specific skin problems such as dull skin, acne, wrinkles and age spots. Not everyone is naturally blessed with a good complexion that is smooth, radiant, and pimple-free. For most of us, achieving clear, glowing skin usually takes a lot of effort. But did you know that with the right treatment and/or skincare products, you can resolve common skin problems such as pigmentation, acne scars, as well as dry and dull skin? 
We sought the help of Try and Review member Angel, who tried the award-winning HydroCollagen+ Skin Treatment for the first time. Here, she reviews her full experience at New York Skin Solution and shares with you if this facial treatment really lives up to its name.
New York Skin Solutions' Signature HydroCollagen+ Facial Treatment Review 
When was the last time I went for a facial?
It was a few years ago, before Covid.
Do I need one?
Absolutely!
I think fellow mothers will understand that as parents, you will almost always never have enough rest. I am a stay home mother of 2 and I spend every weekday morning and afternoon sending both my children to and from school under the hot sun. This daily sun exposure definitely contributed to my skin ageing faster. It looks tired and dull all the time.
When I was given a chance by Try and Review to try out New York Skin Solutions' Signature HydroCollagen+ Facial Treatment, I was excited but also a bit worried as the Covid case numbers have been quite high these few days. However, I went to search their social media page and found out that they have been strictly following safety procedures and they would even discourage people from coming for their sessions if they are experiencing any slight symptoms at all. This gave me peace of mind and I decided to give it a try and to see whether their treatment can help improve my skin condition. 
Facial Treatment Review: First Impressions
I chose to have my session at NEX, a branch that is nearest to my place. When I arrived, the first thing I had to do was to fill in my personal details, including medical conditions and declaration about my vaccination status.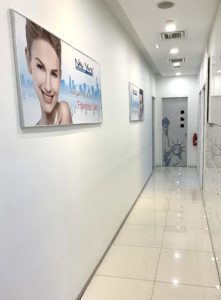 Their store is clean, bright and it looks great. I was then introduced to Jolene, my consultant for this facial treatment session. She was really friendly and chatty and immediately made me feel comfortable. 
We got to the consultation room where she started examining my skin with a scanner that linked directly to a screen. This allowed me to see my skin really up close and it really zoomed in on some of my biggest concerns – big clogged pores. The scanner is apparently able to scan the deepest layer of my skin.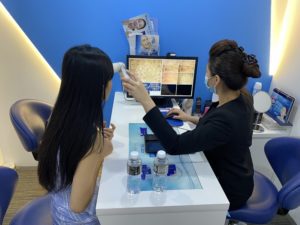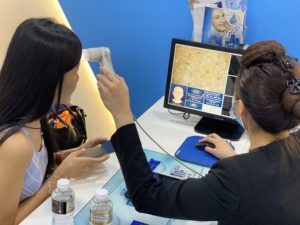 While it was quite gross to see your skin up close like that, it was also good on the other hand as we are now able to determine the root cause of my skin problems.
Facial Treatment Review: Consultation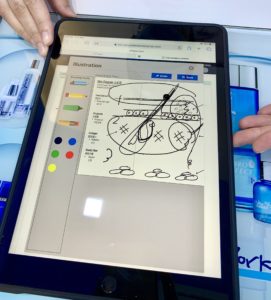 She then drew on the iPad and explained to me my skin condition based on the previous scans for my better understanding. I have sensitive and oily skin.
I was recommended their signature HydroCollagen+ SkinTreatment after the consultation and skin analysis. It is an intensively hydrating facial treatment that employs a 3-tier skin renewal technique to provide an ultimate remedy for all skin concerns. It claims that I can get radiant and glowing skin in 90 minutes of treatment. I was really excited and could not wait to start my treatment.
I was relieved to know that they were fully sanitising the room as I was told to wait for a little while. The treatment room is rather small but it's clean and comfortable. The room also came with a locker for me to put my belongings. They even provided me with a contact lens case and saline solution so I could take out and store my contact lenses before starting the treatment.
Facial Treatment Review: The Treatment Itself
Step 1: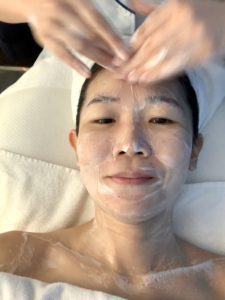 To start things off, she gently massaged and double cleansed my face with a cleanser specially used for sensitive skin. This also helped to unclog my pores. She then put an enzyme mask on my face to further help in unclogging my pores and softening my skin. This will make extraction easier later. Compared to facial steams, this was great and a more suitable and gentle way for my sensitive skin. I was also given an option whether or not I wanted to trim my eyebrows as well. 
Step 2: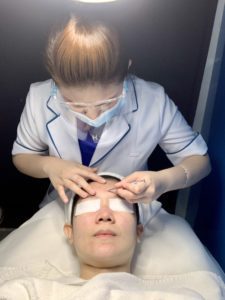 After the enzyme mask was removed, she applied a softening mask. She then started to do the extraction once my skin has softened enough. The extraction was not painful for me at all. But Jolene was really attentive and polite to constantly check in with me to make sure I was doing okay. She also made sure the amount of pressure used and pain level is alright for me.
Step 3: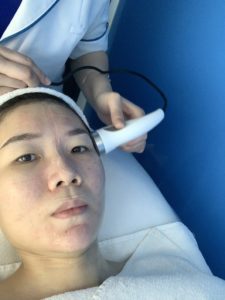 Then came the highlight of the facial treatment – introducing the collagen gel serum to my skin. This collagen gel contains hydrolysed marine collagen, hyaluronic acid and other bio-active ingredients that helps minimise pores, rejuvenate skin elasticity and improve overall skin texture. She spread it on my face with a brush and used an ultrasound technology to gently massage my eye area for a start. The use of ultrasound was to ensure that the collagen would be better absorbed by my deep skin layers through deeper penetration of the collagen serum, so as to see immediate results. This whole process felt really comfortable and relaxing. After the eye area, she then moved on to my face and neck. All this time, she only worked on one side of my face first so we can see if the treatment made any difference.
She then handed me a mirror to see if there was any difference after only half of my face was done. And you know what? Yes, there really was a difference! 
Not only were the pores less visible, my face was also slightly lifted compared to the other side that hasn't been touched yet. To be honest, the significant visible difference really surprised me.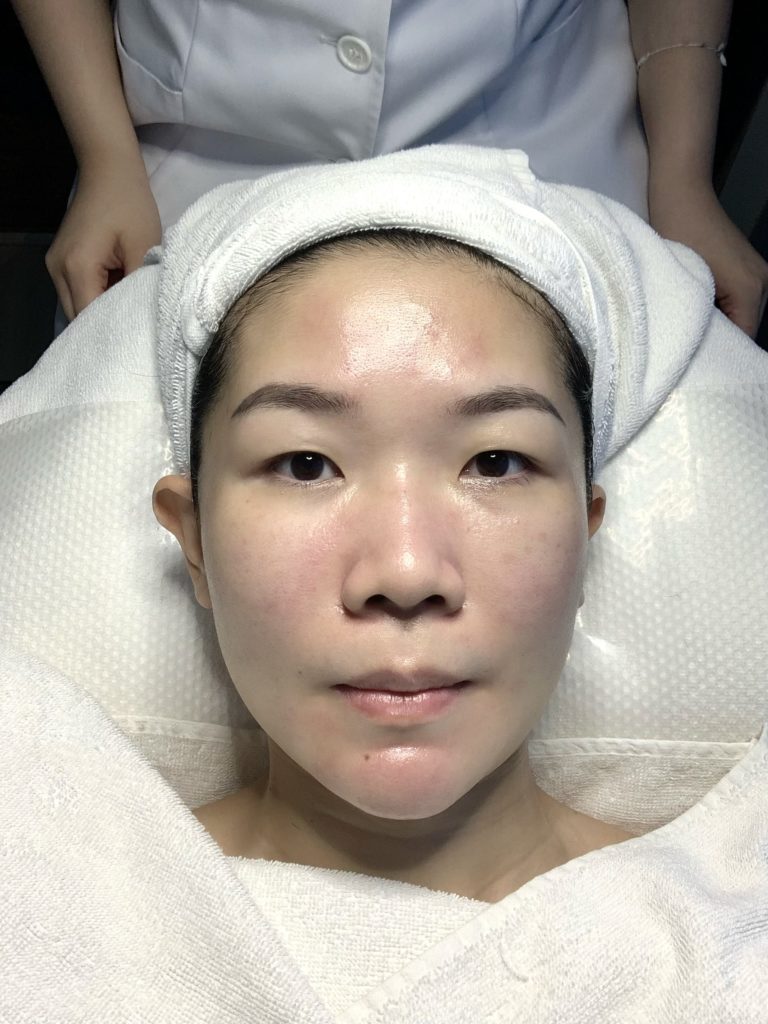 Left side done – you can see it's more lifted than the right side.
Of course, she continued working on the rest of my face and also gave me a detox massage for my face, shoulder and back. That was really much needed as it really helped relax my muscles and it felt really good. 
Step 4: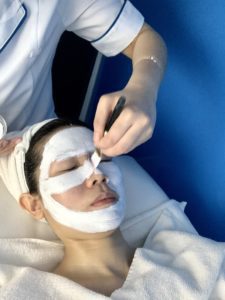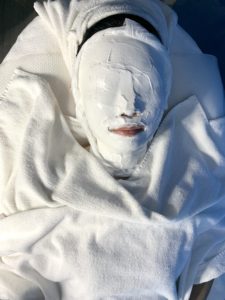 The last step of the treatment was a double masking process. She first applied a honey mask that mainly helps in hydrating and adding moisture back into your skin. The second one was a natural mask that contains plant extracts to help lock-in moisture. I love the cooling sensation of the masks. She then applied moisturiser and sunblock for me and I was done.
The entire treatment was completed in 90 minutes.
Facial Treatment Review: Results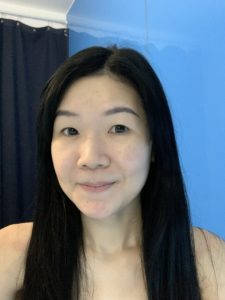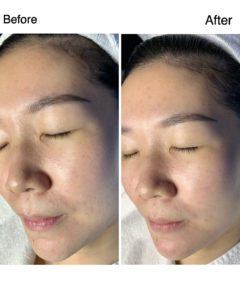 We did the scans again to see if there were any differences up close and when zoomed in. My pores sure looked smaller and cleaner than before and I was really happy about it.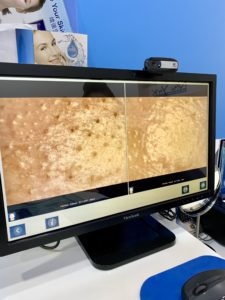 Left side was before and the right side was after.
I was then presented with a parting gift of their skincare samples to use for the next few days post treatment.
Overall, my experience at New York Skin Solutions was great and I am happy with the results on my skin. My pores looks cleaned out, skin feels hydrated, smoother and generally healthier.
Will I use their service again?
Yes. I just wish that they had soundproof walls as I could hear the lady in the other room beside me talking really loudly.
I also like that the consultant wasn't hard selling at all. As you know, some can make you really feel really uncomfortable. I'm a believer that if the service is good and the results show, people will definitely come back for sure.
Why not try it and experience it for yourself! Simply click here to redeem the same award-winning HydroCollagen+ Skin Treatment Trial that Angel tried for just $48 (U.P. $360).
Read more recent articles:
Retinol: Benefits, why, how, when and what products are good?
Bathing a newborn: New mom tips to start a good bath routine
Body Slimming Treatment: Does Dorra Slimming really work?
This article is written in partnership with New York Skin Solutions company. All opinions shared are based on authentic and honest reviews from real users.