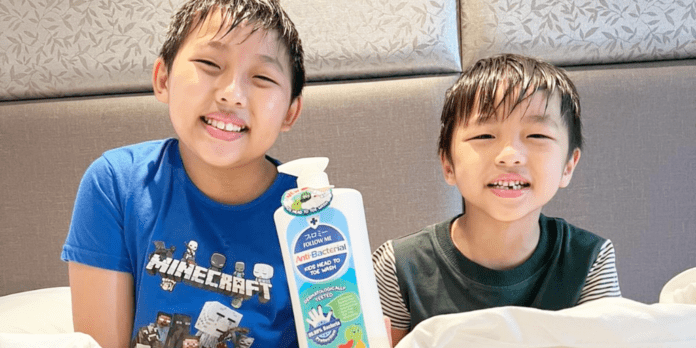 Antibacterial products have been proven effective against a wide range of harmful bacteria. This also applies to soaps and body wash. Therefore, many people have turned to them in the wake of this ongoing pandemic. However, some antibacterial products may cause dry skin or irritation due to their ingredients. Children have more delicate skin and can be sensitive to harsh chemicals. So it is vital to find the perfect product that is non-irritable for their skin. Especially as young and active children, they are constantly exposed to the sun and sweat. We decided to let mothers from our Try and Review community try out the Follow Me Antibacterial Kids Head To Toe Wash on their children to see if it is suitable. Here's what they have to say.
Antibacterial protection: Why is this body wash great for active children?
1. Antibacterial protection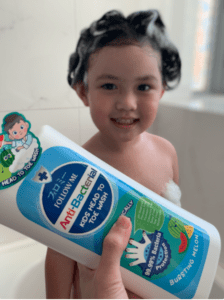 Member @lynn.koh615 says, "it fulfils all my requirements" and, at the same time, "protect harmful germs by using this effective anti-bacterial shower gel suitable for sensitive skin". Mum @teo.jen5d43a80b4a5be also mentioned that "bacteria protection is good, especially when she's (my daughter) not eligible for COVID-19 vaccinations". The Head To Toe Wash with antibacterial protection properties allows children to stay active while giving their mothers a sense of security. Because they can play without worrying about harmful bacteria spreading through everything they touch.
2. Dermatology tested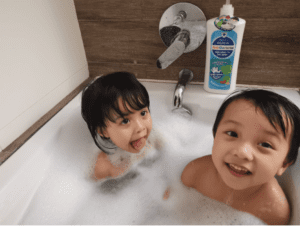 Mum @QEEN23 shared her love for the product stating "its bacteria protection without any chemical harshness" and "dermatologically tested infused with lavender & chamomile extract to soothe and moisturise the skin. Love this!" Another member of ours, @rshayli, shared that "my two kids have no (allergic) reaction to the product! Mummies out there with sensitive skin kiddies, you can try this!" Mothers can rest assured that the Head To Toe Wash is specially formulated to be mild and gentle for children and uses a non-toxic formula that is tear-free, colourant-free, soap-free, triclosan paraben-free.
3. Non-drying and moisturising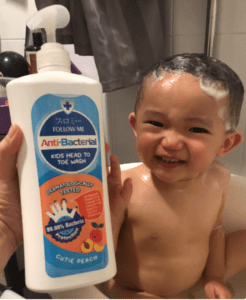 The Head To Toe Wash contains natural fruit ingredients that naturally moisturise children's skin and hair while maintaining the perfect balance in the pH level to prevent dryness and irritation. Mum @Drajula shared that it "glides dirt off easily without drying out the skin or hair". "Does not leave a film on the skin, and after washing it off, the skin is clean yet moisturised. Hair doesn't feel dry and is soft to touch without tangles". @sassybaby79 agreed that it is "moisturising and good for children with sensitive skin."
4. 2-in-1 product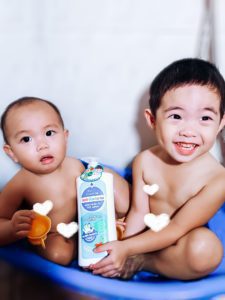 "I absolutely love the fact that it is 2 in 1, so you could just wash both their head and body altogether" and "skipping the hassle of applying 2 different lotions for the head and body!" Member @Corrinasoh.kg said. @engpl also shared she likes this product because it "saves us space in the bathroom". The convenience enables mums to save time with fussy kids by eliminating two separate stages and saving money by reducing the use of two different shower products.
4. Long-lasting fragrance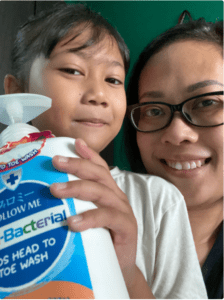 After a long day of playing, fragrance in body wash can help neutralise unpleasant scents like sweat and body odours. Member @Stellajane stated that her children "love it and the smell retains on them even after they run around". "100% would recommend this wash!" our member praised. @Abserendipity went on to exclaim her love for this product as she said, "oh my god!!! She (my daughter) smells so wonderful!!! I can no longer smell that sweaty smell anymore! Ever since I love hugging and smelling her hair!!!"
5. Enjoyable bath time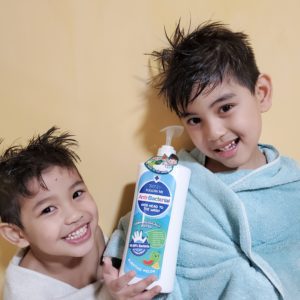 "The kids love it and look forward to showering time (which is very rare) just because they wanted to smell like melon!", our member @Amillia shared. Mum @maox2 recommended using it as "there is a lot of bubbles from just a few pump, which my daughter enjoyed playing with the foams and makes bath time fun!" Pleasant smelling bath wash can lift everyone's mood, not only the children bathing in it but also mothers bathing their kids.
Choosing the appropriate body wash for children with sensitive skin can be difficult. Especially in times like these, when hazardous germs and bacteria surround us. As a result, mothers must take this chance to rethink the factors that go into selecting the best body wash for their children without sacrificing either their comfort or safety. We love that our community has now found one that is great for their active children. Try it and let us know what you think about this antibacterial protection body wash for your active children too!
This article is written in partnership with FOLLOW ME ANTI-BACTERIAL KIDS company. All opinions shared are based on authentic and honest reviews from real users.
Read more recent articles:
Why You Should Include These 5 Skincare Trends Into Your Self-Care Routine in 2022
Silk products are all the rage now and here's why!
Weight Management Solution: Homemaker Kelly reviews her first slimming treatment experience