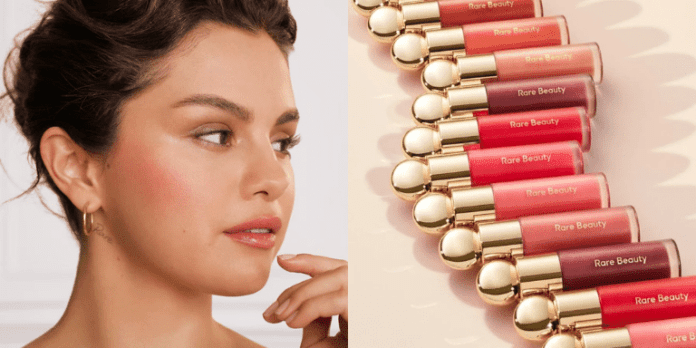 Rare Beauty blush has been all over the Internet recently thanks to the booming videos done by Tiktokers and YouTubers. The brand Rare Beauty was started by Selena Gomez. Her vision for the brand is for everyone who wears her makeup to feel good and stay unique as an individual. This was why she named her brand Rare Beauty, as being unique is what makes each and every one of us rare. With such a good message, I was hopeful for the product to be as good as what everyone was raving about!
Rare Beauty Soft Pinch Liquid Blush review: Is it worth the money?

RARE BEAUTY SOFT PINCH LIQUID BLUSH
Purchase this at Sephora.
The Rare Beauty Soft Pinch Liquid Blush in Bliss was my pick to try. It is said to be a nude pink shade with a matte finish. There are also other shades available with dewy finishes too. This Rare Beauty blush is said to be lightweight, long-lasting, buildable and blends beautifully.
My experience with the Rare Beauty Blush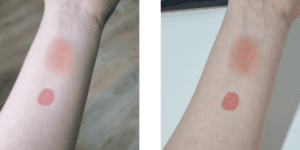 Pros:

Blends easily

Easy application with a doe-foot applicator

Has a beautiful soft diffused colour

Turns into a powdery texture as you blend it out

Lightweight and buildable

Product can last a long time as you only need very little each time
Cons: 
Not beginner-friendly due to high pigmentation

Needs to blend fast

Blush can get removed by mask

Longevity of the product on the cheeks was iffy
Conclusion:

Overall, I was surprisingly impressed with the product! It gives me a pretty diffused rosy blush and I look like I have a glowing look that doesn't look cakey like how some powder blush gives. I like that it was also easy to blend and because of the pigment, a little really goes a long way. The application is also very easy as you only need a few dots on your face and you can just blend it away. Another great travel essential!
The shade that I picked – Bliss, was one of the lightest shades. In dimmer lighting, this shade looks a lot more coral. Regarding the longevity of the blush, I realised that just a mattifying sunscreen on my face is not enough for the blush to stay on for long (my face mask had also taken some off along the way too). However, when I wore foundation and set my face with powder, the blush stayed on longer.
Rare Beauty is also giving back to society as they pledge to donate 1% of all Rare Beauty sales to the Rare Impact Fund in hopes to increase access to mental health services for young adults. There are also many mental health articles that you can educate yourself about on their official website. Lastly, if you have tried this product before, don't forget to leave a review to let us know what you think of it too!
Read more recent articles:
Best Blushes in Malaysia For A Glowy And Rosy Cheeks!
5 Fat burning foods that can help you lose weight naturally and healthily
Menstrual Cup Review: We tried it and here's why you should too!