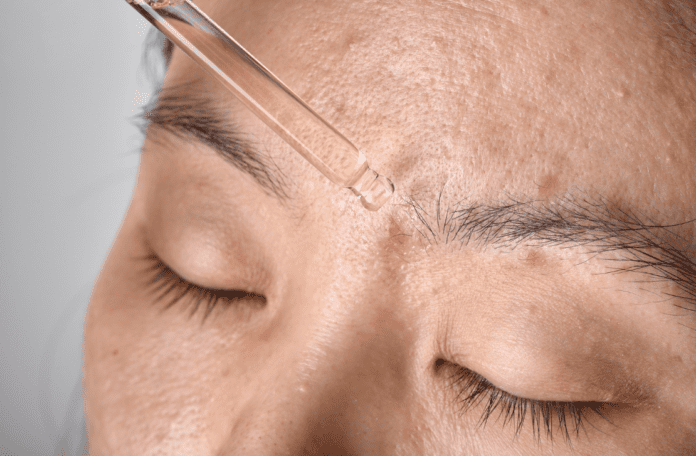 Salicylic acid, also known as acne's arch-nemesis, has gained a lot of popularity recently. But, is it really worth the try?
Our members shared their experiences to help you know more about this so-called
breakout-clearing miracle.
What Is Salicylic Acid?
Wondering what organic chemistry has to do with skincare? We are talking about salicylic acid and its structure because it makes the acid more oil-soluble, allowing it to penetrate the skin pores and cleanse it deeply.
Salicylic acid, derived from willow bark, belongs to a class of ingredients called salicylates. In the skincare world, we have two main classes of acids: beta hydroxy acids (BHAs) and alpha hydroxy acids (AHAs). Salicylic acid falls under the first category, i.e., BHAs. What does that mean? It means that the hydroxy part of the molecule is separated from the acid part by two carbon atoms. In AHAs, the same is separated by one carbon atom.
Can You Use Salicylic Acid Daily?
Some people can have an unpleasant experience simply because of their skin type like our member @Bella00, who is 27 years old this year, from the Philippines and has sensitive skin. "Upon applying the product on my face I felt some itchiness and it got worse after applying it all over my face."
If used in excess, salicylic acid can also irritate and dry your skin, especially if you have very sensitive skin. You should only use salicylic acid-based products daily if prescribed or if your skin doesn't react badly to them, such as redness or irritation.
Best Salicylic Acid Products for Acne Picked by the Community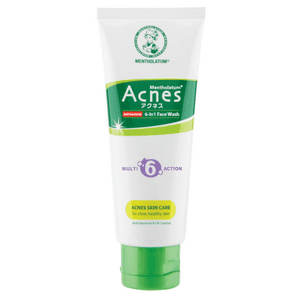 "This face wash off all the oiliness in my skin and doesn't feel dry at all."
The Acnes Anti-bacterial 6-in-1 Face Wash exfoliates dead skin cells and reduces blackheads as noticed by @Peisan (22 year old Singaporean who has acne prone skin) when she tried the product. It gently cleanses skin of dirt and grime while nourishing it. The best part? It's suitable for all skin types.
This face wash offers 6 benefits for acne-prone skin:
Anti-Bacteria: Isopropyl Methylphenol penetrates deep into pores to kill acne bacteria and ensure thorough disinfection.

Anti-Blackhead: Deep cleanses to remove blackheads, dead skin cells, and dirt with continuous use.

Oil-Control: Contains AC.NETTM that helps control oil shine and prevent clogged pores.

Moisturising: Sage Extract, Seaweed Extract, and Olive Oil keep skin soft and supple.

Soothing: Licorice Root extract soothes irritated skin and curbs pimple growth.

Refreshing: It has menthol that provides an instant cooling sensation and the Geranium scent helps refresh and energize skin.
Want to hear more about what others think?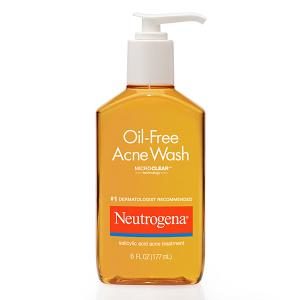 "I have an oily and acne-prone skin type so this is really perfect for me."
@Gayleregine, a 28 year old Try & Review member from the Philippines is very happy with this Neutrogena Ultra Gentle Hydrating Cleanser, which is a dermatologist-recommended acne-fighting cleanser. Neutrogena Rapid Clear Foaming Scrub clears breakouts while gently exfoliating your skin. Designed for acne-prone skin, this scrub instantly breaks down pore-clogging oil, visibly reduces breakouts, and helps prevent new ones from emerging.
Its clinically proven microclear technology boosts the delivery of salicylic acid acne medicine deep into congested pores. With gentle exfoliating microbeads and skin-conditioning beads, the scrub sweeps away dead skin cells to smooth skin and prevent over-drying.
You can use it twice a day. Start by wetting your face. Apply the product to your hands, add water, and work into a lather. Massage your face gently and rinse thoroughly. You might be satisfied with the result like our member @Gayleregine, who highly recommends it for oily, acne-prone skin.
Want to try salicylic acid? Decide if you want to start with this product by reading more reviews about it.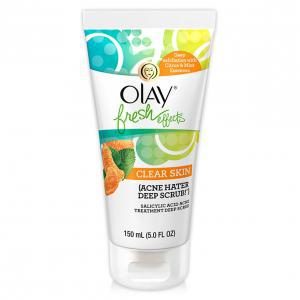 And for our Editor's pick – this Fresh Effects Clear Skin Acne Hater Scrub from Olay! It's a personal favourite and a great choice because it penetrates your pores to clear the blemishes and blackheads on the skin. Not only this, but it reduces excess oil formed on the skin. Just splash some lukewarm water on your face, dispense some product on your hands, work it into a rich foamy lather, massage gently all over your face and neck, and let it do its job.
Have you tried it before? Leave a review if you have!
Salicylic Acid With Vitamin C: The Perfect Match?
Vitamin C benefits range from boosting immunity to body tissue development and repair. Also known as ascorbic acid, this Vitamin C keeps your immune system healthy and promotes heart and artery health. What's more? It also helps in the formation of collagen.
You can use salicylic acid and vitamin C together. Just make sure that you use them in the correct sequence. You don't necessarily have to use both simultaneously, but you may do that depending on your skin type and goals. First, you can use a salicylic acid cleanser to cleanse your skin. Then, you can apply a topical vitamin C as your antioxidant.
Read more related content here:
3 Best Face Mists for Acne-Prone Skin: Keep Your Skin Hydrated All Day
Salicylic acid: Could this be the solution for acne scarring?
Problem Skin: Members Share How They Cleared Their Acne