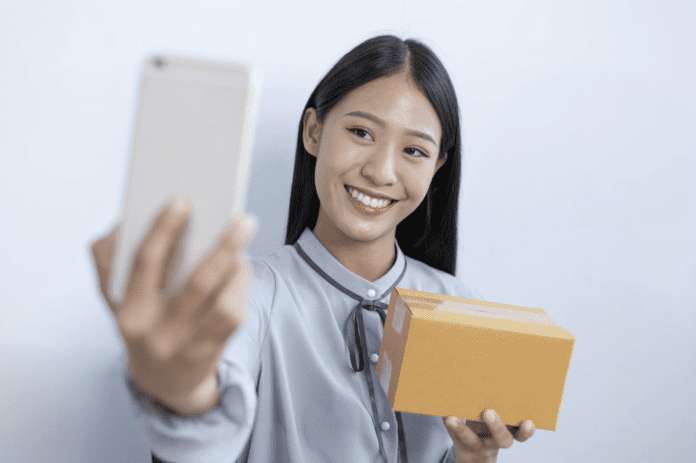 Taking the best selfie isn't always the easiest thing to do. Every influencer needs to know how to take a great selfie even though sometimes it might seem like the most daunting task. We want to help you become the best ambassador you can be! So, we have put together a list of tips and tricks to help you take the best selfie!
5 Best selfie tips & tricks to ace your selfie game 
1. Angles and Selfie Eyes
Knowing your angles is one of the most important aspects when it comes to taking the best selfie. It will always be key in helping you take the best picture you possibly can. Holding your phone at an angle can highlight your best features. Obviously, knowing your angles takes practice so don't be afraid to take hundreds of selfies to find the perfect one.
We would recommend trying to take your selfie at a slightly higher angle whilst looking up at the camera. Eye contact is extremely important. Coupled with the correct angle, eye contact could completely elevate your selfie. So don't be afraid to look directly at the camera!
2. Lighting, camera and action!
Finding the best lighting is key to any great selfie!  It is really important to perfect the lighting to up your selfie game and become like an influencer. Another helpful tip is to avoid shadows as you want your beautiful face to stand out. To get that beautiful light you can even flash a ring light to chase those shadows away! 
3. Take the most unique and original selfie
To get the best selfie, you should focus on originality. Be mindful of backgrounds and your outfit. A beautiful background can completely transform your selfie. People will be more interested and will take a longer time to really look at your pictures. If your background is cleaner, it will be more appealing and it will do very well on Instagram.
If you're finding yourself repeating the same poses or taking your selfie from the same angle, maybe it's time to get inspired. To find ideas for a new background or a new angle you haven't tried out yet,  don't be afraid to turn to Pinterest or Instagram. You can even try virtual filters! These platforms can pull you out of funk and upgrade your selfie game. They can give you new ideas that you would never have thought of previously.
4. Editing is the name of the game
Editing is part of almost every picture on Instagram. We recommend not over-editing any of your pictures because it can make your pictures look fake. Having the right editing technique for your selfies will upgrade your Instagram feed. If you need some ideas on how to edit your pictures, check out Instagram, Pinterest or even Youtube. You will find step-by-step videos on how to edit your photos in a way that works for you. This will help you produce the best selfies possible!
5. Relax and have fun!
The most important of a selfie is to not make it seem as though you are trying too hard. Focus on having fun and staying relaxed. To relax your face, you can blow a puff of air through your lips. Another tip we have for you is to think of a funny memory and let yourself smile. Don't forget to just enjoy yourself because being a content creator is also about having fun!
Read more recent articles:
Best anti-ageing skincare products for you to age beautifully
5 Sleeping Masks That Help You Wake Up To A Radiant And Plump Skin
Tinted Moisturisers: Which product is best for my skin type?