Vegan recipes that can satisfy newbie vegans are hard to come by. We always encourage our members to live a sustainable lifestyle as much as possible and incorporating vegan recipes in your diet can bring you one step closer to achieving that. We asked our Campaign Manager, Tiffaine, who is on a journey to becoming vegan, to share with us her favourite vegan recipe.
Turning vegan is not an overnight process. It is a journey that can take months or years. What is important is to keep trying our best. I personally still eat meat but most days have a vegetarian diet. Vegan recipes are difficult for me to try because I love my dairy. I live on cheese, milk, and creams. But I really want to start incorporating more vegan recipes into my everyday life so who better to ask than my colleague, Tiffaine, who herself cooks vegan dishes regularly. She shared with me her delicious and easy vegan recipe – "Tiffaine's Lentils and Mushroom Sauce" and challenged me to try it out.
Vegan Recipe For Lentils and Mushroom Sauce
Time to Make: 30 Minutes
Ingredients: (For 4-5 people)
1kg of potatoes

Vegetable broth (optional)

200 mL of coconut milk

200 mL of coconut cream

400g green lentils (can or raw)

2 carrots

1 big white onion

150g mushrooms

50mL dark soy sauce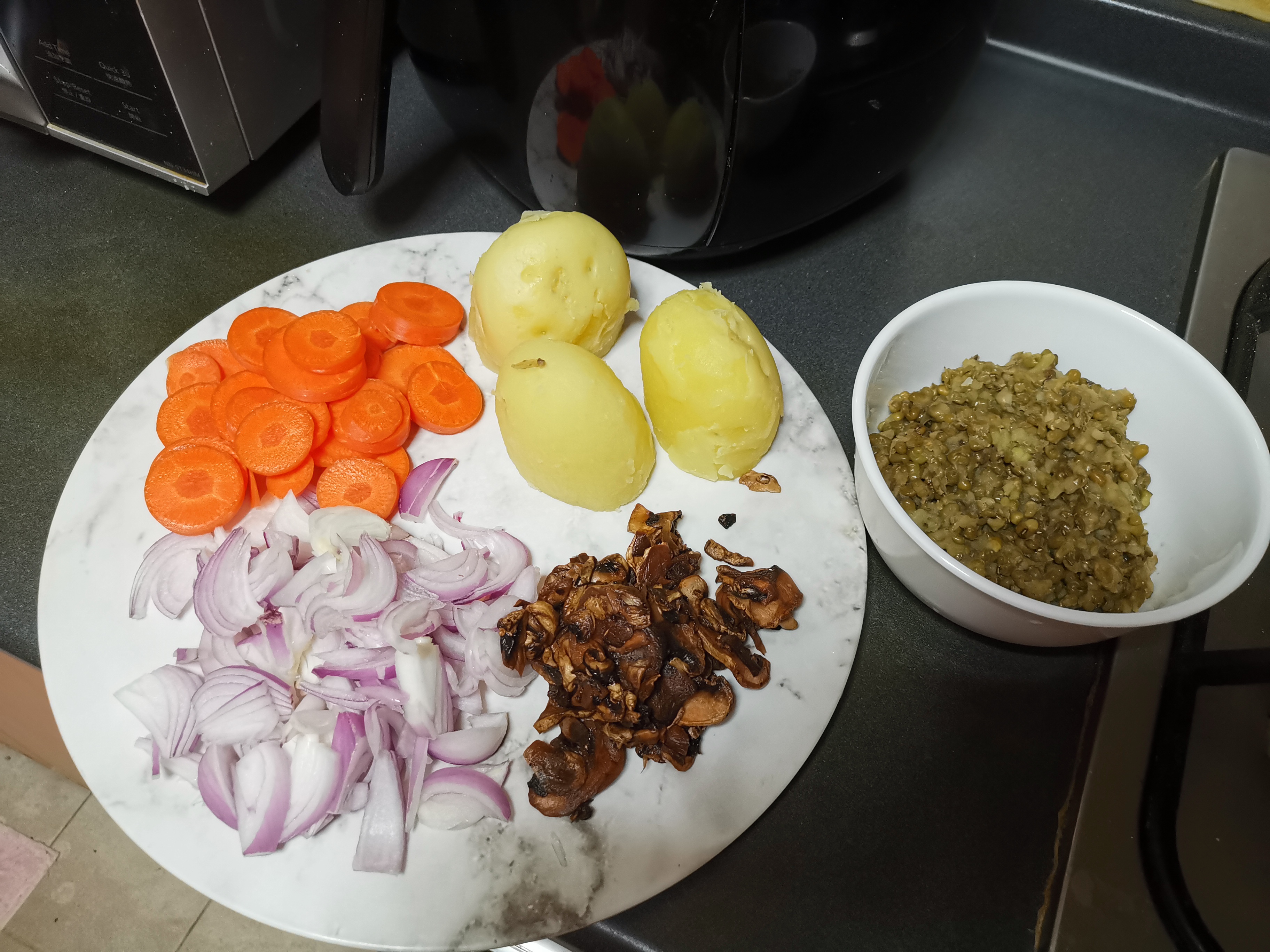 Boil water in a big pan, you can add vegetable broth if you have some.




Peel your potatoes and cut it in small pieces (the smaller the pieces the faster it is to cook).

Cook your potatoes until it's super soft.

Meanwhile, cut your onion and carrots.

In a wok, cook your onion in olive oil until it's clear and add the carrots. Let this cook for another 10 to 15 minutes.

Cook your raw lentils in boiling water

Add your cooked lentils to your onion and carrots. Then add mushrooms as well.

Add the soy sauce in the wok. Let it cook for another 10 minutes.

The mixture will seem dry, so add 200ml of coconut milk until you get a sauce consistency.

Meanwhile, mash your potatoes. Add coconut cream to make it as soft as you like. If you have some herbs (basil, mint, or parsley), add them too. It's really delicious.

Add salt and pepper to taste to the mashed potatoes.

Once your sauce is cooked and creamy (add some more coconut cream if it is too dry), serve it on your mashed potatoes. It's delicious!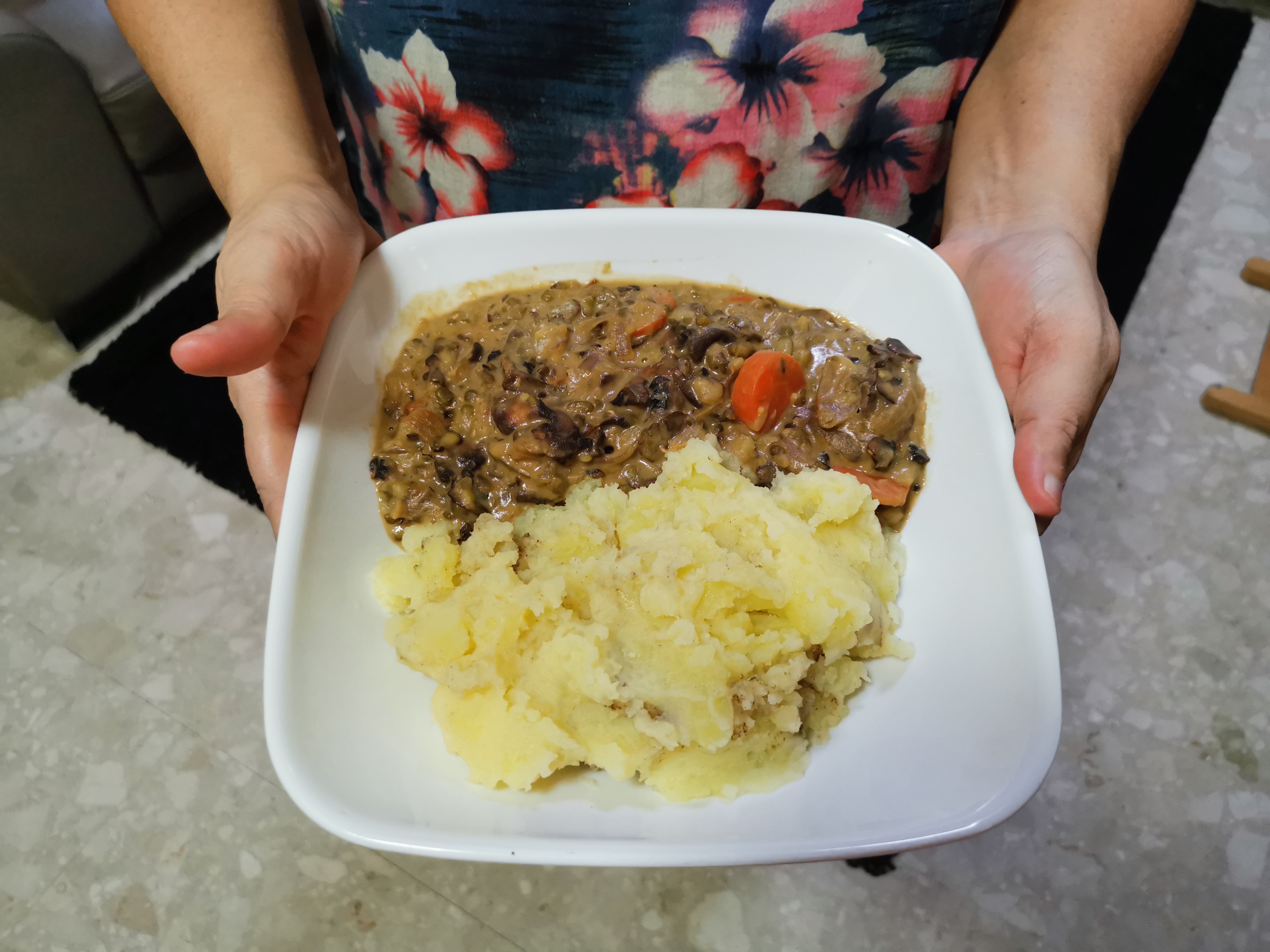 Final verdict:
I am not a fan of coconut milk and cream. So when I saw that we will be using coconut as the vegan replacement for dairy milk and cream, I was a little skeptical. But…I ABSOLUTELY LOVED THE RECIPE! I couldn't taste the coconut at all. The sauce was just the right combination of sweet and savory and tasted so yummy on mashed potatoes. I also loved how healthy everything was. We used so many vegetables. I usually don't like eating so many vegetables at once but in this case, the veggies added a nice crunch to the sauce and went well alongside the soft potato.
Should You Give This Delicious and Easy Vegan Recipe A Try?
Definitely! I am not good at cooking but this recipe was very easy to follow. I eat lots of Indian curries most days and we usually use dairy creams in them. So I was happy that replacing the dairy cream with a vegan alternative does not make them taste worse. If you love all things potatoes, then you are sure to love this vegan recipe.
Tips To Becoming Vegan
My biggest tip would be to start making small changes in your lifestyle. Veganism is not only changing your food habits but also changing your lifestyle. There are tons of brands that are making the best vegan options for us without compromising on the quality. Whether it is for makeup, food or cleaning supplies, you will always have a vegan option available. Lastly, constantly educate yourself on why veganism is needed for animals and the sustainability of the planet that can help you stay motivated in your journey.
Let us know if you tried this delicious and easy vegan recipe in the comments below.
READ MORE:
3 Easy Healthy Recipes For Beginners
3 Kuih Raya Homemade Recipes: The Best From Our Community!
Easy Breakfast Ideas When You're On The Go