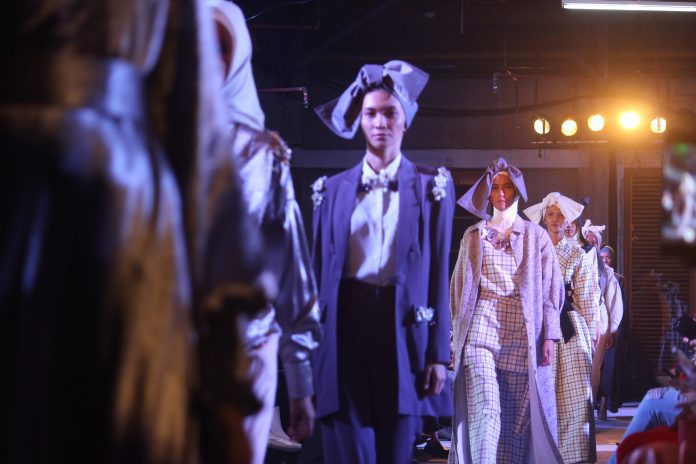 Oh, what more can we ask for, if we already have Posh Spice and everything nice? In case you haven't heard, (but that's pretty unlikely), the annual Singapore Fashion Week 2015 drew to a close yesterday with a big bang, as Victoria Beckham's eponymous label took the reins to conclude the most exciting event of the year in the local fashion scene. Featuring fashion heavyweights and budding local designers, SFW was grander than never before. In case you got lost amidst all that fashion frenzy, here are the top 5 highlights of SFW 2015.
1. Blueprint 2015
Lauded as Singapore's largest annual fashion tradeshow and emporium, over 70 Asian and international labels gathered together to impress viewers with their highly curated pre-spring collections. These acclaimed brands include Carrie K. and RÊVASSEUR from Singapore, Niin and JUNZHOU from China, Phuong My from Vietnam, PH5 from New York, Spektre Sunglasses and FESSURA from Italy, amongst many more. For many labels, Blueprint 2015 was their first foray into the Singapore market, proving that our little red dot is gaining a foothold in the fashion world. Not that this is surprising of course… last year, Singapore was named the 3rd most fashionable capital in Asia.
2. Diane von Furstenberg Fall 2015 Collection
Known for her iconic wrap-dress and signature prints, Diane von Furstenberg is one of the biggest fashion icons of all time. A fashion visionary in her own right, DVF was given the honor of officiating SFW as the opening show. With an alluring and mysterious air, Seduction features standout pieces such as polished coats over chiffon dresses, brightly-colored tailored suits and rompers with cut-out details, for both day and night. The daytime pieces are structured, sleek in pinstripes and characterised by black and deep red. By night, the pieces were motivated by fantasy and romance, through pieces embellished with floral motifs, lace, and gowns with plunging necklines.
3. Ong Shunmugam Cruise 2015 Collection
The Singaporean womenswear label did not disappoint with her contemporary take on modern pantsuits, fitted dresses and matching cropped blouse and skirt ensembles. Featuring clean and structured lines, together with her signature incorporation of oriental elements such as mandarin collars and Asian-influenced prints such as Batik, the collection is ideal for the modern yet sophisticated lady.
4. Thakoon Fall 2015 Collection
Thakoon's design philosophy entails combining simplicity with elegance – something he never fails to bring to the table. His signature white shirt look did make an appearance, but what dominated was a long and sleek silhouette with a slight bohemian element. While there's a thin line bordering between hobo-chick (we're looking at you, Mary-Kate Olsen) and boho-chic, we're pretty sure Thakoon's Fall 2015 collection falls in the latter category.
5. Victoria Beckham Autumn/Winter 2015 Collection
A fashion force not to be reckoned with, Victoria's designs are well-known for their chic simplicity and sleek silhouettes. Her collection plays with proportion, with a distinct focus on long, lean lines and interesting textures. Even though the line was monochromatic in nature, Posh Spice proved that black and white ensembles need not be boring. We especially loved her long white midi-dress with a ruffled satin skirt.
Photo Credit: Singapore Fashion Week 2015 and Blueprint 2015
Vanessa Ang