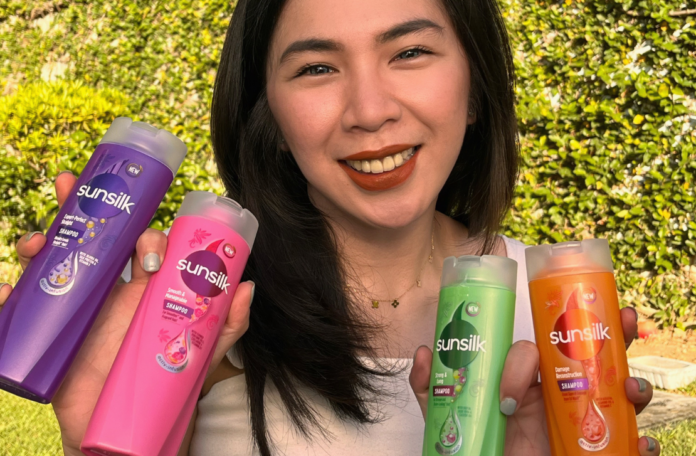 Having smoother hair starts with picking suitable hair care products for your hair type and needs. Choosing the right shampoo for your hair goals can be overwhelming, especially with so many options in the market. This is why we have engaged the help of 285 ladies to test if the 4 new Sunsilk Shampoos variants hold up to its promise of silky smooth and fragrant hair. Read on to find out why an astounding 97% of Filipinas would recommend the new Sunsilk with Activ-infusion, with its best ever blend of vitamins, oils and proteins!
Why the new Sunsilk with Activ-infusion are great to achieve smooth hair with long-lasting fragrance:
1. Anti-breakage properties and strengthens hair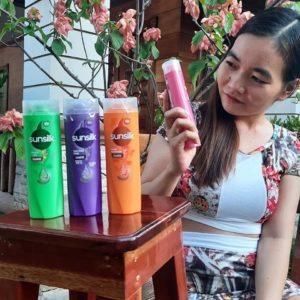 Try & Review member @cattaleyasmom reviewed, "After using this for 2 weeks, I noticed my hair getting stronger than before. As most of you may know, moms are experiencing [postpartum] hair loss after giving birth, and I must say I experienced it the hard way." The Sunsilk Strong & Long variant is made with Activ-infusion – a blend of Castor oil, Biotin and Aloe Vera, suitable for longer hair, making it 3x times stronger. It also helps to achieve smooth hair. Now, you can have your long luscious locks and keep them, too. Say goodbye to hair breakage and excessive hair loss!
2. Nourishes and tames hair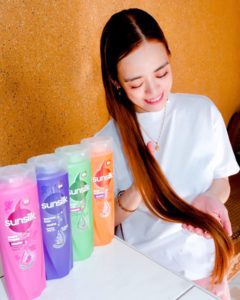 Frizzy hair is the woe of many. We often get dust and pollution trapped in our hair whenever we are out and about. This causes frizz in our hair and it has sadly become inevitable. Member @mrsjanedomingo found her solution with Sunsilk Smooth & Manageable, "It washes impurities out of my hair. After showering, I can feel that my scalp is very clean too. I really love the result of [having longer-lasting] fragrant smooth and manageable hair!" Made with Activ-infusion – a blend of flower oils, vitamin B3 and collagen, this variant helps to produce smooth and long-lasting fragrant hair.
3. Gives you silky straight hair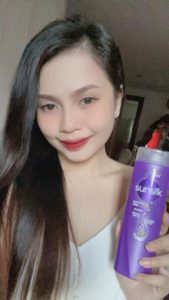 If sleek and straight strands are your hair goals, the Sunsilk Expert Perfect Straight is your best bet. A blend of Jojoba Oil, vitamin E and Silk Proteins, creates supple, straight hair without using any heat tools. User @rinabusa says, "My hair became so shiny, and super smooth in texture from roots to the ends. My hair flows perfectly without using the blow-dryer and the fragrance really lasts longer than before."
4. Repairs damaged hair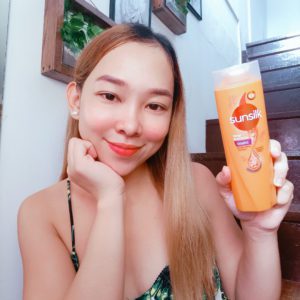 Member @Imsdiary shared, "I'm so amazed with this New Sunsilk Damage Reconstruction Shampoo. I have really damaged hair because of my [continuous] hair bleaching and coloring, but after using this, I have noticed that every damaged and dull strand has become smoother!" This blend of Almond Oil, vitamin C and Keratin will help replenish moisture and repair your hair from chemical treatments, heat and mechanical damage. 
These ladies have shared why they think the new Sunsilk shampoos made with Activ-infusion deserve a spot in their shower routine. Highly rated at 4.7/5, this is why you should also try out the new best-ever Sunsilk too! Now, if you are ready to start shopping, you can find the new Sunsilk with activ-infusion shampoos online or at your local drug stores, supermarkets, and convenience stores. Ladies, good hair days are ahead of you!
Read more haircare related articles:
Choosing the best conditioner: 4 reasons why 9 in 10 women think that this is best!
Frizzy Hair: 98% of women in Metro Manila would recommend this shampoo to stop frizz
5 Amazing Hair Serums That Will Leave Your Hair Shiny, Silky And Smooth