Face powder
is commonly used to set your base makeup to help it last the whole day. In the past few years, baking has become a trend to further set your base makeup and give it a more
flawless and smooth finish
. But how effective and useful is it? We tried it out for you today!
Every time I watch beauty tutorials, I've always noticed them baking their face with face powder right after concealer. And with each video, I started to become curious if baking really works to give you a flawless base on Asian skin like it does for Westerners. Hence, I decided to stay curious no more and try it out once and for all. Here is how it went!
How does baking work?
The concept is to make use of the thick layer of face powder and your body's temperature to act as an "oven" and help evaporate the liquid in the concealer to quickly and evenly set your makeup. And throughout the day when your skin starts to reproduce sebum or sweat, the moisture and sebum will rehydrate the set concealer and give you a natural finish once again. This technique will allow you to have a HD-finish for your face initially, and a more natural look later in the day. But most importantly, keeps your base makeup from slipping and sliding throughout the day.
How to bake with face powder?
Before we delve into the efficacy of baking, let's look at how to do it. All you have to do is to pack translucent face powder on top of the areas you have put concealer on with a damp sponge and leave it to "bake" for 5-10 minutes. After, you brush away the excess powder on your face and you're done with baking! You will supposedly be left with creaseless, smooth and a flawless base that almost looks like you put a filter on it, perfect for photoshoots.
Testing out the efficacy of baking with face powder: Initial Thoughts
As someone with oily-dry combination skin, I was especially skeptical about the efficacy of baking my under eyes as I have rather dry skin under my eyes. Hence, I was worried if this will cause my under eyes to crease. To test this out, I only baked on one side of my face.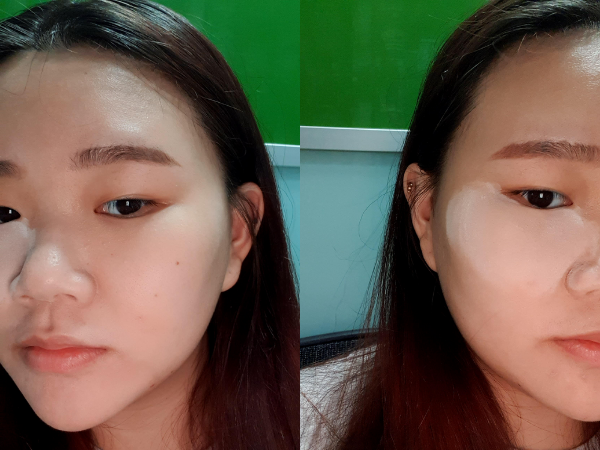 Pros:
My under eyes were slightly brighter
It felt smoother on the side that was baked
Cons:
Waste of face powder as you'd have to use a lot of it
Made me sneeze a lot from the loose powder and would have affected me doing my eye makeup
Makeup felt really heavy on the side I baked
Doesn't really make a difference finish wise
Testing out the efficacy of baking with face powder: With Exercise
As I had nowhere to be today, I decided to test out the efficacy of baking with face powder by doing some exercise to get me sweating. That usually starts off the sebum production for me and where my makeup starts to fade. Here's some comparison photos after my exercise. You can see that there is barely any difference between the side that I baked and the side I didn't. Though, I'd have to say that it looks slightly brighter on that side that is baked, so there's that. At least there weren't any signs of creasing or cracking, which I was afraid of.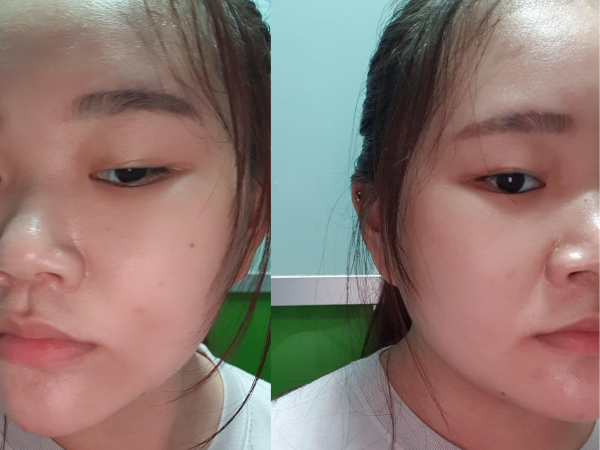 Overall, while I love setting my makeup with face powder, I don't think that baking is necessarily a must-do in your routine, especially when it comes to daily makeup. It barely made a difference to me, but it took much more time and product to bake, not to mention how heavy it feels on my skin. But do note that everyone's skin is different and what doesn't work for me, doesn't mean it wouldn't work for you.
Personally, I find just a light layer of face powder and spraying it down with setting spray is good enough to set your makeup and keep it in place for the whole day. If you need some help finding a good powder and setting spray to use, our members love the Laura Mercier Loose Setting Powder, Innisfree No Sebum Mineral Powder and the Urban Decay All Nighter Setting Spray.
Though, if you do have a photoshoot or an event to go to, baking your face might help to give you that extra brightening effect, but just make sure your face powder doesn't cause any flashbacks.
Have you tried baking before? What did you think of it? Let us know in the reply box below!
Read more articles on achieving the perfect base:
L'oréal Infallible: Perfect Foundation for Asian Skin
5 Trending Face Products in Sephora for a Glowing, Dewy Skin
Sephora makeup selection: Our 5 must-try products