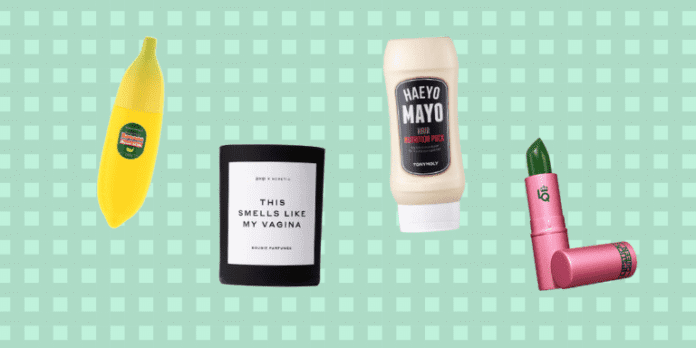 Funny gifts are one of the top searches when it comes to gift-giving. One of the biggest joys for some people is to see their loved ones opening gifts. So, why not take it to another level and release the inner prankster inside you? The anticipation during unwrapping, the initial baffled look across their faces, and the endless laughter you will bring to the party will undoubtedly create the best memories. We will be sharing some of the weirdest beauty products that don't skip on the functionality so your funny gift can be the star of the party!
Funny Gifts That Are Sure To Make Anyone Laugh!
Makeup
LIPSTICK QUEEN FROG PRINCE LIPSTICK
This lipstick may look just like any other lipstick from the outside but when someone uncaps the lipstick, they are sure to have a shock! Like the name itself, the moment the lipstick touches the lip, the shade will change from emerald green to a rosebud pink (like the fairytale of the frog becoming a prince with a kiss) thanks to the ph-reacting technology. Like a great tinted lip balm, it is enriched with Vitamin E and shea butter to leave lips feeling smooth and hydrated!
Leave a review if you've used it
If someone were to leave this bottle of "mayonnaise" on the kitchen counter, no one would think it was actually a hair mask. On hindsight, it is dangerous if someone was to consume it without reading. So if you are pranking someone, remember to keep a lookout. Other than the adorable trick packaging, this hair mask is packed with shea butter, macadamia seed oil and egg white extract to moisturise and leave hair looking shiny, silky and healthy!
Leave a review if you've used it
Hand Lotion
TONY MOLY MAGIC FOOD BANANA HAND MILK

Just imagine the disappointed face when someone actually thought they received a banana as a gift. This "banana" is actually a hand lotion! It is quick-absorbing and is loaded with shea butter coconut oil and banana extract for intense hydration, leaving hands silky and smooth. Not to mention, pulling out this attention-grabbing "banana" in public will surely be a conversation starter!
Leave a review if you've used it

Fragrance
GOOP THIS SMELLS LIKE MY VAGINA CANDLE
Fans of the actress Gwyneth Paltrow should already know about this controversial candle by now. Gwyneth and Heretic make this candle and it's supposed to smell like Gwyneth's vagina. But some articles debunked it and reported that it doesn't smell like one. But that did not stop the candle from selling out. On the official website, it is said that this candle can put users in the mind of fantasy, seduction, and a sophisticated warmth. While the fragrance may be a personal preference, this could be one of the best funny gifts you can get for your friends!
Leave a review if you've used it

Read more recent articles:
Salicylic acid: Could this be the solution for acne scarring?
Best drugstore mascara in Singapore for defined and clump-free lashes
Waterless beauty: What is it and why you should give it a try?