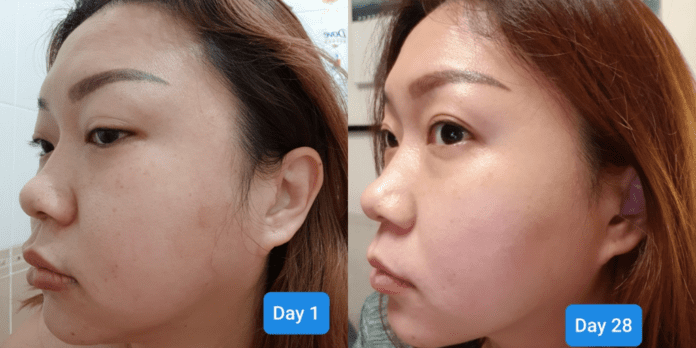 Vichy has just launched their newest product – the LIFTACTIV B3 Anti-Dark Spot Serum. It is said that their latest innovation is able to provide 360
°

correction against both surface and deep-rooted dark spots. Their dermatological grade formulation is suitable for people who are looking to minimise their pigmentation, reduce wrinkles and even their skin tone. Dermatologists had clinically tested the water-like serum and it is proven to be suited for all skin types. Including sensitive skin as there are no fragrance colourants and alcohol.

So if you have been having trouble with dark scars, pigmentation and other similar concerns, read more to find out about the product and our members' reviews.
Vichy LIFTACTIV B3 Anti-Dark Spot Serum Launch

The Vichy Laboratoires was founded by Dr Haller in 1931. He was the first medical practitioner to make the link between health and beauty. The very first skincare range that Dr Haller and his business partner developed was skincare products that mineralises water from the Vichy spring in France.
Vichy has since been known as a trustable French pharmacy brand. As they have more than 90 years of experience in making dermo-cosmetics products for the public. Vichy products are recommended by 50,000 dermatologists around the world and it is the No.1 anti-ageing brand in Europe.
The Active Ingredients

Niacinamide (B3)
The B3 in the serum name refers to Vitamin B3 aka. Niacinamide. Niacinamide is the star ingredient in this serum formulation and many people LOVE to have that in their skincare products. You may have also heard about it but if you haven't, you can read here to know more about what niacinamide is. One of the main benefits of Niacinamide is that it helps to visibly reduce the appearance of pigmentation and with prolonged use, it will lead to a more radiant and even complexion.

Glycolic Acid (AHA)
Another active ingredient in this serum is glycolic acid aka the most common Alpha Hydroxy Acid. It is a type of water-soluble chemical exfoliant that gently remove dead skin from the top layer of your face while accelerating the renewal of skin cells to unveil a more even texture skin and tone. However, this ingredient can cause your skin to be sensitive to UV rays. So always remember to wear sunscreen the next day.

Reviews From Our Members


Member's rating:5/5
VICHY LIFTACTIV B3 ANTI-DARK SPOT SERUM
"This serum is lightweight and absorbed instantly into my skin. No breakout in my 4 weeks of trial. Seem like my acne scar has lightened and I don't need to conceal much when I do my makeup. Just a cc cream & sunblock and I can go out! Oh oh, I have sensitive skin, but this doesn't irritate my skin, safe to use for sensitive skin!" -@KOREEN
Member's rating:4.4/5
A MONTH WITH LIFTACTIV B3 ANTI-DARK SPOT SERUM
"After a month of including LIFTACTIV B3 ANTI-DARK SPOT SERUM to my daily skincare routine, I notice that the product did contribute to the changes in my skin. The size of my pores was significantly reduced and my complexion looks even and smooth to touch. I had a pimple scarring before using this product. And I did notice that the dark pigmentation of the scar significantly lightens and disappeared after applying the serum daily. As for my dark spots, they are still staying, I guess. Well after so many years of them on my face, 1 month of using this serum won't chase them away. Probably I will continue using the serum longer to see the outcome on my tiny dark spots. Overall, I will recommend this product to ladies in their 30's and beyond." -@HUDS_LIFESTYLE
Interested in purchasing the product and trying it out for yourself? You can get it in your nearest Watsons and Guardians. But if you have used this product before please leave a review here to help others with their purchases. And always remember to wear sunscreen the next day after using it! As always, stay safe and happy shopping!

Read more recent articles:
Travel Essentials That Everyone Needs For A Worry-free Travel
Kim Kardashian's Makeup Artist, Patrick Ta Launched His Makeup Brand In Sephora!
Try And Review's Staff Picks: Favourite Facial Cleanser According To Their Skin Type