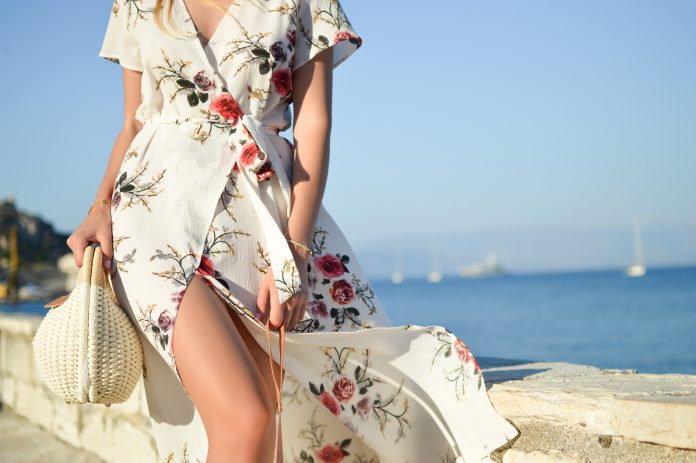 High-street labels copying runway looks is a given. Thanks to retailers like Zara, H&M and Topshop, we can afford the latest fashion trends on a budget, while luxury brands revel in the knowledge that their influence is global and undeniable.
What happens, then, when a luxury brand is the one to rip off a fast-fashion label? Let's hear it from Saint Laurent, who was recently accused of ripping of a Forever 21 dress.
Eagle-eyed Marie Claire contributing editor Nicolette Mason was the one who spotted a startling similarity between a Saint Laurent Fall 2015 dress (left) and Forever 21's Lipstick Jersey Knit Dress (right) released in 2013 as part of its plus-size collection. Both dresses come in black with alternating lipstick prints. To be fair, Forever 21's version features pink and red lipsticks in green tubes, while Saint Laurent's comes in black tubes and red. Lipstick prints are nothing new, that much is true, but the similarity between the two dresses is obvious to anyone.
Is Saint Laurent violating any fashion laws?
According to The Fashion Law, Saint Laurent is almost certainly not violating any laws, as "copyright law prohibits the protection of a design if the idea underlying the design can be expressed only in one way or a drastically limited number of ways." As an open tube of lipstick can only be depicted in so many ways, it's likely that this falls "within the limitation, which is called the merger doctrine".
In other fashion news, Hedi Slimane is LITERALLY trolling us with this $3,490 F21 knock off. http://t.co/B1l9S6OhTt pic.twitter.com/WPQkoftoPv

— nicolette mason (@nicolettemason) September 3, 2015
Like us, Nicolette Mason is quite tickled by this whole debacle. Earlier this week, she tweeted, "In other fashion news, Hedi Slimane is LITERALLY trolling us with this $3,490 F21 knock off." If you're interested, Forever 21's Lipstick Jersey Knit Dress cost $23. Sadly, it's all sold out now, but we hope they'll bring it back in light of recent events. Who knew a fast-fashion label could be a step ahead of a high-end brand? What a time to be alive.
Engracia Ang
Photo credit: Saint Laurent, Forever 21
Read more:
Nastyl Gal can't differentiate between Taylor Swift's Balmain jumpsuit and its own knock off
Marc Jacobs sued by Adidas for plagiarism
Did Taylor Swift plagiarise 2NE1's music video?