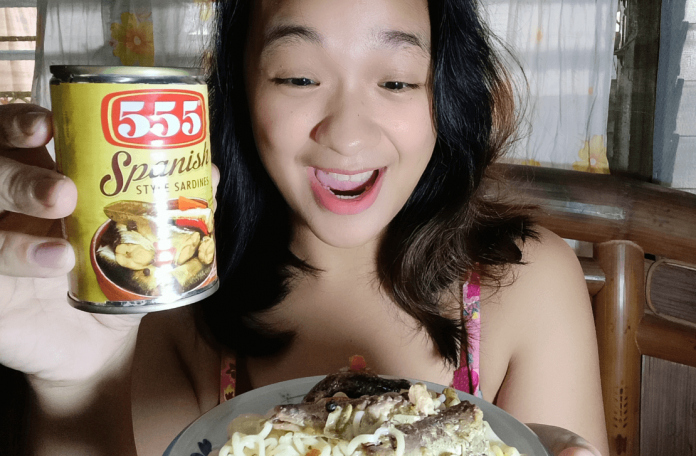 When it comes to versatile and delicious canned sardines, 555 Sardines have been a trusted choice for Filipino households for years. With a range of flavors to choose from, including Spanish-Style, Tausig, Bistek, Escabeche, and Hot & Spicy, there are endless possibilities for creating delightful meals that are both quick and budget-friendly. In this blog post, we'll explore some mouthwatering canned sardine recipes contributed by our Try & Review community members, paired perfectly with 555 Sardines' diverse flavors. Among the >500 testers, 92% would recommend it for their delicious taste and value for money.
1. Spanish-Style Sardine Pasta
A tasty recipe if it's your first time cooking with this small fish, and you're a fan of pasta dishes.
Ingredients:
1-2 cans of

555 Spanish-Style Sardines

250g spaghetti

1 garlic clove, minced

1 small onion, finely chopped

1/4 cup extra virgin olive oil

1/4 cup grated Parmesan cheese (Optional)

Sea salt and black pepper to taste

Fresh herbs for garnish but you can also add green such as Bok Choy like our tester.
Instructions:
Cook the spaghetti according to the package instructions until al dente. Drain and set aside.

In a pan, heat the olive oil over low heat. Sauté the minced garlic and chopped onion until fragrant and translucent.

Add the 555 Spanish-Style Sardines to the pan, breaking them into smaller pieces with a spatula. Cook for about 3-4 minutes.

Season with salt and pepper to taste.

Toss the cooked spaghetti into the sardine mixture, ensuring it's well coated with the sauce.

Serve the Spanish-Style Sardine Pasta hot, garnished with grated Parmesan cheese and fresh parsley.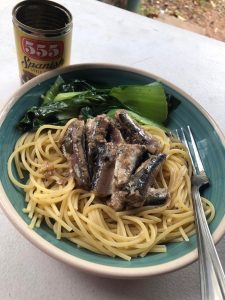 Pair with: A simple green salad with lemon vinaigrette or garlic bread for a satisfying meal.
As @ellarivera expresses, "This is awesome! Since I like spicy flavors, this really is an amazing food product for me. You can create a variety of dishes by simply using this sardines. I love this with hot rice or as a pasta ingredient." 
"I have always bought some Spanish Style Sardines to go with pasta with veggies on the side. Now I tried 555 Spanish-Styles Sardines and I was baffled! Not too spicy so the kids enjoyed it as well! Packed and filled with so much goodness – glad I found this brand!" @tindonesa shares.
2. Hot & Spicy Fried Sardine Rice
A healthy food option, if you hold back on the oil during the frying of course. 
Ingredients:
1 can of 555 Fried Sardines – Hot & Spicy

3 cups cooked rice (preferably day-old rice)

2 cloves garlic, minced

1 handful of spring onions, finely chopped

1 small carrot, diced

1/2 cup frozen peas

2 eggs, beaten

2 tablespoons soy sauce

Sea salt and cayenne pepper to taste

Chopped green onions for garnish
Instructions:
Heat a large frying pan or wok over medium-high heat. Add a bit of oil and scramble the beaten eggs until cooked through. Remove them from the skillet and set aside.

In the same frying pan, add a little more oil if needed and sauté the minced garlic until golden brown.

Add the diced carrot and cook for a few minutes until it starts to soften.

Add the frozen peas and cook for another 2 minutes.

Pour in the can of 555 Fried Sardines – Hot & Spicy, including the sauce. Break the sardines into smaller pieces with a spatula and stir well.

Add the cooked rice to the skillet, along with soy sauce. Stir-fry everything together for about 5-7 minutes, ensuring the rice is well coated and heated through.

Return the scrambled eggs to the skillet and mix them into the fried rice.

Season with salt and pepper to taste.

Serve the Hot & Spicy Sardine Fried Rice hot, garnished with chopped spring onions.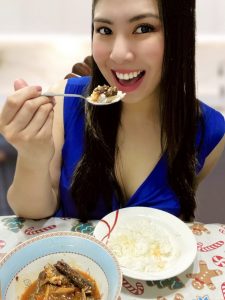 Pair with: Sliced cucumber and a drizzle of spicy vinegar for a delightful balance of flavors.
You can skip the tabasco sauce or other hot sauce with the right flavor of canned sardines. And 555 Sardines' spicy tomato sauce did just that for our tester @krcolanta: "Affordable.-Not too spicy which is greasy as some people cannot eat spicy foods but is still spicy enough for the flavor.-No fishy smell. Smells quite good which boost appetite.-Perfect for both rice and bread! I tried it with bread for breakfast and it was a fantastic experience!"
Honorable mention for the writer's choice: Tausi Sardine Sinigang
One of my personal favorite ways to enjoy the little fish!
Ingredients:
1 can of 555 Fried Sardines Tausi

2 cups water

1 medium tomato, sliced

1 small red onion, sliced

1 small radish, sliced

1 eggplant, sliced

1-2 green bell peppers (siling haba)

1 pack of sinigang mix (tamarind soup base)

Salt and fish sauce to taste
Instructions:
In a pot, bring 2 cups of water to a boil.

Add the sliced tomato, onion, radish, and eggplant to the boiling water. Cook until the vegetables become tender.

Pour in the can of 555 Fried Sardines Tausi, including the sauce of course.

Add the sinigang mix and green bell pepper. Simmer for about 5 minutes.

Season with salt and fish sauce according to your taste preference.

Serve the Tausig Sardine Sinigang hot with steamed rice.
Pair with: Steamed rice and fish sauce dipping sauce (patis) mixed with calamansi juice for that authentic Filipino experience.
Still not sure what to eat with sardines?
We've seen various ideas, like spreading 555 sardines on a slice of crunchy bread for a quick and satisfying snack or breakfast option. A simple green salad with a few sun-dried tomatoes and a couple hard-boiled eggs, topped with your choice of dressing. (Mine is a squeeze of fresh lemon juice/ calamansi). Even Lumpia (Spring Rolls), with sardines as a flavorful filling; add some vegetables, roll them up in a spring roll wrapper, and fry until crispy.
Let's face it, sometimes you need an easy way to eat fast, and after all, 555 Sardines are so flavorful you can eat them out of the tin, and some of our testers did just that: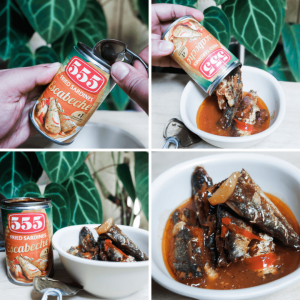 As a passionate sardine lover @ahmanieee attests, "A deep-fried sardine seasoned with the right sweet and sour spices you won't resist! I love how it tasted just like the homecooked escabeche recipe. I didn't have high expectations given this is canned food but wow I'm impressed. You can eat it straight from the can for breakfast lunch dinner or snack." 
The Try & Review community has spoken, and 555 Sardines remain a kitchen staple for Filipino families. Whether you're enjoying them straight from the can or experimenting with these flavorful recipes, there's no doubt that 555 Sardines bring a burst of taste to every meal. So, the next time you have no idea what to eat with Sardines for a quick, affordable, and delicious meal option, reach for 555 Sardines and let your culinary creativity shine.
Read more food-related articles:
Top 3 Reasons why 98% of Ligo Sardines in Tomato Sauce testers would recommend it!
3 Easy Snacks For Kids: Ideas For Their After School Treats
The Best Tea for Morning To Boost Your Mid-Autumn Festival