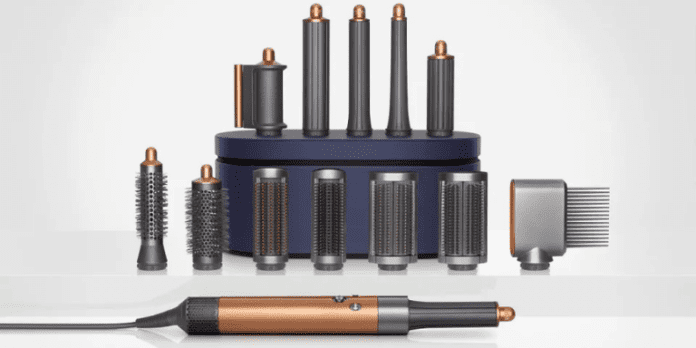 Dyson Hair Products have been one of the most talked-about hair styling tools in the past few years. Since its launch, many people have been dying to try it out to see what is the hype and why their products are priced with such a hefty price tag.
Is Dyson Hair Care Technology Worth The Money?
The Dyson hair dryer uses the Air Multiplier technology to create higher pressure for faster hair drying and controlled air for a precision styling experience. It boasts an intelligent control heat feature that will regulate heat every second to prevent extreme heat damage and help protect your hair's shine. This hair dryer will be great for frizzy hair as it comes with a smoothing nozzle to tame any stray hairs. Say hello to shinier, silkier and healthier looking hair!
Overall rating: 4.9/5
QUICK-DRYING AND GENTLE ON HAIR
"Love this hair dryer. It dries my hair really quickly and yet is gentle on my hair. My hair actually looks healthier and shinier after using this hairdryer. I am considering buying another one for my daughter so that we do not need to share." -@PPLLEE
The straightener's Manganese Copper Alloy Flexing Plates are the main selling point. These plates help to work efficiently at lower temperatures, resulting in less heat damage to the hair. Say goodbye to
damaged hair
! It is able to gather hair and retain strands in place as you slide down the hair, ensuring that each strand is equally straight. The Dyson straightener can also be used corded, or cord-free to provide extra freedom while you are styling your hair! It has three precise heat settings – 330°F, 365°F and 410°F.
Original Version
An Airwrap is essentially a hairdryer with many hair styling attachments so it could replace other hair tools with just this device. It blows dries, curls, waves, and straightens without extreme heat as it combines powerful airflow with controlled heat. Many have even raved about having lesser hair breakages from using this. Here's what one of our members has to say about it.
Member's rating: 4.6/5
LIFE-CHANGING!
"I love that I can dry my entire head of hair in less than 10 minutes! In addition, I'm also left with professional-looking styled hair that truly looks and feels healthier every time. I also love how my hair never feels hot to the touch, even when using the higher heat/speed setting. And the different attachments make it super easy for me to attempt any hairstyles for special occasions. (The) only downside is the price. It is really costly. But effective. Love this and would definitely recommend it." -@CLARISSATR
Leave a review if you've used it
The new Airwrap has just launched and it does not have a significant change on the body other than the weight. The original Airwrap weighs 660g while the new version is lighter at 611g. Its biggest difference and selling point lies in the attachments.
Newest features
Re-engineered curling barrel that allows air to flow in both directions. Simply rotate the tip of the barrel to switch the direction to create curls easily
A new smoothing dryer attachment. Uses Enhanced Coanda airflow to hide flyaways for a smoother and frizz-free finish
The newer version comes with 3 temperature settings while the original has 4
Faster airflow of 13.5 litres per second (new) vs 13 litres per second (original)
Leave a review if you've used it
If you have the original Airwrap and wish to purchase the new re-engineered attachments, don't worry as they are compatible. This means you don't have to waste money forking out for the new model.
The technology used on all the Dyson hair tools is definitely innovative and serves users so much better than regular hair tools. However, its technology comes with a big price tag and this could be a bummer to many. So, what do you think the Dyson Hair Tools are worth the price? Comment down below and share it with us!
Read more recent articles:
Funny Gifts Ideas That Will Send Everyone ROFL (These Are Not April Fools' Pranks!)
Salicylic acid: Could this be the solution for acne scarring?
Waterless beauty: What is it and why you should give it a try?