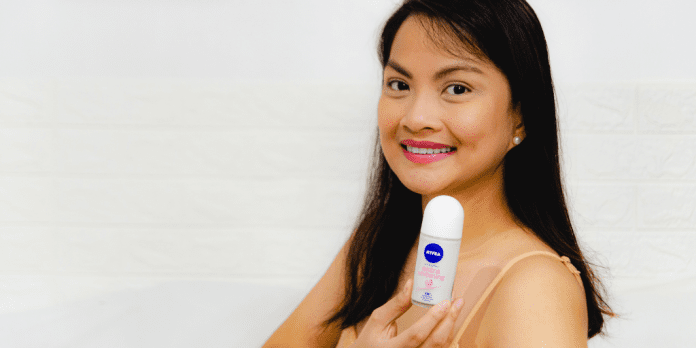 Do you ever find yourself shying away from wearing sleeveless clothing because of discolored underarms or sweaty pit stains? For many, underarm discoloration, excessive sweat and unwanted odor can result in a lack of confidence. It can be quite limiting especially with life's daily hustle and bustle.
Managing unsightly pit stains and unwanted body odor no longer has to be bothersome when you have a trusted deodorant with you. While some brands promise fresher underarms, these contain harsh chemicals that can cause discoloration. On the other hand, there are brands that guarantee gentle ingredients, but can't give you the sweat and odor protection you need. Good thing there's NIVEA Deodorant! The NIVEA Extra Whitening Deodorant can guarantee up to 48H sweat and odor protection. It will also repair signs of underarm skin damage, i.e. dark spots and rough skin.
We let our community of 300 women try the NIVEA Extra Whitening Deodorant and to give their honest opinions about it. Here's what they have to say about it!
Why our community loves this NIVEA deodorant:
Repairs damaged underarms and brightens dark spots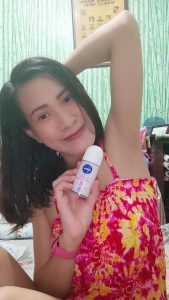 The product trial campaign found that 8 in 10 women in Metro Manila agree that NIVEA Extra Whitening Deodorant can repair damaged underarm skin. Enriched with 10 skin nutrients, the product helps to deeply rejuvenate underarm skin. Member @Aleahkim highly recommends the product, "I can say over the past week of using this product it has also lightened my underarm skin to some extent". Similarly, Member @iamtrish_006 noted that "the whitening effect is good because it removes some of my dark underarm area." Also winning over the heart of skeptic, @loviiiedoves, "Before, I didn't believe in deo(dorant). I even never tried attempting using deo, only after this NIVEA deodorant came in. I saw results in just a matter of days." With its radiance restoring properties, this NIVEA deodorant could just be your new best friend!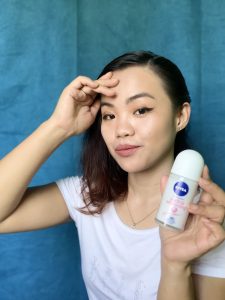 It is not uncommon for underarm skin to become bumpy and rough after shaving. However, it does not have to always be that way. Enriched with 2x Licorice, Vitamin C and 9 Skin Nutrients, NIVEA Extra Whitening Deodorant tightens pores and smoothens skin. With so many goodies jam-packed into it, the deodorant still manages to feel "so light on the armpit skin", according to member @tetagpawa. Members @rinabusa and @kathleen.anacta added that "it also reduced the bumps on it" and their "skin became smoother than before". With the ability to nourish delicate underarm skin, this NIVEA deodorant can give you the baby smooth underarms that you deserve
Keeps excessive sweat under control with a quick-dry formulation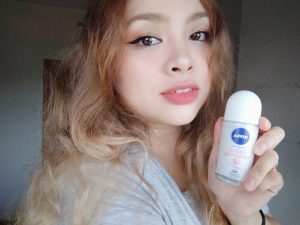 Perspiring in the heat is inevitable but NIVEA Extra Whitening Deodorant can lend you a hand in your combat against sweaty pit stains. The 48h anti-perspirant protection ensures that your underarm skin stays comfortably dry even after a long sweaty day. Member @HyunaTala reviewed that "it dries quickly to the skin" and "it controls excessive underarm perspiration". @Kathleen.anacta found that the product also held up well during workouts – "I'm a sweaty person due to my active lifestyle and this product helped lessen the sweat and odor from my armpits". Additionally, @abbyflores.09 noted that "it is smooth to glide through my underarms" and "I noticed after applying the product, it absorbed it instantly without remaining powder." Quick drying and convenient, this NIVEA Deodorant leaves you more time to focus on the important things in life!
Gives long-lasting fragrance and freshness with a gentle scent that consumers love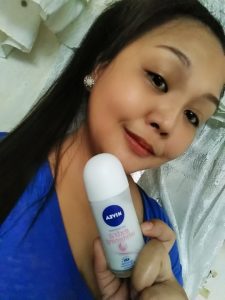 We are no stranger to the constant struggle of staying fresh in the hot weather. Having to routinely freshen up and reapply your deodorant throughout the day can be time consuming and a great hassle. NIVEA Extra Whitening Deodorant can help you stay fresh throughout the day. In addition, the fragrance can last even with just one application. Across the board, ladies are singing praises about its pleasant and lasting smell. Member @iamtrish_006 said, "I am so amazed by its fragrance because it really lasts 24 hours". Likewise, Member @Kristinesandres reviewed that "It is not sticky unlike the other products. It also gives you a fresh feeling. I highly recommend this product." Who could possibly say no to smelling clean even after a long day at work?
All in all, we believe that having underarms that look and smell good goes beyond personal hygiene and superficial beauty. It boosts confidence, self-esteem and empowers more women to go sleeveless whenever they want to. @Leightot and @loviiiedoves have both expressed that they now have "more confidence in raising my hand because it smells so good". In addition to that, they also have the "confidence now showing my underarms after (using) this deodorant".
Not convinced yet? Try it for yourself! Get NIVEA Extra Whitening Deodorant from your leading supermarkets, groceries and drugstores, or online via Lazada, Shopee and BeautyMNL.
Read more deodorant related articles:
Prevent Underarm Rashes: Natural Deodorants Are The Secret
Natural Deodorants: How Effective Are At-Home DIY Deodorants?
What Is Serum Deodorant, and Should You Try It?
This article is written in partnership with Nivea. All opinions shared are based on authentic and honest reviews from real users.