Tired of pairing fried chicken with the same ketchup sauce? Spice things up with Hellmann's Real Mayonnaise for an exciting new twist, tried. Try and Review asked 500 Filipino women to put NEW Hellmann's Real Mayonnaise to the test.
Winner Winner, Fried Chicken Dinner!
What family doesn't enjoy fried chicken? It's a treat both kids and parents love, but how can we make this usual family dish more special? We can give this family favourite a whole new taste with NEW Hellmann's Mayonnaise – the world's number 1 mayonnaise which is now in the Philippines! Unlike other brands, this mayonnaise has a unique savoury taste and a melt in your mouth creamy texture. We gave 500 women a chance to taste Hellmann's and they were delighted! @ijj2k happily reported "This is one of the best mayos I have tasted. I am not a big fan of mayo and fried chicken but when we tried Hellman's Real Mayonnaise with fried chicken I was blown. The rich and creamy texture of Hellman's Real Mayonnaise was perfect for the fried chicken. It gave a whole new taste that enhances the flavour of the chicken. We will definitely keep this as our staple for dips and sauces!" @Netchiepie and her family really enjoyed trying it for the first time. She said "It's our new discovery for a rich creamy and savoury real mayonnaise partnered with fried chicken. This mayo can be perfect for dips and fried dishes because of its unique taste that you'll ever love. Try for yourself so you'll get delighted too!"
Busy Mums Just Loved It!
Creamy and delicious, Hellmann's Real Mayonnaise is also easy to flavour-up and it can replace your usual favourite sauces! Add a splash of chilli sauce, tomato, garlic, herbs or spices and you can create new exciting dip flavours which the whole family will love! Of our 500 testers, 95% agreed that you can transform everyday meals into exciting ones!
@EnJey "I'm a working single mom and I find it blissful cooking or preparing home-cooked meals for my son when I have time. The easiest go-to is fried chicken. My son and I love it. I tried dipping my piece on my Hellmann's mayonnaise and boy I loved it's texture and the creaminess. My son loved it and I'm happy when he loves what he is eating."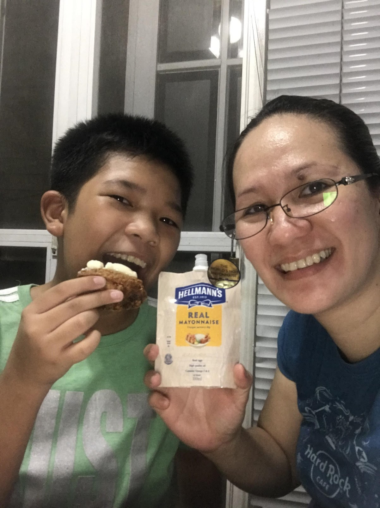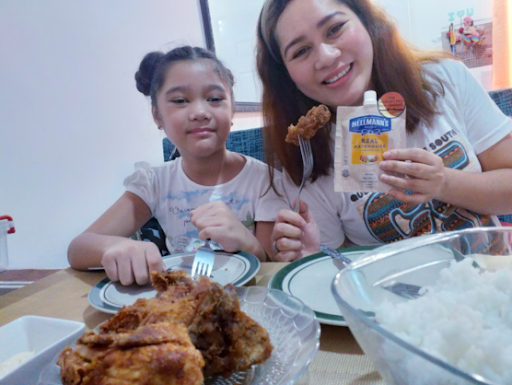 Would Our Testers Recommend Hellmann's Real Mayonnaise As A Dip On Fried Chicken?
All of our tester's kids enjoy dipping their fried chicken in Hellmann's mayonnaise. You too can transform your family meals with this perfect dipping sauce! We had some great feedback from our testers who gave an overall rating of the product 4.7 out of 5! @Gheil will buy it again! "I love mayonnaise as a dip and dressings for my favourite foods. Hellmann's Real Mayonnaise made my favorite food more savory and tasty compared to the mayonnaise I frequently use. I would totally buy more of this and recommend it to my friends."
It also had high praise from @Samisleta, "I'm a mayonnaise fan and I had high expectations of Hellmann's—it did not disappoint. Tried it as a dip with fried chicken, it did not overpower my taste buds. Will recommend this to my fellow mommas."
Delightful To Dip!
Food tastes better with Hellmann's Real Mayonnaise – 96% of our testers agreed! @Appleberry told us "I'm not usually fond of using mayonnaise, especially the ones found in the market as it tends to taste like it's not made of real ingredients. When I tried Hellmann's it was tasty and didn't taste commercialized. I like using it as dips alone or with other seasonings and it still tastes good". There are really happy kids at @Heidi Alona's house, she said "Fried foods are dull and boring with the usual condiments. It doesn't excite the kids. However with Hellmann's Real Mayonnaise they are so delighted and happy. The smiles on their faces are precious. The creamy taste is so yummy it's not sour as other products.Thank you so much Hellman's for the treat."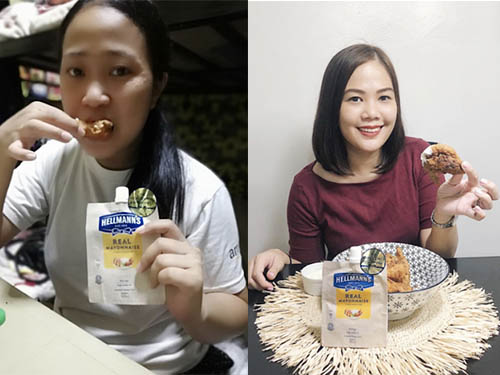 We know you're longing to try it for yourself so treat your family by buying Hellmann's Real Mayonnaise online now! Two sizes are available at Lazada, the 100ml or you can really spoil them with the 280ml size! Family meals will never be boring again!