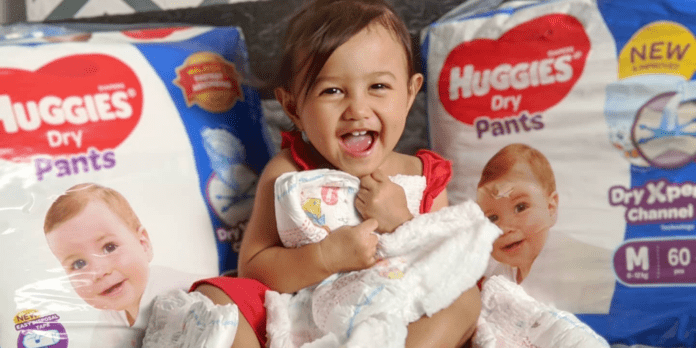 Diapering is a topic that is so important to parents
.
As parents, we want what's best for our babies. This applies to seeking out the most comfortable and absorbent diapers that also does not cause any diaper rash. There are plenty of factors to consider when searching for the right diapers. Here's the lowdown on what to take note of when diaper shopping for your little one!
Diapering – What to look out for? Hear from real moms
We let 300 moms try the new improved Huggies Dry Pants. Let's hear what they shared about their experiences and important factors to look out for, for successful diapering.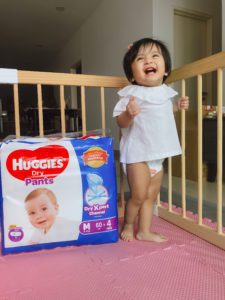 To keep your toddler's skin rash-free, diapers should have fast absorbency. Huggies Dry Pants is constructed with Dry Xpert channel technology that distributes urine 4 ways across the pad for quicker absorption. It also absorbs up to 10 hours, making it a great nighttime diaper. Its U-fold technology provides double leak barriers, so your toddler stays dry through the night, leakproof! @Nadiarusli noted, "I've tried it for a few days now, and it is absolutely the best. I even used it at night and no more leaking in the next morning. I've been trying to find the best diaper pants for night sleep, and I think I found the perfect one". A quick absorbing diaper is crucial to keep your baby's skin dry and comfortable all day and night to prevent rashes and discomfort. 
Stretchability, Flexibility and Fit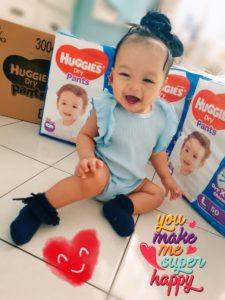 A good diaper should be stretchy enough to comfortably fit your little ones without leaving indentations on their skin. The Huggies Dry Pants boasts an Xtra Flex Fit that has X-shaped channels to distribute urine more evenly, to improve diaper fit and flexibility. @Nurain91 shared, "My baby can have free movement and stay active. The soft stretchable waist gathers fit my baby gently. It provides comfort without giving pressure to her tummy, so that she can have feeding peacefully". A diaper with the right fit is half the battle won in creating a pleasant diapering experience!
Convenience goes a long way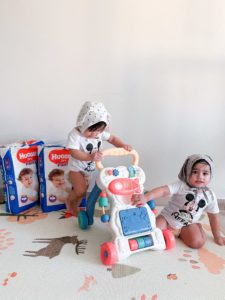 Between keeping your toddler calm on the changing table and removing soiled diapers, the diapering process can get chaotic easily. The Huggies Dry Pants comes with an innovative disposal tape at the back, simplifying the process and keeping it mess-free. @Nadiarusli mentioned, "I love how it has the sticky strap to dispose the diaper after use and also a label front and back. Makes everything much easier". Similarly, @Farah Roslan said, "I really love the new feature of Huggies Dry Pants New Improvement which is easy disposal tape. Just roll it when soiled and throw". Convenience and ease, what more can busy parents ask for?
Softness and Breathability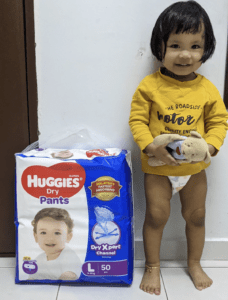 As toddlers' skin is delicate and sensitive, the material of the diaper is of prime importance. The Huggies Dry Pants are 100% breathable and it allows air to escape up to 10X faster, (vs non-breathable covers) preventing diaper rash. @Dyeyana reviewed, "My daughter has eczema and really sensitive skin. This new Huggies dry pants really changed my perception, it's so good, so soft. My daughter no longer has nappy rash after using this diaper!" Ultra soft and fluffy diapers will ensure your toddlers feel comfortable and at ease. 
Diapering no longer has to be tedious and stressful! Especially with the tips above to look out for, thanks to the mothers who tried the all new Huggies Dry Pants. Pick up the new Huggies Dry Pants from your leading supermarkets and drugstores, or online via Lazada. 
Read more baby and parenting related articles:
Real mums share why having good digestion is so important for your child
The Essential Hospital Bag Checklist: Everything You Need For New Mums
Solid Baby Food: 5 Tips for a Fuss-Free Transition