Introducing solid baby food for your little one at 6 months to complement their daily milk intake will aid your child's growth and help them to slowly ease the transition to solid food. Encouraging them to move from milk to nutrient-rich, easy to digest solid food can be an anxious time for new mums but there are easy ways to help both your little one and yourself through this journey.
With so many complementary feeding options to choose from in the market today, it is important for you to introduce the right solid baby food for your little one. Choosing a sugar-free solid food for your child is vital in protecting their emerging teeth and to avoid damage to their first teeth. Early childhood should be a rich and rewarding time for both you and your little one. This is why Try and Review recently asked 200 young mums for their weaning tips. Our new mums enjoyed trying Nestlé® CERELAC® Rice with No Added Sugar and here's what they had to say.
5 tips to help your little one transition to solid food
(1) Easy does it – choose a simple first solid baby food
Look to start your little one's solid food journey by introducing something that is simple and easy to prepare, such as Nestlé® CERELAC® Rice With No Added Sugar. The food should be soft in texture and gentle on the stomach so that they can digest it easily.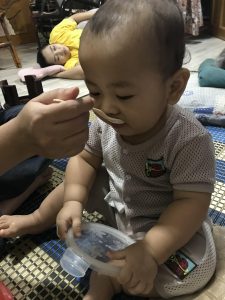 Tester @SHINSAZLIN73 told us 'my baby boy really loves to eat this during his lunch time. It's so easy to make and the taste is so good. It didn't affect his tummy and he enjoys it every time'. With Nestlé® CERELAC® Rice With No Added Sugar, you can easily achieve a smooth and runny texture that would be easy for little one to swallow so that your child can learn to enjoy the process of eating.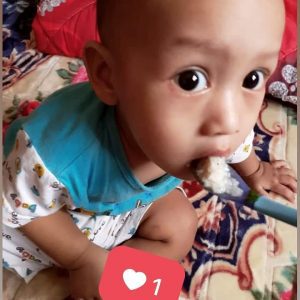 Mum @EYLAAKIRANA feels confident at her child's mealtimes – "One of the reasons I like this Nestlé® CERELAC® Rice With No Added Sugar is that it has no added sugar, very smooth and soft texture is suitable for baby dishes as early as 6 months old."
(2) Avoid highly flavoured foods and additives at this early stage
Start their weaning journey with wholesome and specially formulated solid food for their age. The addition of too much seasoning and flavouring at this early stage can interfere with their taste buds, potentially leading to them avoiding healthy solid food in later life. Help them to avoid future dependence on food that contains excess salt, sugar and preservatives by weaning them onto foods that are sourced naturally such as the rice used in Nestlé® CERELAC® Rice With No Added Sugar.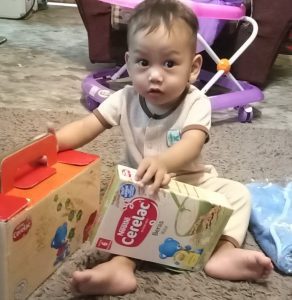 Mum of four @ENA_ROCKERINA chooses for her new precious little one "Nestlé® CERELAC® Rice has been a choice of mine since my first child. Now that it is with No Added Sugar, to me it is very good for baby development because it does not have added sugar like other baby foods".
(3) Choose a nutrient-rich food that contains the goodness your child needs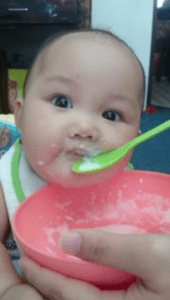 Nutrition plays a vital role throughout your child's life and so it is important to start them on the right track from the beginning by introducing nutrient-rich food like Nestlé® CERELAC® Rice With No Added Sugar – every bowl is packed with tailored nutrition to support your little one's growth and development. "Good products contain the benefits of cereals for babies fortified with iron" says Try and Review tester @NABELLA86.
Mom @AILEENROBERT loves how nutritious it is especially after adding it with her child's milk and that she would "really recommend to family and friends".
(4) Make mealtimes fun for your little one and yourself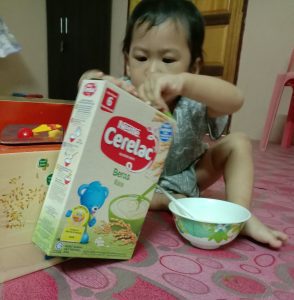 As you and your child gain more confidence with solid feeding, you can start experimenting with new textures and taste by adding yoghurt, pureed or mashed fruits and vegetables; adding these into Nestlé® CERELAC® Rice With No Added Sugar would naturally elevate the food. Helping your little one to experience these new solid baby foods at an early age would also help prevent fussy eating in the future.
Our experienced mum @ENA_ROCKERINA agrees – "Tips from me for moms out there – if your child is a picky eater, you can add mashed fruits such as bananas and mangoes".
(5) Make your child safe and comfortable in an upright position
Encourage your child to sit upright for mealtimes in a high-chair. This will support and strengthen their spine, helping to protect them from potential choking and encouraging them to create good posture. By leaving your hands free, you can now confidently feed and clean your little one as they enjoy their solid baby foods.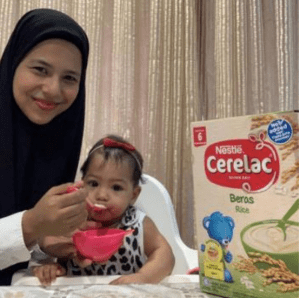 Here, you can see tester @AQILAHHADAFI is feeding her little one in a high chair to make meal time more pleasurable for both of them and finds Nestlé® CERELAC® Rice With No Added Sugar "easy to prepare and suitable to bring during travel". Starting your little one on their solid food journey should be an exciting and fun experience for both parent and child. It is an important milestone in your child's development and by introducing the right first baby food and adopting good mealtime practices, you not only open them up to a brand new world of taste and textures, but also put them on the right path to growing up healthy and strong.
Support your little one's weaning journey with Nestlé® CERELAC® Rice With No Added Sugar, tailored nutrition for your child's needs.
Our trial involved 200 mums between 23 and 45 years old with their little ones testing the Nestlé® CERELAC® Rice With No Added Sugar. We found that 9 out of 10 mums agree that Nestlé® CERELAC® Rice With No Added Sugar provides wholesome nutrition that their child needs to grow and would definitely recommend it.
READ MORE
Essential Products for Mothers with a Newborn
Why Choosing The Correct Product For My Baby With Eczema Is So Important
Aloe Vera: Its Multiple Benefits and Recommended Products