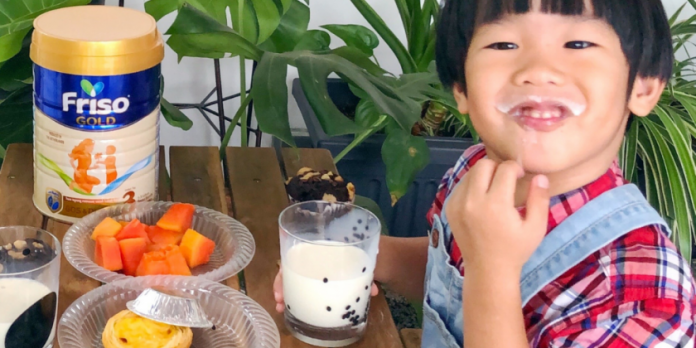 Good digestion should never be taken for granted.
You know what they say, a healthy outside starts from the inside. When you eat good, you feel good! The same can be said for our little ones. With the appropriate nutrients, their digestive system will grow stronger, giving them infectious energy that will surely tire you out! You are probably spoilt for choice with the dozens of formula milk you find at the grocery store. Do you often find yourself lost trying to choose the best one? Look no further! Our community shares the solution to your worries.
A good digestive system is one of many factors that sustain and keep your child's health in peak condition. With their digestion in check and with the right nutrients, their body actively turns food into energy they need for their everyday activities. A strong inside undeniably leads to a positive outside. The type of milk formulation you give your children is of utmost importance. As they begin to explore their surroundings more in their discovery years, it is important to maximise this crucial time by feeding them right and giving them the energy they need and deserve.
Good digestion starts with incorporating the right formula milk – Introducing FRISO GOLD STEP 3, upgraded with NOVAS™ Signature Milk
If you are looking for milk from a high quality source, Friso Gold Step 3 is the perfect choice. Made with the highest quality natural nutrients, the formula is easy to digest and more importantly, boosts your child's immunity! The formula is farmed and formulated fresh in the Netherlands. NOVAS Signature Milk forms the base and is made with naturally small molecules and soft structure, coupled with no added sucrose or flavour. More than 90% natural nutrients are preserved with single processing at mild heat using LocNutri(TM) Technology so that it's easy to digest and absorb.
We put 300 mummies and their tiny tikes to the test by introducing Friso Gold Step 3 and here's what they think!

Good digestion helps lessens constipation and digestive issues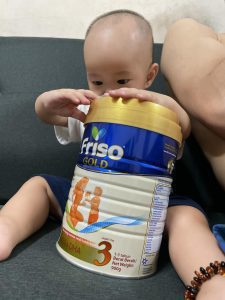 Many of our mummies highly recommended the formula as it eased their kids' difficult poo times. User @Riafitriana rates the formula with 5 gold stars. Prior to drinking this formula, he would "always cry (because) it was very hard" for him to ease himself. After switching to Friso, he could poo every day. @Victoria_Low also noticed that after drinking Friso Gold, her kid "never experience(d) constipation or diarrhea". Friso Gold Step 3 is smooth and helps with easy digestion so your child is comfortable.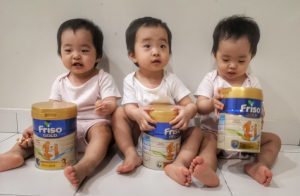 Mother of triplets @liewsoohui let them try Friso Gold and all their digestion problems were resolved! The small molecules and soft structure of the formula were easy on their delicate tummies. It also tastes natural and her kids all love it! She is confident that she is giving them the best nutrition they deserve. The smiles on those faces prove it!
Good digestion gives your children energy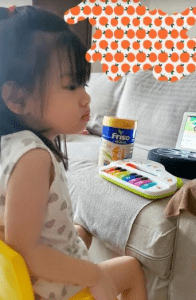 As Friso Gold says so themselves, "it's really the little things in life that matter the most". With the right formula milk, you are giving your children the best in their discovery years. The formulation eases their digestion so they will have more energy, spirit and drive to experience all the new and exciting things around them. Our parents couldn't agree any more!
@irenechan5974 is so glad her little girl met Friso Gold Step 3 as she noticed her daughter now has more energy, is gaining weight healthily, has a stronger immune system and loves to explore new things! @Teoh Lee Lin also noticed that her kids liked the taste and were much stronger after they switched over to this formula milk. over to this formula milk.
Good digestion helps your children sleep better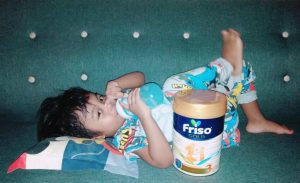 User @al_kisma noticed her son slept better as he did not get constipation throughout the night. With mild heat technology, natural nutrients made digestion easier for her son and reduced his constipation. Not to mention, he liked the taste very much! @irenechan5974 sums it up quite accurately: "Play well and Sleep Well!" With Friso Gold, your child will be more energetic and will channel this energy to rigorous play time and better sleep time after!
Follow the FRISO GOLD STEP 3 Journey with TrackEasy QR Code
Most parents worry over what constitutes their children's formula and they need the added assurance. It is a common concern that milk should come from known sources that are trustworthy, certified and that milk brands are in control of the supply chain.
Fret not! Friso Gold Step 3 introduced its new smart packaging with TrackEasy QR codes. These codes enable visibility of the full journey from farms in the Netherlands all the way till it reaches the shelves. Rest assured, Friso Gold Step 3 guarantees authenticity, safety, quality and most importantly, a peace of mind for you.
What are you waiting for? Kickstart the positive change in your child's digestive system and mood today! Friso Gold Step 3 is available online on Lazada and Shopee (and in a 6 pack, so you won't have to worry)!
Read more baby and parenting related articles:
Essential Products for Mothers with a Newborn
Protect your babies' skin and health. Make a switch to a safer, greener detergent
Why Choosing The Correct Product For My Baby With Eczema Is So Important by User Nerahs
This article is written in partnership with Frisco Gold company. All opinions shared are based on authentic and honest reviews from real users.