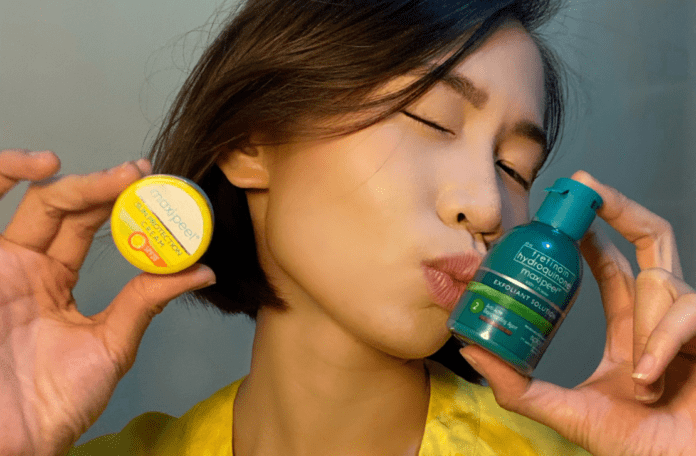 Combating acne prone skin is a big enough hassle on its own, let alone trying to choose the right skincare products to include in your beauty arsenal! However, a well-rounded skincare does not have to be so tricky. Maxi-Peel's Maxi-Glow Regimen is an easy-to-follow and effective routine with just 4 products to fulfill all your skincare needs, helping you achieve clear, smooth and glowing skin. Read on to find out the reasons why 270 male and female users from Try & Review users gave this rejuvenating set a 4.4 out of 5 rating!
Hear from real users with acne prone skin as they share their reviews 
1. Combats acne and achieves clear skin
The Maxi-Peel Exfoliant Solution uses a combination of Tretinoin and Hydroquinone. Tretinoin can help treat pimples, blackheads, and whiteheads, while Hydroquinone lighten dark spots, blemishes, and other skin discolourations. The combination of both lightens discolourations to achieve beautifully-renewed skin. With 3 variants of the exfoliation solution, users can easily pick the right variant depending on the degree of their acne problem. User @Joy.razalan reviewed, "I can feel the effect after 4 days of using it. Spots started to fade and experienced a bit of peeling. This just means that the product works on my skin. Will definitely continue using this and hopefully dark spots will fade totally."
2. Improves skin texture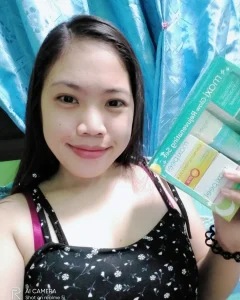 The Maxi-Peel Moisturizing Cream is a non-greasy, quick absorbing cream that provides maximum moisture to keep skin soft, smooth and supple. It helps hide visible effects of exfoliation, such as flakiness and dryness. Nightly usage helps to provide skin hydration and moisture. User @Cyrilbautista reviewed, "This product really helps me with my acne problem. Makes my skin become smoother and removes blemishes. With continued usage, my skin becomes acne-free and glowing!!" 
3. Eliminates pimple-causing bacteria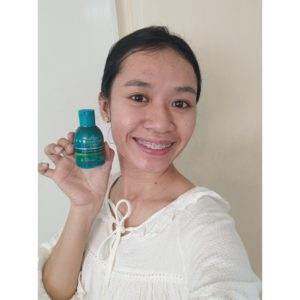 After a long day out, wash away dirt and refresh your face with Maxi-Peel Facial Wash. The Maxi-Peel Facial Wash is formulated with Vitamins B3, B5 and E to help dry up and remove pimples, blackheads, and whiteheads! It has microbeads that lift away deep-seated dirt and oil from the skin. User @AnnaKhaila reviewed, "I actually had peeling on my face for 2 weeks and up until now I still do but minimal which is normal to all rejuvenating products. This prevents my pimples from appearing and breaking out."
4. Sun protection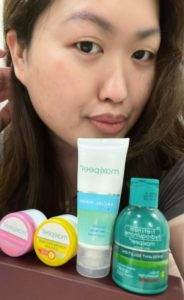 Skin pigmentation is a common result of environmental damage such as ultraviolet rays and pollution. Exfoliation can cause the skin to become extra sensitive to the sun's damage. Hence, to keep your skin clear from sun damage/dark spots, make sure to apply an added layer of protection with Maxi-Peel Sun Protection Cream. Maxi-Peel Sun Protection Cream is a non-greasy, lightweight cream that protects skin from sunburn and hyperpigmentation. It contains SPF20 that shields skin from harmful UVA and UVB rays, and can last up to 5 hours. User @Surdarlingam commented, "The sun protection cream is a MUST for anyone using products with tretinoin or retinol!"
Maintaining a consistent and effective skincare regime is key to improve skin quality. Maxi-Glow Regimen is an easy-to-follow and effective routine with 4 products designed to help you achieve clear, smooth, fair and glowing skin. Following the correct regimen will give your skin the best results you desire. It's time to simplify your skincare and grab yourself a set of Maxi-Peel's Maxi-Glow Regimen, available in Watsons, supermarkets, drugstores, Shopee, & Lazada. 
Read more skin care related articles:
Korean beauty products you should stock up on and our top 4 picks!
Top 3 tea tree oil products recommended by our community
Retinol 1% — Is it right for you? Hear from our community and the recommended products for you