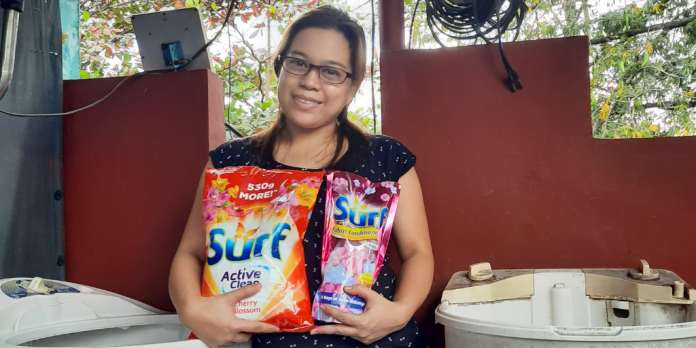 Keeping our clothes smelling fresh is really important, especially for those who perspire a lot under the hot sun during summer. One of the key elements for keeping your clothes smelling fresh is the type of detergent used on your clothes. Smelling fragrant and fresh need not be something too difficult or too expensive to achieve. In a humid climate that we live in, the notion of smelling clean remains even more crucial because of the tendency to perspire due to the weather. How fresh one's laundry smells is largely dependent on three things: good detergent, fragrant fabric conditioner and your washing habits. That's not all, how does one achieve fresh-smelling clothes at an affordable cost?
The Try & Review community has been actively gathering a list of tips on how to keep yourself smelling fresh and clean. We have gathered 3 tips to keep your clothes smelling fresh with long-lasting fragrance at minimal cost!
Tips for keeping your clothes smelling fresh
1. Keep your washing machine clean at (almost) no cost!
One of the key tips is to keep the washing machine clean. Many newer washers
The new era of washers are here and many newer washing machines are now equipped with a special washer cleaning cycle that can help you run a cycle solely to wash the insides of your machine. It is recommended to clean your washers monthly to remove detergent residue that traps soil and bacteria.
However, if you find yourself with a washer without the special washer cleaning cycle, fret not, there are many solutions to clean the washer using readily available elements found around the house such as white vinegar and baking soda. Additionally, there are also some products that work as a speciality cleaner that you could add to an empty wash cycle. The act of cleaning your washing machine need not be an expensive one.
2. Use an effective laundry combo (detergent + fabric conditioner)
Using an effective laundry detergent and conditional is crucial in keeping your clothes smelling fresh. A parallel can be drawn to how a good shampoo can deep-clean your hair and a hair conditioner helps protect it. Laundry detergent and fabric conditioner does the same but for your clothes. The best part of doing your laundry is always how crisp and fresh your clothes smell after. Furthermore, a good detergent and fabric conditioner helps maintain the quality of your clothes, while ensuring that they are clean and fragrant.
Doing the laundry is part of the everyday routine, for many of us, keeping it at the lowest cost possible is crucial. That being said, there are just too many brands of detergent and fabric conditioner to choose from. To help you make an informed decision, we put over 100 moms to the test to try out the Surf detergent and fabric conditioner and here's what they have to say:
Fresh Smell? Better Sleep?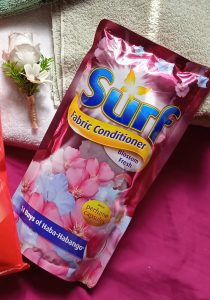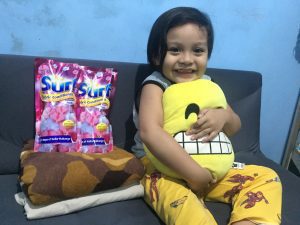 Left to right: @ArmiGC's choice of detergent and @ross06's child happily holding his freshly cleaned pillow.
Try and Review member @ross06 equates smelling fresh to having quality sleep. She went on to elaborate that her "baby really loves its smell and loves to hug his favorite pillow! The smell is not too strong and lasts in clothes, pillowcases, and blankets." Similarly @ArmiGC who uses Surf Detergent and Fabric Conditioner said that the clothes "smell so good especially when you pair it with Surf Detergent!".
Surf Powder Detergent sachets at 75G cost Php 5.50 SRP and Surf Fabric Conditioner sachets at 25ML cost Php 5.50 SRP. By using both together, you get double the fragrance power of Surf and cleanliness at an affordable price!
Goodbye expensive perfume!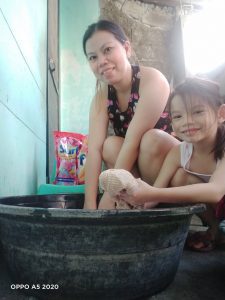 From left to right: @jerzeel and @vhez.sison with their Surf detergent and laundry
Another Try and Review member @jerzeel noted that a good detergent produces a fresh and long-lasting scent which "lasts forever". In addition to that, there is "no need to use perfume when you use the detergent."
@vhez.sison loves the fact that Surf's detergent is "really affordable and worth it". She elaborates that "Surf's detergent powder is the most worth it when it comes to cleaning clothes".
Gentle on your Clothes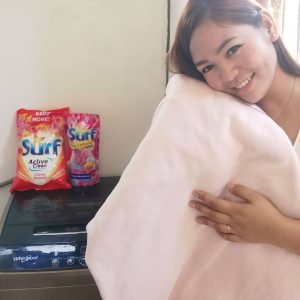 Try and Review member @CherrieAnn with her laundry
Everyone admits that one of the greatest fear of new detergents is the possibility of colour runs: @CherrieAnn assured the Try and Review community by sharing that "ever since I've [started] using Surf Powder and Cherry Blossom" her clothes are "surely clean, [both] white and colored shirts".
3. Take the laundry out immediately after their wash cycle and wring (or dry them)
We know…the kulob smell is definitely the worst. Taking your laundry promptly out of the washer after the wash cycle is pertinent to avoiding a 'stinky' situation. Musty odours tend to develop both in your clothes and in the washtub. Hence, make sure you take the laundry out as quickly as possible! Another pro-tip for those who prefer air-drying their laundry – before hanging your clothes, make sure that you give them a good wringing to remove as much moisture as possible. Clothes that stay wet for too long tend to start smelling bad after a while and take a longer time to dry.
Inexpensive way of storing fresh clothes
After a long-day's work of washing clothes, it is important to know how to store them properly, to avoid them losing the fresh scent. Many people turn to expensive products such as essential oils and fragrant sachets. While these products boast for their effectiveness, they do not come cheap. You can DIY your own mesh bags with fragrant and inexpensive items such as dried flowers which can be easily found in local markets.
A delightful laundry experience is not too hard to achieve. Just remember, with the right detergent and fabric conditioner, smelling clean and fresh isn't as hard as you think!
Surf's Powder Detergent can be purchased on Lazada and Shopee.
Surf's Fabric Conditioner can be purchased on Lazada and Shopee.
Read more home related related articles:
Antibacterial Cleaning Products: Our Community's Top 3
These Tips To Keep The House Clean During COVID-19 Are A MUST
Best Fragrances for Your Home to Smell Amazing All Day