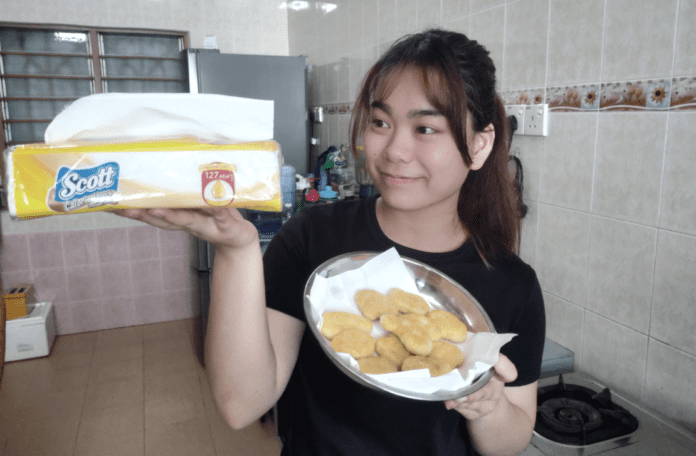 When one thinks of a kitchen essential, many will first think of utensils or kitchenware. However, our members beg to differ with Scott Calorie Absorb Soft Pack
Kitchen Towel being their new kitchen essential. While kitchen towels may seem unnecessary, they actually bring a lot of conveniences. This is especially so when preparing food and cleaning up after. Here are some reasons why our members love using the Scott Kitchen Towel when preparing food!
Why do 99% of testers feel assured when using Scott Calorie Absorb Kitchen Towel for food preparation?
High absorption power for oil and water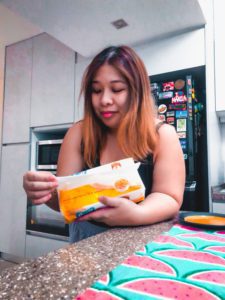 Our member @NDDMMCH mentioned that "typically, I'd have to use 3-4 (sheets of) kitchen towels to ensure that oil is absorbed, but I only needed to use (one sheet) with this Scott and it didn't even tear. I'm amazed." @ESTHERHOI also agreed that said that "it also absorbs oil and water very fast and efficient. What makes the tissue so special is its superb absorption. Highly recommended!" Scott Calorie Absorb Kitchen Towel is designed specifically for superior absorption of oil and water. So, fried food becomes healthier due to the high absorption of excess oil. You will also reduce in kitchen towel usage!
As @Tanmarilyn88 summarises it, "both husband and kids think the food somehow looks healthier as it wasn't as oily as it used to be! Thanks to this 127 kcal calorie absorb kitchen towel that does a good job. Really love it and can't leave without it".
Thick and tear-free material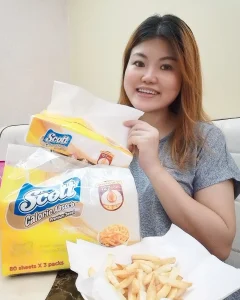 @princess_yen reviewed that "the texture is strong not easy to tear and no residue was left on the food upon use. 👍🏻 It is naturally made with 100% Virgin Fiber, safe for my whole family to use. 😊" The Scott Calorie Absorb Kitchen Towel is made by Virgin Fiber Safe which means it is safe for food-contact. Another of our member @Vvinci added that "the towels while soft are sufficiently thick and sturdy that it does not break apart easily after getting wet and the lack of crumbly fibres means no towel residue gets stuck on my food. Will add this to my shopping list!" Thanks to the extra-thick Fiber-Tech Technology, the Scott towel will not cause any shedding and tearing.  
Convenient packaging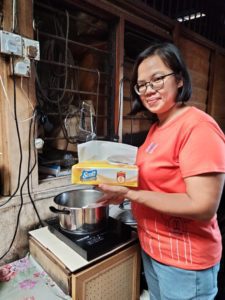 Our Member @SEPADUBINAJAYA noted that she "loves the precise dotted tear line on top of this SCOTT CALORIE ABSORB KITCHEN TOWEL. Makes opening the pack so tidy and easy. With this type of packing, I need just 1 hand whenever the need for a kitchen towel arises. Much more practical than the old roll-style kitchen towels" @LCL1983 agreed and said that "Scott Calorie Absorb Kitchen Towel was a great product. This packaging is really easy to keep in tidy use". Unlike the standard kitchen towel roll, the Scott towel works in a pull out method just like a tissue box. Therefore, this is a much more practical choice as you will not have to use both hands to unroll and tear for a towel while you are busy with cooking. 
Cooking and preparing a meal requires lots of multitasking. So choosing products that help you to work more efficiently in the kitchen will make cooking so much more enjoyable and hassle-free! Now that our community has found the kitchen essential that all should have, you should definitely try it out too and let us know what you think! You can purchase the Scott Calorie Absorb Soft Pack Kitchen Towel from Shopee, Lazada or find it in your nearest supermarket!
This article is written in partnership with Scott Malaysia. All opinions shared are based on authentic and honest reviews from real users.
Read more recent articles:
Summer Fragrances You Should Definitely Try In 2022
Best anti-ageing skincare products for you to age beautifully
5 Sweat-proof deodorants to survive a humid and hot summer