With so many interesting makeup looks surfacing recently, we decided to try a few of them to see how easy it is to recreate!
Hi! I am you resident makeup enthusiast, Min, the marketing and community intern at Try and Review. Usually, I spend my time trying to find new ways to utilise the Jeffree Star Blood Sugar Palette I own. Apart from simple halo eye makeup looks, I barely do anything creative with my eyes, and I wanted to break out of that.
Being online on my phone whenever I'm free, I've noticed many eye makeup trends surfacing on my Tik Tok, Instagram and Facebook. While I can't say that I'm a makeup artist, I do like to experiment with what looks good on me. Inspired by Divya's article on trying out hair hacks, I decided to take a challenge myself and round up some of my favourite trending eye makeup looks and try them out!
Challenge yourself with me and grab your base products and eyeshadows and let's get glam!
Eye makeup look #1: Go Bold with Graphic Eyeliner
Difficulty: 3/10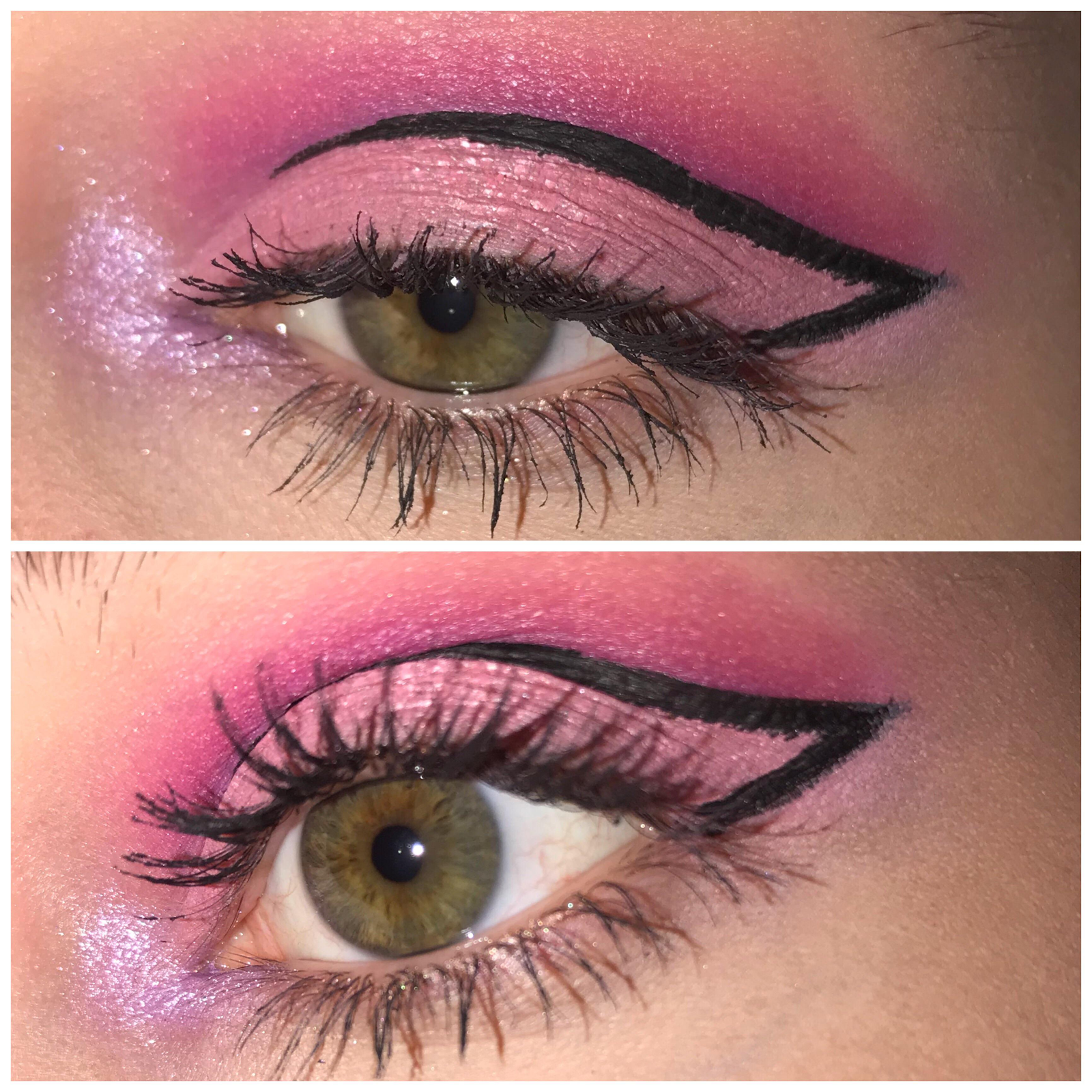 This eye makeup look focuses on having your eyeliner pop! I've seen this look in many editorials and Instagram and it made me curious how it'll look for the normal folk, especially on my fox eyes. It also seemed easy enough to try and so I grabbed my glitter eyeliner and started the look. Here's my inspiration!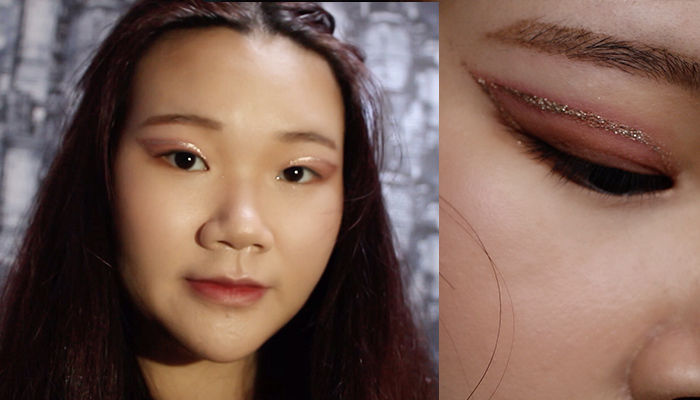 Overall, it was very easy to achieve this. I didn't encounter much problems apart from perfecting the eyeliner, but that's a struggle we deal with on a daily basis. It took me just about 5 minutes for the entire eye, including evening out the eyeliner on both eyes, which I would think is quite fast for such a bold look! I think mine turned out quite nicely and I'm definitely a huge fan of this look! It's a simple way to grab attention to your eyes, but it's not too loud that it'll make you awkward to go around town with. 10/10 would recommend you to try it out too! If you'd like more ideas for a graphic liner look, watch this tutorial for some inspiration!
Eye makeup look #2: Clouds on your eyes
Difficulty level: 7/10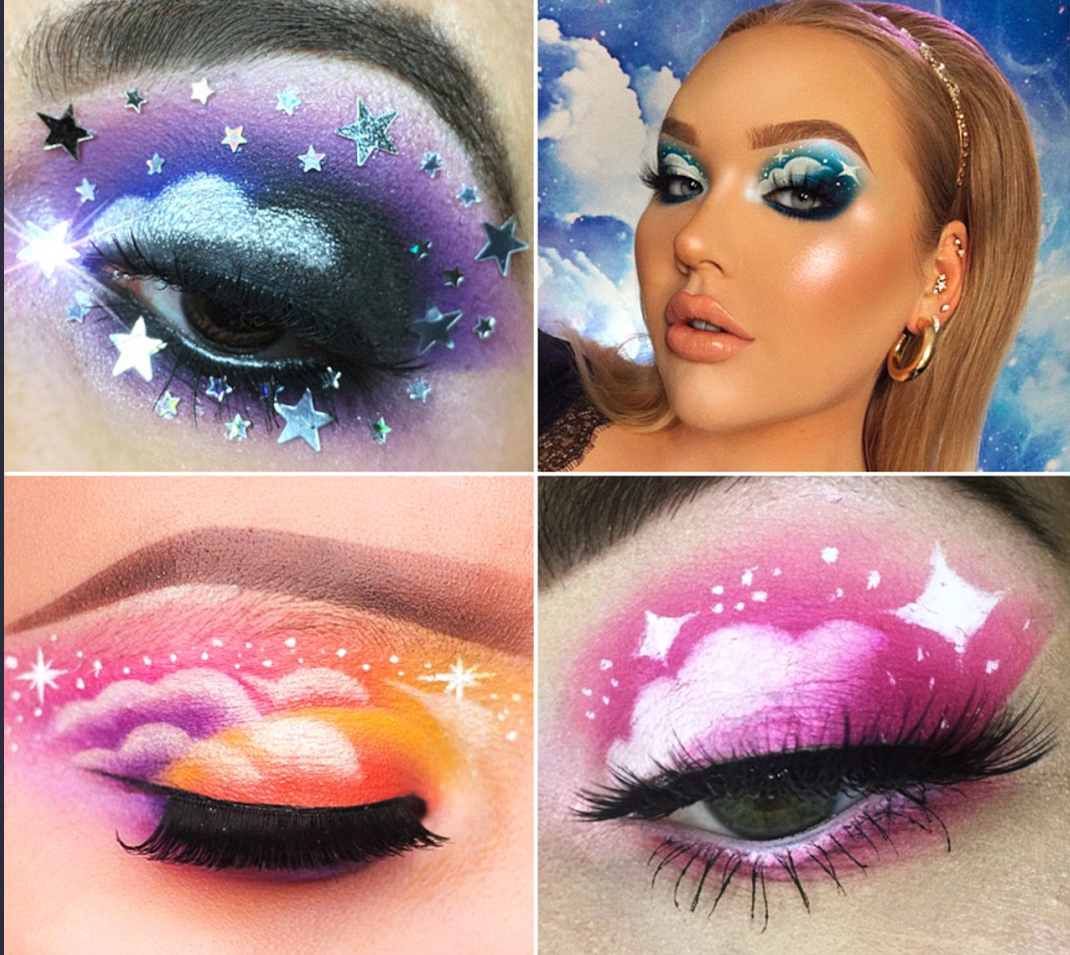 This eye makeup look has been everywhere. YouTube, Instagram, Tik Tok, Facebook. You name it. I've been wanting to try this look but was intimidated by it for the longest time. And that's why I decided to challenge myself today. With a deep breath, I picked up my brushes and started the eye makeup. I used a compilation of these looks as my inspiration.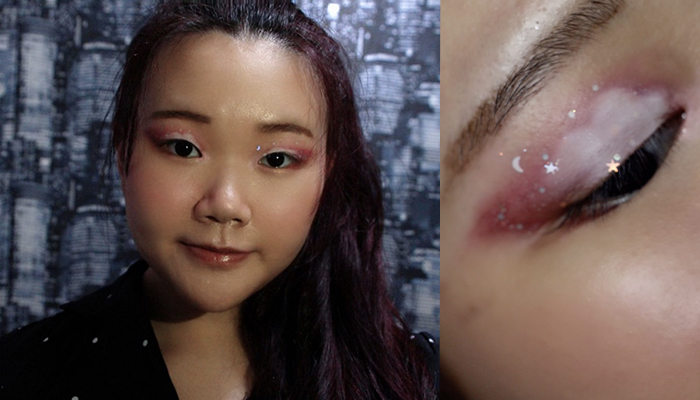 Honestly, this eye makeup look was much easier than it appeared to be. It only required you to put on a base colour, then stamp on the cloud shape (I just made three semicircles that blended into a cloud-like shape) with concealer, and patting on white eyeshadow on top. If you have white eyeliner, you could dot a few dots and draw in some crosses for stars and it'll look amazing. I didn't have a white eyeliner so I just pulled out my Novo glitter eyeshadow. The stars and moon glitter pieces help to lend a more sky-like vibe to the eye makeup look and helped amp up the overall look of it. Glitters are definitely a girl's best friend! While I won't have the confidence to walk around town with this look, I would say it is rather wearable. If you spent so long trying to perfect the clouds, why not show it off! If you'd like to try this for yourself, here's a tutorial from NikkieTutorials to achieve the perfect cloud eyeshadow!
Eye makeup look #3: Watercolour on your eyeshadow
Difficulty: 10/10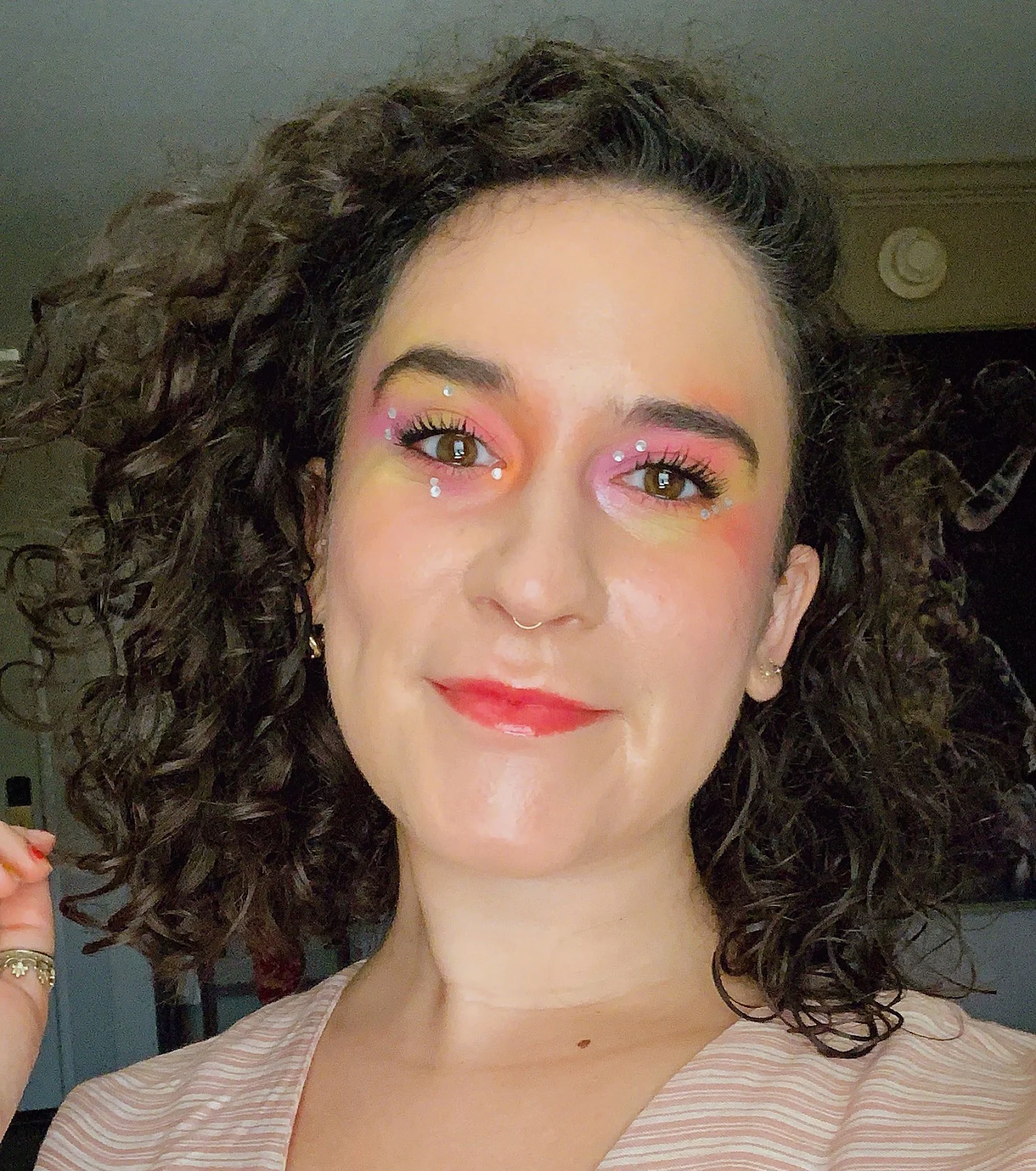 This is a look I've been seeing a ton on editorials and Tik Tok! It looks pretty easy as it's just a splash of colours, nothing much different from my usual makeup looks and thus, I picked up my Blood Sugar Palette and brushes, and started patting on the eyeshadow. Here's my inspiration, and I followed this tutorial to achieve the look!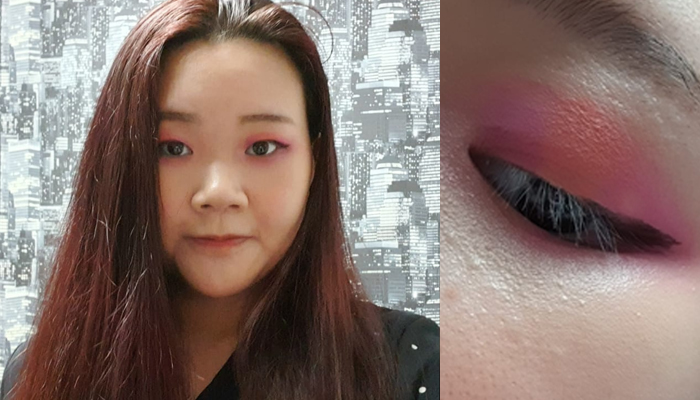 THIS LOOK IS DECEIVINGLY DIFFICULT. I went into this being really confident that I would nail it, but it ended up being much tougher than it looks. The eyeshadow has to have a translucent look to it, and being really blended which is rather difficult to achieve. But my tip to achieving this is to not think too much about it! Initially when I was focused on placing certain colours in order, it turned out to be a mess. However, when I decided to stop caring and just pile on colours randomly, the eye makeup started to turn into something that looks more avant garde. I think it turned out okay, but not something I am 100% proud of. Looking at other pictures of this look, I believe the key is to have colours in different colour families (eg. blue and red), and hence why mine didn't turn out as pretty as it should have as I used colours that are rather similar (pink, red and purple). I think this look can lend you some artistry into your photoshoots, but I would suggest sticking to something simpler for a daily look. If you'd like to try out, this was the tutorial I followed!
And that's the end of all of the trending eye makeup looks I've seen and tried! How do you think I did? Let us know in the comments! I'm excited to see you try it out as well so do tag us on Instagram and Facebook if you've tried it out! And fear not, if these looks are too crazy for your liking, we have 3 looks that are perfect for the workplace here!
Read More Articles: