This Hari Raya might be vastly different from what we are used to but it doesn't mean you can't enjoy the festivities! If you're missing the Kuih Raya from your favourite bakeries or Ramadan Bazaars, we've reached out to our Try and Review community for their favourite Kuih Raya recipes that can be easily made at home!
Apart from simple sweet treats you can get from the supermarkets, here are 3 Kuih Raya homemade recipes that everyone will love! Ranging from simple and kid-friendly recipes like Chocolate Almond Pecan Nibs and Cornflake Cookies to slightly more complex recipes like Kuih Siput, you are in for a treat this Raya!
Kuih Raya Recipe #1: Chocolate Almond Pecan Nibs, A Must-Have for the Feast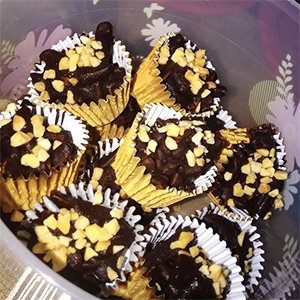 This recipe is shared by our member @lyn.tmd! A simple recipe that just involves mixing baked almonds and pecans with chocolate, this recipe is definitely kid-friendly from how easy and fuss free it is to make!
Difficulty level: Beginner-Friendly
Ingredients:
400g Almond Nib
100g Crushed Pecan
400g Chocolate Bar
2 tbsp of Butter
Steps:
Bake the almond nibs and pecans in the oven at 180

°C

for 20 minutes or bake it until it becomes crunchy then set it aside. (It's an important step to make your nuts crunchy so that it will taste good for the finished product!)

Double boil the chocolate bar with 2 tablespoons of butter until it becomes soft and liquidy. The butter will make the chocolate look shiny when it is used to coat the nuts!

Then, coat all nuts with the chocolate and mix it well

Finally, put it inside a small cupcake liner and sprinkle some crushed almonds on top. Chill it in the freezer for about 2-5 minutes and you are done!
Kuih Raya Recipe #2: Cornflake Cookies The Whole Family Would Love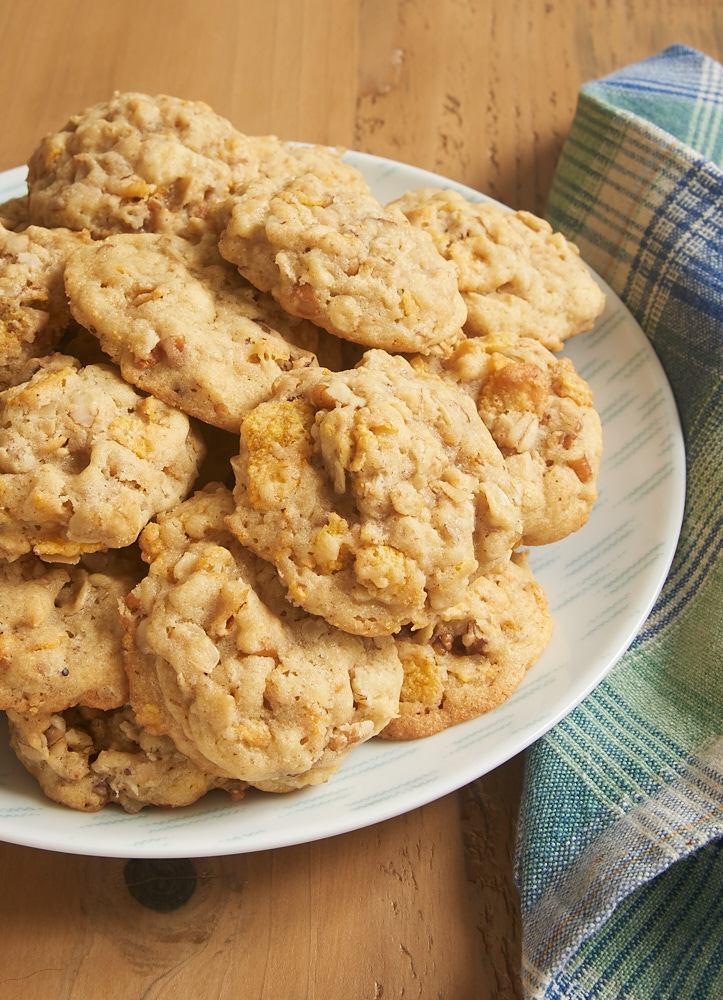 Yasmeen from our Try and Review team shared this Cornflake Cookies recipe that she loves to make with her family! A simple recipe consisting of just mixing a few ingredients together and baking them, this is a foolproof kuih raya recipe that everyone will love!
Difficulty Level: Beginner-Friendly
Ingredients:
1 3/4 Cups of Flour
1/4 Cups Corn Flour
1/2 tsp Baking Powder
2 Cups of Cornflakes
200g Butter (room temp)
3/4 Cups Caster Sugar
1 Egg Yolk
Steps:
Mix the sugar and butter for 5 mins, whisk the egg in.

Add in the sifted flour and corn flour and baking powder and cornflakes.

Heat up oven to 170

°C

for 10 minutes and shape them into cookies

Bake for 15-20 minutes
Optional, mix with mixed dried fruits or choc chips.
Kuih Raya Recipe #3: Kuih Siput (Snail Cookies) to Impress Your Guests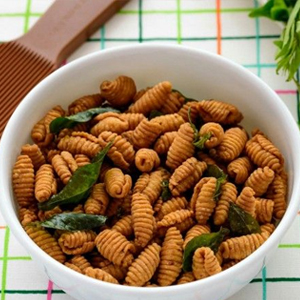 Our member @iqa_ayamor_ shared this recipe with us over our Instagram! With its shape reminiscent of a snail, it is commonly known as a snail cookie. This recipe, however, definitely needs some experience to know exactly how long you need for the cookies to be fried. While slightly more complex than the previous recipes, this treat is sure to keep you making more from how fast it runs out!
DIfficulty Level: Experience needed
Ingredients:
– 1kg Wheat flour
– 1/2 Cup of Dried Prawn
– 1/3 Cup of Sweet Cumin
– 1 Small Box of Coconut Milk
– 2 tbsp Blended Chilli
– 2 tsp salt
– 1 tbsp Maggi Cukop Rasa
– 1 Big Onion
– 3 Pinch of Garlic
– 2 Eggs
– 4g Margarine
– Onion Leaf
– Curry Leaf
Steps:
Pour wheat flour into a big bowl to form a dough

Blend onion, garlic, star anise, and shrimp. Then pour all blended ingredients into flour.

Put coconut milk, egg, chilli, salt, seasoning powder, green onion, celery and mix together with flour. Mix it evenly.

Mix with margarine bit by bit until it forms a soft dough that doesn't stick to fingers.

Pinch dough according to the size you like.

Heat cooking oil and then fry the curry leaf and the dough on medium-low heat.

Fry till golden brown.
More than just a simple recipe to make for Hari Raya, this is a great time to bond with your family! It is always a fun time when you're cooking as a family. Especially for working parents, after needing to keep your children busy while you work, it is important to allocate some time when you're free to bond with your children. And what better way to do so than to make delicious kuih raya recipes that everyone will love!
Have a go at these Kuih Raya recipes and let us know how it went in the comments! And when you're 'visiting' your relatives on the video calls or in person to show off your delicious treats, don't forget to doll yourself up to make your celebrations extra festive!
If you're worried about putting on weight, don't worry. We have an article on healthy and low calorie snacks for you! But it's the festive season, just enjoy the food and calories are not a problem! Selamat Hari Raya!
Read More Articles: