Gua sha is probably one of the hottest skincare trends to pop up over the past two years. But the practice is nothing new, with origins in the ancient medical traditions of China and Southeast Asia. Stones were used to treat all sorts of ailments by using a stone (typically jade) to scrape across the skin to redirect energy flow. More than its traditional uses, many beauty influencers now include Gua Sha in their everyday self-care routine to attain better, healthier skin and to achieve an instant face lift effect!
Gua Sha is a traditional Chinese massage technique used to help redirect energy flow (Qi) and loosen the knots in your muscles. Gua Sha benefits more than just muscle relief, but also reduces inflammation, increases blood flow and stimulates the lymphatic system. And not to mention that it makes for the perfect at-home beauty treatment with its multiple skincare benefits ranging from reducing pigmentation, face sculpting to anti-ageing. A miracle-worker and a multi-performer, really!
How do you Gua Sha?
While this massage is commonly offered at Traditional Chinese Medicine (TCM) practitioners, acupuncturists, certain spas and facials, you can totally do it at home too! All you need is a Gua Sha tool and some form of oil or cream to get started.
After oiling the areas you want to massage, use the tool to apply pressure and scrape outwards. Think of it as trying to expel "heat" (as my chinese mother would say), out of your body. Just be warned, the results are usually not pretty for the next few days as the friction caused from the treatment might leave daunting little bruises on the areas of treatment. However, do be assured that they will eventually disappear and the multiple benefits of the massage definitely outweighs that scary thought of having bruises on your skin.
Gua Sha's skincare benefits
Now if you're daunted by the bruises that'll be left behind like what you would expect with a Gua Sha body massage, do not worry. Only the slightest pressure is needed for your skin and it will not result in bruises. In fact, Gua Sha comes with so many benefits that most people never look back after introducing it into their self-care routine.
Studies have shown that with daily application, Gua Sha benefits microcirculation up to 400%! This helps to reduce pigmentation, dark circles and it also helps to depuff eyes. In addition, Gua Sha can also help reduce wrinkles and rejuvenate, tone and smoothen skin! Gua Sha even helps boost collagen in your skin, keeping it supple and lifted! Oh, and did we mention it can also help sculpt and define your jawline for the perfect selfie?
All you have to do is to gently scrape in an upwards motion along your jawline, your cheeks and your forehead. You can refer to the chart below on how to use a Gua Sha on your face. And don't forget to moisturise the area with your favourite moisturiser or facial oil before to create a smooth canvas for an easy application and smooth experience.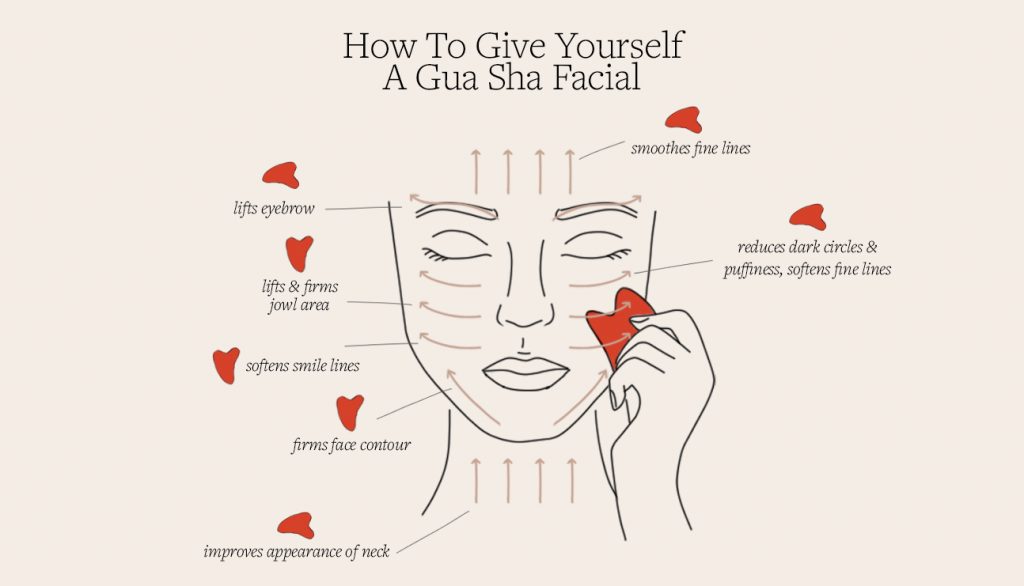 Picking out your Gua Sha tool
Now comes the most important part – picking out the best Gua Sha tool for you. They come in all shapes and sizes but most tend to be flat stones with dents, curves, or edges. A general rule of thumb is that the simpler the tool, the more beginner-friendly it will be. Here are 2 things you should look out for.
1. Material
One of the common tool material is Jade. It is usually associated with the heart chakra and is useful to help treat stress, anxiety and disorders of blood circulation. This is your tool if you want to achieve a good contour, face lift and skin clarity. It also reduces inflammation and redness.
Another common tool material is Rose Quartz. A naturally calming and cooling gemstone, it is great for people with sensitive or reactive skin, especially with its healing properties. Similar to jade, rose quartz are great to help reduce inflammation and increase circulation. This helps improve our skin's absorbency of our serums, creams, and facial oils we use every day.
If you want to avoid all the hassle of finding out the properties of gemstones and crystals, stainless steel Gua Sha tools are a great alternative too! They're easy to clean and sanitize, and last for a long time. You can also try placing it in the fridge before use. The coolness can further help to de-puff your face for a quick pick me up!
2. Shape
There are many shapes for your face, but we recommend the dolphin-type Gua Sha tool. This is the most multipurpose tool for your face as the different edges can easily be positioned on your jawline, cheeks and forehead to be massaged. Also, it has a broader body that makes it easier to grip.
Hear what our Digital Marketing Manager has to say about introducing Gua Sha in her self-care routine
mount lai gua sha facial lifting tool rose quartz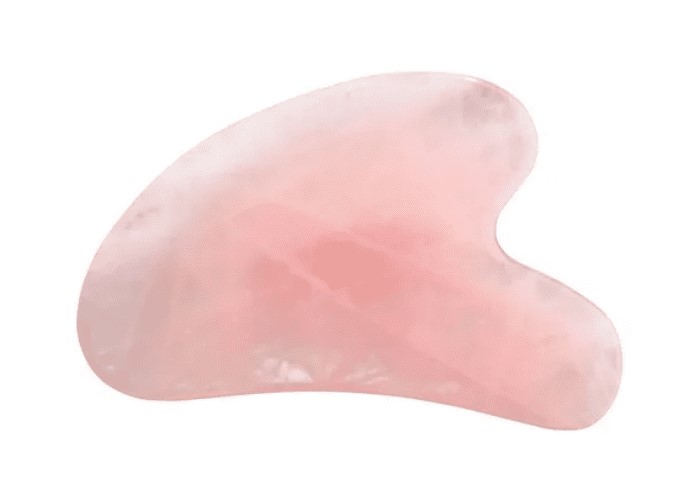 INSTANT PICK ME UP WHEN I NEED ONE
"It's the perfect self-care tool when I get some downtime from being a mom (when the baby is asleep) and I love leaving mine in the fridge because the coolness to touch when I use it after is the most amazing feeling ever. I love using it to de-puff my face in the morning and I will also use it at night as part of my skincare routine to help improve circulation. This product is pretty life changing and I would highly recommend everyone to introduce this into your skincare regimen."
@CLARISSAGRACE
Have you tried this product before?
Are you sold by the benefits of Gua Sha yet? Try incorporating this into your everyday skincare routine and trust us, your skin will thank you for it. The Kardashian and Jenner family do swear by this for a reason! Bring your skincare and self-care routine to a whole new level with this life-changing facial tool.
Have you experienced a Gua Sha massage before? Let us know in the reply box on your experience and share with us on how it went. Also, let us know which material of Gua Sha tool you like best and why!
Read more on other articles on how to achieve perfect skin:
Eye Creams: Say Bye to Fine Lines With Our Community Favourites!
Why Is A Serum A Must In Your Skincare
Shhh, We Have The Secret To Achieve Youthful Skin!