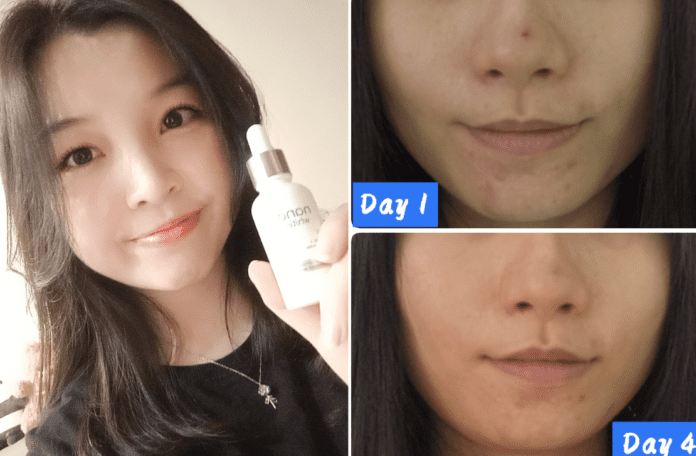 Arbutin has become an increasingly popular ingredient in skin care due to the benefits it has for the skin. Some of its benefits include brightening of skin tone, evening out of dark spots, and reducing the appearance of scars. Therefore, it is no surprise that many are starting to explore including arbutin in their skincare to help improve their skin. Try And Review reached out to our members who have dull and uneven skin to try out the Nanowhite Spot Correction Advanced Serum. One of the serum's star ingredients is arbutin. It helps users to achieve a spotless and radiant-looking glow in just 4 days! Read on to find out if this serum has helped our members!
Reasons why our members recommend the Nanowhite Spot Correction Advanced Serum
Lightweight and quick-absorbing
Try and Review member @zxin says "I use this serum twice a day (morning & night). Also, I apply another layer over my acne scars for better results. It is gentle and comfortable to use as it doesn't irritate my combination skin and it is not sticky. It can be easily absorbed into the skin as it has a lightweight texture and it will become watery after spreading evenly." In a humid and hot climate like Malaysia, a quick-absorbing serum is usually the way to go. By opting for a lightweight serum, you will be free from the heavy and greasy feeling on your face.
Reduce pigmentation in 4 days
Member @ennydiyanasyazwani reviewed that "the texture is not sticky. After 4 days I can see my acne marks become less noticeable. If you want to get rid of hyperpigmentation dark spots acne marks brighten your skin and lessen the dullness incorporate this in your skincare routine 👍🏻." Nanowhite Spot Correction Advanced Serum contains 2 star ingredients: arbutin and niacinamide. These 2 ingredients work together to improve uneven skin tone and even out discolouration. Arbutin works to brighten dull skin to give a radiant appearance while niacinamide helps to lighten dark spots and acne scars while improving skin texture. The result can be quite apparent in just 4 days, as seen on our members!
Suitable for combination skin
Member @Wendysin mentioned that "my previous serum was so oily and sticky after applying. Nano white serum smells good and it easily absorbs into the skin. I feel my skin is moisturised after using. My skin is usually oily during noon time but after applying Nano serum it got better 😍". The Nanowhite Spot Correction Advanced Serum is great for people with oily-combination skin. Often times skincare that is too rich may cause them to break out. Studies have shown that niacinamide can help with excess sebum production. It also minimises the appearance of large pores which many people with oily skin have trouble with.
Radiant glowing skin
The arbutin found in Nanowhite Spot Correction Advanced Serum helps to prevent the formation of melanin and brings out a brighter and glowing appearance to the skin. Member @Nurinafiqah mentioned that "this serum works well on my skin. it did such a good job in reducing my acne scar, brightening my dark spots and making my skin always moist. The best part is this serum makes my face glow like Korean girl skin! I would definitely suggest this product to my family and friends. The price is affordable too". So this may be the product for people who wish to improve their dull and tired-looking skin.
Moisturising and hydrating
Member @Low siao jou says that "I'm the kind of person who is very particular about skincare and I would say this product did surprise me 😍. It gets absorbed into the skin very quickly and does not leave any uncomfortable sticky feel on my skin. While the ingredients in whitening/brightening skincare are generally known to be quite drying to the skin, my skin still feels hydrated after using this serum and it is not irritating at all." The Nanowhite Spot Correction Advanced Serum is formulated with niacinamide and it can boost your skin hydrating ability so that the skin's surface can better withstand moisture loss. Unlike other spot correcting serums, this will not dry out and cause irritation to the face. 
Nanowhite Spot Correction Advanced Serum has proven to be a great serum for lightening dark spots while giving skin a radiant glow. With over 86% of testers proving and recommending this product, this could very well be the solution for your stubborn hyperpigmentation and dull skin! To purchase this product you can find it at Shopee, Lazada and Guardian. Do let us know what are your thoughts on this product and leave a review if you have tried it!
This article is written in partnership with Nanowhite Malaysia. All opinions shared are based on authentic and honest reviews from real users.
Read more recent articles:
Tinted Moisturisers: Which product is best for my skin type?
5 Sleeping Masks That Help You Wake Up To A Radiant And Plump Skin
5 Sweat-proof deodorants to survive a humid and hot summer