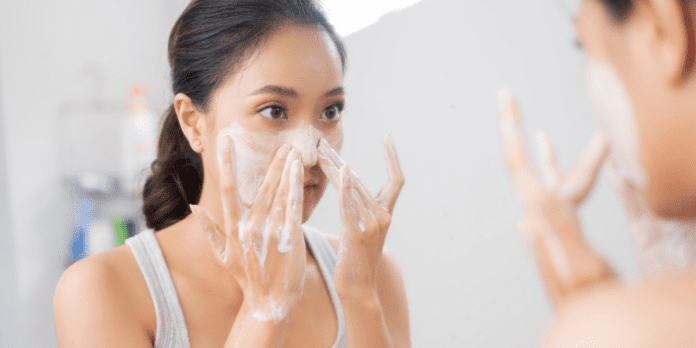 A facial wash is extremely important to remove bacteria, pollutants, viruses, grime, sebum and dead skin that is built-up on your skin during the day. Therefore, if you do not wash your face correctly with the right facial wash for your skin type, dirt and grime may continue to clog your pores and cause pimples to emerge. So if you're looking for a new facial wash, have a look at what are our Try and Review staffs' holy grail facial wash according to their skin type and see if you would like to try them out after reading their recommendations. As always, leave a review if you've tried them before to help other people shop better!
FAVOURITE FACIAL WASH: FRESH SOY FACE CLEANSERClarissa
Digital Marketing Manager
Skin Type: Combination-Oily
"I alternate between 2 cleansers daily but this is my favourite go-to facial cleanser every morning. It's not the cheapest facial wash on the market but it is one of the best that I've tried that feels gentle on my skin and doesn't strip or irritate my skin. I also like the fact that it doesn't have a strong fragrance and my face feels clean and fresh after. Also, a little goes a long way and a 150ml tube lasts me a few good months."
Leave a review if you've used it
Skin Type: Combination-Oily
"I love it for its multi-purpose function, both a facial cleanser and a gentle make-up remover. This cleanser is great for my combination skin type (oily T-zone/dehydrated cheeks & jawline). The gel-based formula cleanses well and removes non-waterproof makeup effectively, without stripping away the moisture off my skin. A convenient cleanser to bring along, if you like to head for yoga/workout after work!"
Leave a review if you've used it
Skin Type: Dry & Sensitive
"I am in love with this cleanser. I have very dry and sensitive skin and the shea butter formula is really gentle on my skin. No burning sensation nor redness after use, which usually occurs with most other cleansers. Love the soft and enveloping fragrance as well. I am sometimes using it only for the feel-good effect of the fragrance in the morning or before going to bed. I would definitely recommend it to people with sensitive or very dry skin!"
Leave a review if you've used it
Skin Type: Combination-Oily
"After cleansing with Suisai cleanser, I feel that my pores can finally breathe after a long day with make-up/sunblock! What's best, it doubles up as a purifying mask for the T-zone area. Two ways to use for the price of one, definitely my must-have."
Leave a review if you've used it
Skin Type: Combination
"I'm already on my second tube! I loved how this cleanser lathers up pretty well, as I always prefer a foaming cleanser for my combination skin. After washing, my face feels bouncy and squeaky clean. My T-zone is not oily and other parts not dry at all. Perfect for my skin type! But I have to say it may not suit days with heavy makeup. Their cleansing effect is not the strongest. I usually double cleanse and start my skincare routine with Banila Co Cleansing Balm, followed by this facial cleanser so it's all good for my skin!