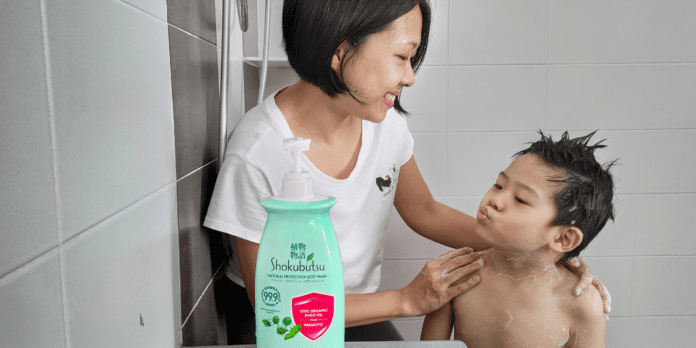 Natural protection from antibacterial body washes sounds too good to be true, right? Many believe that antibacterial products often contain harsh chemicals and will induce irritation and dryness on our skin. Not to mention, people with sensitive skin or mothers with young children will usually stray away from products marketed as "antibacterial body wash" due to this stereotype. But what if there is a product that can break away from that stereotype?
We let 250 mums try out the Shokubutsu Natural Protection body wash, and 98% of mums agree that Shokubutsu Natural Protection (enriched with 100% Organic Shiso Oil) gives peace of mind as it protects families against germs in a natural way. Read more to find out what this product can do and why these mums love it for their families!
Natural protection body wash – 5 mums' reviews and why they love the Shokubutsu Natural Protection Body Wash!
It has natural antibacterial protection

Member's ratings: 4.8/5

"Every day, I come into close contact with door handles, kitchen slabs, nooks and corners, keyboards, mobile phones and remote controls. With a thorough shower with Shokubutsu Natural Protection Body Wash – Complete Care, I do not have to worry about unknowingly transferring the germs from my body to my two little kids."

@yee.lian5d6122250faef

It is moisturising

Member's rating: 5/5

"I'm very particular when choosing shower gel for my family and me because I have dry skin and eczema, but when I start using Shokubutsu Natural Protection, I feel so refreshing my skin silky smooth soft and very moist"

@Nazirah Husni

galaxy fit

It contains safe plant-based ingredients

Member's rating: 5/5

"Love using Shokubutsu Natural Protection Body Wash as it is enriched with 100% Organic Shiso Oil and plant-prebiotic that are natural ingredients. It protects our skin from germs without stripping off skin's microbiome"
@angel.lim-qian-yu

galaxy fit

It helps strengthen skin resilience

Member's rating: 5/5

"Protects the skin against 99.9% of harmful germs while strengthening skin resilience with 100% Organic Shiso Oil, a powerful source of antioxidants. Step out every shower knowing that your skin is cleaner, stronger and protected once again!"
@iffahizzana92


1. Natural antibacterial protection 
In light of the covid-19 pandemic, many people are considering switching to an antibacterial body wash to keep their families safe. However,  it may be challenging to cater to many different skin types when sharing shower products with the family. Especially for young children and those with dry skin, a standard antibacterial wash may be too harsh on their skin. The Natural Antibacterial range is suitable for all skin types due to its mildness while protecting the skin from germs due to the 100% organic shiso oil, a natural antibacterial ingredient. Not only does it not dry out the skin, but it can also effectively kill 99.9% of germs on our body! Perfect for every family! 
2. Moisturising
There are many antibacterial body washes in the market, but it is rather hard to find one suitable for all age groups. However, this product delivers the wishes of having an antibacterial wash that is both gentle and moisturising. This is because the Shokubutsu Natural Antibacterial is enriched with plant glycerin to ensure the skin maintains and locks its moisture to protect it from damage caused by dryness. The plant glycerin helps to keep skin moisturised after washing so people from all age groups and skin types can use it, which is perfect for families. The 100% organic shiso oil may be an antibacterial ingredient, but it also helps to moisturise the skin while removing impurities from the body. Talk about killing two birds with one stone!
3. Safe plant-based ingredients
Shokubutsu has always been a brand that focuses on using natural plant-based ingredients. This product is not an exception as it was made with natural plant extracts like 100% organic shiso oil, plant prebiotic and plant glycerin. This Natural Protection Body Wash is dermatology tested and is formulated without parabens, synthetic colourants, and microplastic. This is to ensure that their products will be safe and gentle for all skin types. Also, lowers the chances of developing skin issues compared to other harsh chemicals. Not only does it benefit your skin, but using plant-based ingredients also helps with the environment by not polluting the water with the extraction of harmful substances. Perfect for both the ingredient-conscious and the environment-conscious!
4. Strengthen skin resilience
Shokubutsu Natural Protection uses plant prebiotics to help maintain the balance of the skin microbiome. The skin microbiome that resides on our skin helps protect against environmental hazards like dust, air pollution, and sun damage. An imbalanced skin microbiome with a vulnerable skin barrier will result in skin problems like eczema, skin allergies and impaired wound healing. But thanks to the plant prebiotics, help to stimulate good bacteria growth and strengthen the skin barrier. It can also help prevent skin irritations and sensitivity and enhance its overall appearance. 
5. Refreshing shower experience
Many people like to unwind and relax in the shower after prolonged exposure to environmental pollutants or after a stressful day at work or school. With the Shokubutsu Natural Protection, the pleasant scent of the invigorating tea tree oil from Refresh & Go or the natural and clean scent from the eucalyptus in Complete Care can help to create the perfect aroma and mood while taking a shower. The calming scents of the body wash can not only re-energise our body, the luxurious foam can also improve our mood. A perfect way to end off a long and tiring day.

It is incredibly crucial when selecting a skin-related product that we use on our bodies daily as it will directly impact us. Therefore, one must look out for the ingredients in order to protect ourselves and our skin. Since showering is part of our daily routine, why not make the best out of it by choosing the Shokubutsu Natural Protection for you and your family?  As recommended by these mums who love using it for their families! Shop for the Shokubutsu Natural Protection Body Wash at your local supermarkets, drugstore or online at Shopee now!
Read recent articles:
Why You Should Include These 5 Skincare Trends Into Your Self-Care Routine in 2022
Retinol: Benefits, why, how, when and what products are good?
With these picks, you'll never have to worry about dry hands ever again. Check out our 5 community hand cream picks!
This article is written in partnership with Shokubutsu. All opinions shared are based on authentic and honest reviews from real users.