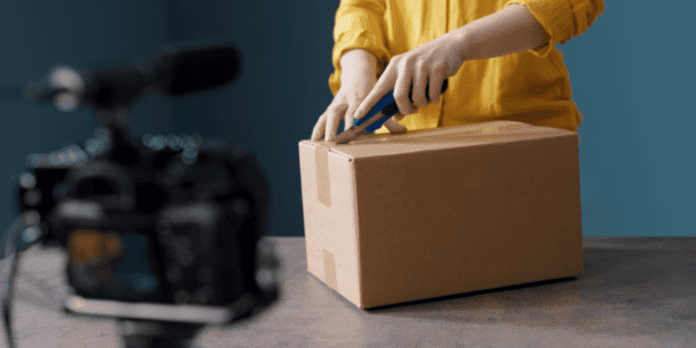 Unboxing videos have been a trend that is circulating around the Internet. The product could be anything from electronics, food, lipstick and even mystery boxes. Because there are all types of products for different interests, these videos will be relevant and interesting for each individual.
According to YouTube data, the amount of time people have spent watching unboxing videos on their phones is the equivalent of watching the movie "Love Actually" more than 20 million times!
Video credits: Cruz Crafts & Visuals
4 Reasons why you should try making unboxing videos
1. Unboxing videos are addictive 
There is a reason why unboxing videos have so many views. The joy of watching these videos is the building anticipation of opening the present. Not only does the creator feel the tingling excitement, but those good feelings are infectious and addictive, making viewers feel like they receive a gift too!
2. Genuine first impression and review
The facial expression tells it all! The creator's initial reaction can give viewers a clear indication of whether they like the product. The viewer will then get a sense of if the product is good accompanied by the first impression reviewed by the creator. 
3. No advertising gimmicks
Unboxing videos are practical for cautious buyers. As it gives viewers an untainted review of the product and sees whether it looks as it was advertised versus the product you get off the shelf and into your hands. There is also no photoshop and crazy lighting to trick viewers into thinking that the product is good therefore many viewers watch it for its authenticity.
4. No money involved
Viewers can see the product without spending money on it. This is very helpful for cautious buyers as they are often tight on their purchases, afraid that they will be wasting money on products they might dislike. So, this is where unboxing videos come in. It helps them to set realistic expectations of the product and helps them with their purchase decision.
Our member @Sheryluck1222 unboxing video!
While unboxing videos can be like teasers to entice people to watch, it is also important to provide your honest reviews and thoughts about the product after trying it. Otherwise, the video will not have enough depth and content to keep people from watching.
Read more recent articles:
TikTok Filter: Recreate the famous "glow look" filter using makeup
Menstrual Cup Review: We tried it and here's why you should too!
Eczema Skin: Tips and tricks from our colleague who suffer from eczema