Finding an easy snack for kids after school can be difficult. As an aunt, I totally relate to the struggle of having to find things to feed my picky nephew, and so I went on a hunt for recipes on
after school snacks
and tried them out.
With work, my sister and I usually just give in to my nephew and give him some popular snacks that we can easily buy at the market, but we're trying to be more conscious of what we feed him and so we decided to make some easy snacks for kids ourselves! The internet was my go-to for easy snack recipes, and true enough, I found a TON of them. I picked two of the most promising recipes, and one which we often make for my nephew. Here is how it went!
Easy Snack Idea #1: Sugar Cookies
My nephew LOVES sweet treats, and so we decided it was perfect to try this sugar cookie recipe that we found. While this isn't the healthiest recipe, we knew this would be easy, fun and tasty for my nephew.
Difficulty: 2 out of 5
Taste: 5/5
Time taken: 20 minutes
Ingredients:
2 ¾ cups all-purpose flour

1 teaspoon baking soda

½ teaspoon baking powder

1 cup butter, softened

1 ½ cups white sugar

1 egg

1 teaspoon vanilla extract
Steps:
Preheat the oven

to 375 degrees F (190 degrees C). In a small bowl, stir together flour, baking soda, and baking powder. Set aside.

In a large bowl, cream together the butter and sugar until smooth. Beat in egg and vanilla. Gradually blend in the dry ingredients. Roll rounded teaspoonfuls of dough into balls, and place onto ungreased cookie sheets.

Or roll out your dough and use cookie cutters to cut out cute shape


(Optional) Add some sprinkles to make it pretty
3. Bake 8 to 10 minutes in the preheated oven, or until golden. Let stand on a cookie sheet two minutes before removing to cool on wire racks.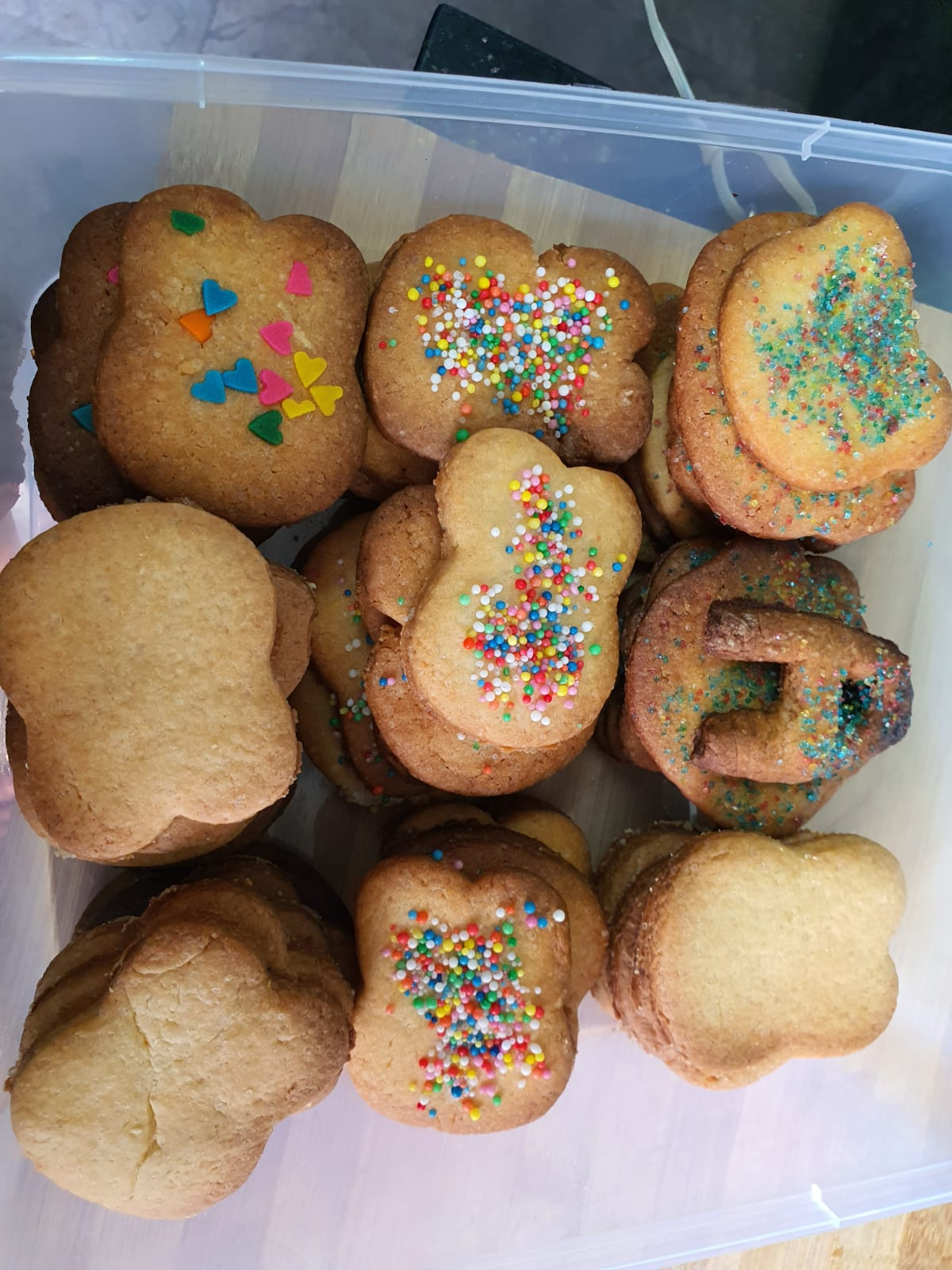 And here's the end results! The cookies tasted amazing, buttery and it wasn't too sweet, which makes it perfect for an easy snack for kids! We definitely finished this in one sitting instead of having it be an after school snack. No regrets!
For all the parents out there, if you're intimidated by the idea of baking, this is a foolproof recipe to follow! Even I, who don't bake or cook much, managed to have a successful batch of cookies by the end of it. Best yet, include your little one into the baking process and let them help to bake their own sweet treats! This can also act as sensory play which is essential for their growth and development, not to mention provide them with a sense of achievement.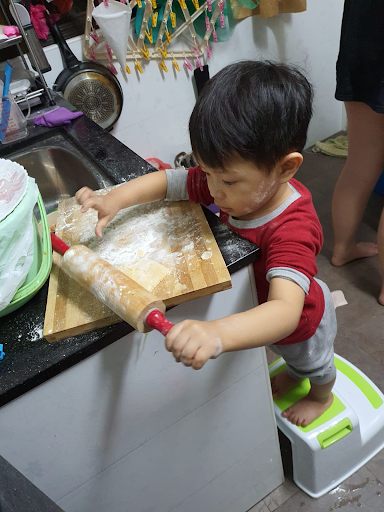 Easy Snack Idea #2: Cornflake Cookies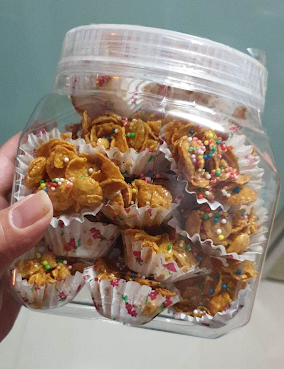 Inspired by a popular Kuih Raya recipe, I decided to make this cornflake cookie recipe for my nephew! It seemed really simple to make and I had cornflakes just sitting around so I decided to adapt the Kuih Raya recipe a little and make it perfect for an easy after school snack!
Difficulty: 1 out of 5
Taste: 5/5
Time taken: 20 minutes
Ingredients (Makes four servings):
120g of butter

120g of honey

80g of cornflakes
Optional: Nuts and fruits
Steps:
Melt butter over medium heat. When butter melts, add honey and mix well. Once honey and butter mixture begins to thicken, little air bubbles will appear.

Remove pan from heat and add cornflakes to the mixture. You may add nuts or fruits, according to your preference.

Place the cornflakes into mini cupcake moulds. Decorate with a small piece of maraschino cherry. Bake in a preheated oven at 170 degrees Celsius for 8 minutes. Allow to cool before serving.




Baking the cornflake cookies
This is definitely going into my notes as an easy snack for kids. It's not only really easy to make as it just requires combining a few ingredients and baking it, it can be quite healthy if you replace the butter with coconut oil. And, it is approved by my nephew as he refused to leave the tray of cookies alone when we were cooling it down. Needless to say, we finished the batch of cookies rather quickly as well.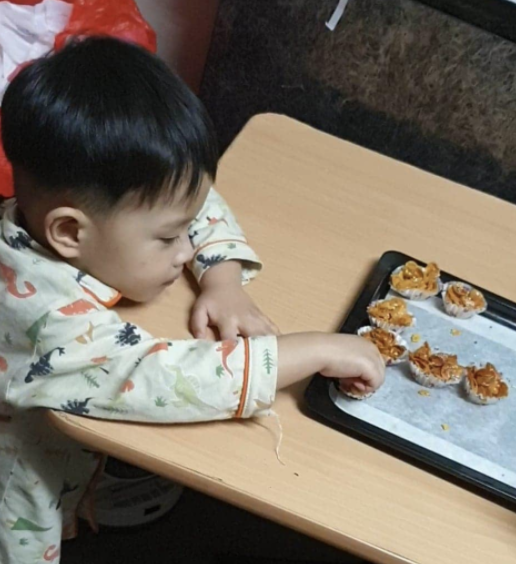 Easy Snack Idea #3: Jelly with Strawberries
One of my favourite snacks to make for my nephew, which is both an easy snack for kids and healthy, is Konnyaku jelly with strawberries. Most kids love jelly and strawberries, so we decided to combine both into one! And it didn't come as a surprise that my nephew couldn't stop asking us for more.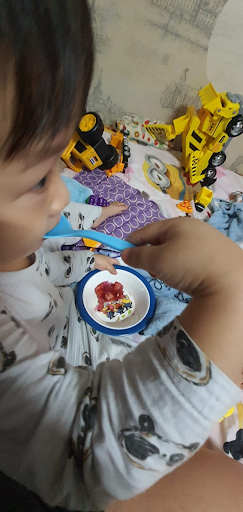 Difficulty: 1 out of 5
Taste: 5/5
Time taken: 10 minutes to prepare, setting takes overnight
Ingredients:
Konnyaku Jelly Powder

Tip: Get the flavoured ones that your child loves

1 cup of strawberries (or your desired fruit)
Steps:
Follow the steps on the Konnyaku jelly to make the jelly base

Dice your strawberries (or your desired fruit) to little bits and mix it into the jelly mixture

Pour into your mould and put in the fridge to set
This is a great snack for after school with how easy it is to make and store, and also your child will love the cold treat in this heat. It's a refreshing little treat that will leave them asking for more, and it's a simple way to trick your children into eating fruits if they're not a huge fan of having it.
And that is it! These three recipes are great easy snacks for kids.. We know these might not be the healthiest snacks, but our children deserve a little treat after behaving well at school for a day! Also it was a perfect activity to keep my nephew busy and if you want more ideas how to keep you kids busy click here!
What do you give your children as an after school snack? Let us know more recipes on easy snacks for kids to try in the reply box below and we will try them out!
Read More Articles on recipes and snacks tried, approved and reviewed by the team:
This Vegan Recipe Tastes Amazing With Lentils and Mushroom Sauce
3 Easy Healthy Recipes For Beginners
This New Vegan-friendly & Healthy Seaweed Snack is So Addictive!